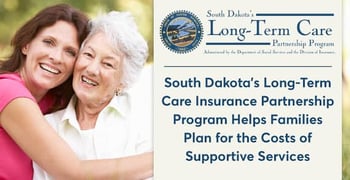 Experts share their tips and advice on BadCredit.org, with the goal of helping subprime consumers. Our articles follow strict
editorial guidelines
.
In a Nutshell: As the cost of health care in our country rises, many people face the issue of long-term care in their declining years. Fortunately, most states have long-term care insurance partnership programs in place that help cover the costs of assisted living, skilled nursing facility care, in-home services, and other types of extended care. These programs provide an alternative to Medicaid's requirement for spending down or transferring assets to qualify for benefits, and work with long-term care insurers to provide coverage.
In many cultures around the world, the subject of mortality and the inevitability of death is a natural part of a family's dialogue. Unfortunately, that's rarely the case in our society.
Americans, for the most part, are uncomfortable discussing end-of-life issues — almost as if giving voice to it will bring about tragedy.
That was the case with my grandmother, who lived her final years in what we referred to as a convalescent hospital. My grandfather had died suddenly years before, and she seemed to have coped with his death fairly well. However, she and my parents never took the opportunity of his death to talk about her own wishes for her remaining time.
When she eventually lost the ability to care for herself, my parents were faced with the task of trying to determine what her resources were, and to find a facility that could meet her needs. They discovered that she had very little in the way of insurance coverage and would have to rely primarily on Medicare and Medicaid to cover the costs of her care.
Visiting my grandmother in the care facility was not a very pleasant experience. So many of the residents I saw there seemed to have their basic needs met, but not much more than that. This was very different than the image I had previously held of nurses and orderlies in crisp white uniforms attentively overseeing thankful elderly patients. I asked myself, "Is this what it's like for anyone who enters old age without having amassed a fortune in savings?"
It was years later that I first heard of long-term care insurance, and what it can mean to someone who needs assistance in their declining years. Most states offer state partnership programs that can help people in need of long-term care keep more of their assets.
For instance, South Dakota's program offers affordable long-term care insurance through a public/private partnership. We recently reached out to Kathi Skoglund, Program Specialist at the South Dakota Department of Social Services, to find out more about the program and what it means to South Dakotans.

"The long-term care insurance partnership program here in South Dakota consists of the Department of Social Services as the Medicaid state agency, the State Division of Insurance, individual companies and agents who sell long-term care insurance, and the consumer who benefits from the plans," Skoglund said.
Advantages of Long-Term Care Insurance
One of the most shocking things people discover when looking into nursing homes or assisted living facilities is the cost of care. Skoglund told us the average cost of care in South Dakota is $223 per day. And, with the average length of time spent in long-term care at 2.5 years, that adds up to more than $200,000. Of course, many residents will stay far longer than that average period, meaning an even bigger pricetag. The advantage of investing in long-term care insurance, therefore, may seem obvious.
"One advantage is that you've got coverage for care if you need it," Skoglund said. "Most plans cover in-home services and assisted living. Some cover assistive devices. Some cover adult day care, and then nursing facility care. Another is when you go into a nursing facility and you have insurance, you're treated as if you're private paid. This means more choices of facilities that will accept you, and maybe even provide a private room."
Having options when it comes to choosing a facility or the type of care can be a great relief for family members. With Medicaid covering a smaller and smaller portion of the cost of staying in a care facility, having long-term care insurance can mean the difference between high-quality care and simply meeting basic needs.
Another aspect many people remain confused about is Medicare and what it covers. In addition to the strict qualification requirements people must meet, the length of stay in a skilled nursing facility that's covered by Medicare is only 100 days.
"You may be covered if you've had a three or more day stay in the hospital, you have doctor's orders for Medicare services, you're going to a Medicare certified facility, you have a need for those services, and you're showing some consistent improvement in condition. All of those things have to be true," Skoglund said.
The Importance of Planning Ahead
The benefits of long-term care insurance are evident, but the question remains: Why do so few families discuss this option? One reason might be cost, but I believe, as was the case with my family, there's a reluctance to talk about uncomfortable end-of-life topics. That said, the sooner these discussions take place, the more prepared your family will be in the long run.
Many long-term care insurance plans are only available up to a certain age, so coverage may not be an option if you wait too long to broach the topic. The earlier in life you plan and apply for this insurance, the cheaper and more available it will be.
"The eligibility for long-term care insurance is very stringent," Skoglund said. "In fact, it can be harder to get long-term care insurance than it is to get life insurance."

Planning ahead also involves knowing what someone's end-of-life requests are. If home-stay is preferred over a skilled nursing facility, the costs associated might be far lower. Also, if it is the person's wish to not be kept alive artificially, the duration of long-term care may be shorter. This information enables people to purchase the right type of policy with coverage that meets the needs of the individual. For families already on a tight budget, this can make a big difference.
Long-Term Care Insurance Also Helps Protect Assets
Long-term care Insurance can protect assets that would otherwise have to be drawn down or liquidated, as is the case with Medicaid. This is another factor that many people may not be aware of, but Skoglund described it to us like this.
"With Medicaid, for an individual, you have to spend down to $2,000 in assets," she said. "If a doctor certifies that this is not a permanent stay and that you'll be returning home, they can exclude the house as an asset. Otherwise, you'd have to use all of your resources down to $2,000 — and that's when Medicaid will pay."
With a qualified partnership long-term care insurance policy, however, there is a dollar-for-dollar asset disregard, or spend-down protection. That means every dollar of insurance coverage that's paid out earns an equal disregard amount for Medicaid purposes. In other words, the insured person is able to keep that amount as part of his or her assets over and above the $2,000, and still be eligible for Medicaid coverage.
For someone who wishes to leave something to the family after they pass, this benefit of a qualified long-term care insurance plan can be very valuable. Of course, balancing the cost of this insurance with other expenses is a consideration that must be weighed carefully. Future benefits to family should not be an overly burdensome sacrifice.
Long-term care insurance is worth talking about with your family. Even if you don't live in South Dakota, most states have these partnership programs in place, so consider checking with your state or insurance company to find out your options. At the very least, begin the discussion about end-of-life and long-term care with your family. The sooner you do, the more options your family will have.