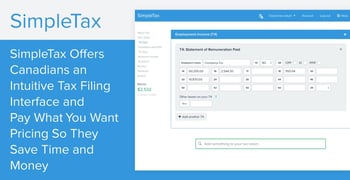 Experts share their tips and advice on BadCredit.org, with the goal of helping subprime consumers. Our articles follow strict
editorial guidelines
.
In a Nutshell: Canadians who want to reduce the effort and stress of preparing tax returns can turn to SimpleTax. The platform can auto-fill part of your return with information directly from the Canada Revenue Agency (CRA), reducing data entry and saving you time. Data is encrypted and password protected, and the SimpleTax pay what you want pricing model makes the platform accessible to people of all financial situations. SimpleTax enables all Canadians to seize greater control of their finances and reduce stress during tax season.
Tax season is often the least wonderful time of the year. In Canada, many taxpayers spend hours of their lives meticulously poring over their returns because they don't want to receive a call from the CRA.
Others shell out their hard-earned money to have someone else prepare their returns or buy software that may be as complicated and confusing as doing it alone.
And, if they run into problems with that software, contacting the customer support department may be just as aggravating as dealing with a bureaucratic government agency.
But Canadians have a better option that can mean finishing their tax returns in just a few minutes. It also guarantees them a maximum refund and doesn't involve an expensive tax preparation fee.
That solution is SimpleTax, which was founded in 2012 by people who were also tired of the frustration and uncertainty surrounding tax season. So they decided to create a platform that makes it easy for people to prepare their own tax returns.
"There is no reason why tax software is as poorly designed or expensive as it is," said Jonathan Suter, Founder and President of SimpleTax. "And there's no reason why people can't do it themselves if they have the confidence and the right tools. That's why we set out to build something better."
SimpleTax is capable of handling a variety of types of returns, from the common to complex situations, including self-employed filers and landlords. And its intuitive layout and comprehensive preparation system can handle them all.
But perhaps its most popular feature is its pay what you want model. Filers can pay any amount they feel appropriate for the service — even nothing depending on their financial situation. That makes its service accessible to anyone in the country.
"You can file your own returns, and we will help you do it," Suter said.
Auto-Fill and a Simple Interface Help Users Complete their Taxes in Minutes
When a user gets started with SimpleTax, the program needs only some basic information. Then, users can auto-fill their returns with data imported from their CRA My Account. Data not included in My Account, such as charitable donations and medical expenses, can be entered into their return manually.
"We pull that information in from the CRA and auto-fill most of the return for you," Suter said. "For people with straightforward tax situations, you can probably complete your return in five to 10 minutes with auto-fill. Just look everything over, and if everything's there, hit submit, and you're done."
"We'll pull as much information as we can, and then you can add the missing pieces yourself," Suter said. "If your books are in order, then it's just a matter of data entry."
SimpleTax allows users to complete their returns all at once or over the course of several sessions if they prefer. That makes the platform ideal for people who want to get a jump on tax season ahead of time rather than tackling everything at the last minute. They can save their work and return to it at a convenient time.
And SimpleTax's single-page design provides easy access to all facets of personal finance, providing the freedom and flexibility to file taxes your own way — and at your own pace.
Pay What You Want Model Keeps SimpleTax Aligned with Consumer Interests
One of the most significant barriers between Canadians and tax preparation platforms is price. So SimpleTax started by eliminating that for all of its users.
"We definitely wanted to find a price point that got people interested in our product but also makes it accessible to anyone — regardless of their income situation," Suter said. "Even if you're not in an ideal financial situation right now, you should still have access to the best available product. And you shouldn't get lower refunds simply because you can't afford the most expensive package on the market."
SimpleTax's solution to these concerns is its pay what you want model. That allows every user to set the price that works for them while still getting their maximum refund regardless of their finances. People in precarious financial situations can make the most of the money they have rather than paying hefty fees for software or preparation services.
The entire program is 100% free from start to finish, and there are no intrusive attempts to upsell; SimpleTax's purpose is to help users complete a tedious task as quickly and efficiently as possible. After users finish and submit their returns, SimpleTax asks them if they would like to provide monetary support for the program. Users can enter any amount, or nothing, based on their experience with the program and the value it provides.
"It keeps our incentives aligned with those of the end users," Suter said. "The pay what you want model is a great way of making sure that we're continuing to build things that are in the best interests of the people who use our products."
Encryption Ensures Security for Personal Information
Taxes involve sensitive personal financial information that people often go to great lengths to keep safe. And SimpleTax helps users maintain that privacy through its data security policies and encryption methods.
SimpleTax's privacy policy outlines the terms of service and the users' rights and protections in plain English — no legal degree required. Most importantly, SimpleTax never sells information to third parties; the user retains ownership of all personal data.
Each user's data is encrypted by an individual password rather than encrypting the entire database using a single key. The only way to access stored information is with that password.
"We don't have any way of looking at the data or unlocking it with some sort of master key," Suter said. "This makes your data safer because, if our database were to get compromised, each row is encrypted with a different key. It becomes impractical for somebody to try to steal all the data because they would need to figure out the password for each account."
Those security measures make it difficult for anyone to access and exploit personal financial information. Instead of worrying about the security and privacy of their sensitive information, SimpleTax users can enjoy peace of mind and focus on finishing their taxes.
Feedback Helps Improve Usability and Functionality
SimpleTax was built to help ease the burden of filing taxes for Canadian taxpayers, no matter their financial situation. And the platform is always looking for ways to enhance the user experience.
That's why the platform collects feedback directly from customers through a variety of channels, including email and social media. That information is used to improve the program and increase its value for users in the future.
"As we get feedback from our customers, such as questions they have about something, we'll incorporate that into the product directly," Suter said.
SimpleTax representatives respond directly to each query or concern and the team carefully considers why someone needed to reach out and ask a question in the first place. They use these insights to make the program even more economical and user-friendly.
"Everybody on the team is involved with support during tax season," Suter said. "When you're talking to us, it's not a call center or a disinterested third party. Anyone you're talking to on support is someone who is involved with building the product."
This direct interaction between developers and customers helps the SimpleTax team react more efficiently when addressing problems and concerns. By making tax preparation easier and more straightforward, SimpleTax empowers people to save time and money, and take control of their financial situations.
"Filing your own returns is a big part of that," Suter said. "That's something that we fundamentally believe in."