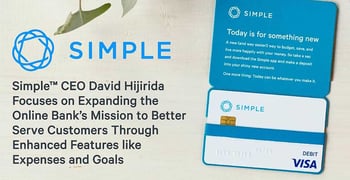 Experts share their tips and advice on BadCredit.org, with the goal of helping subprime consumers. Our articles follow strict
editorial guidelines
.
In a Nutshell: As one of the leading online banks in the U.S., Simple offers a suite of automated, integrated products and services that make it easy for people to manage their money. The company prides itself on customer care and providing value through its robust tools and offerings. As the new CEO of Simple, David Hijirida plans to continue innovating while also bolstering the financial security of customers. Significant components of that plan include developing new products, providing financial education resources, and maintaining the company's unique culture.
When David Hijirida came to Simple as CEO in late 2018, he had two things on his mind. The first was his excitement at returning to finance. The second was the vibrant culture Simple had created.
Hijirida had previously worked as a VP for corporations in the financial industry in Philadelphia and Seattle before moving on to spend 12 years at Amazon. At the online retail giant, he served in many roles, including Director of Global Payments, Director of the Amazon Web Services Commerce Platform, and Director of Advertising.
During his stint at Amazon, Hijirida often thought about getting back into banking through a fintech startup — and then he was contacted about an opportunity to lead at Simple. As he learned more about the company, he was impressed by its mission-driven culture — which he noticed when he walked through Simple's doors.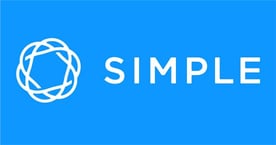 "Our mission is to help customers feel more confident about their financial health," Hijirida said. "I loved that mission. It was something I would have done myself. And my wife told me, 'If you don't do this, you can stop talking about starting a bank.'"
The couple moved to Portland in November 2018, where Hijirida assumed the mantle of CEO. While he was enthusiastic about helping Simple improve and prosper, he was equally committed to preserving its culture. But he felt some concern about trying to do that as an outsider.
"You're CEO, and you're stepping into a situation where there's such a strong culture. You're worried it may reject you, your ideas, or your persona. Everyone here has been incredibly welcoming and supportive," Hijirida said. "That's something I appreciated from the first day; I felt the love."
Simple strives to pass that love on to each of its customers. The company pursues its mission through intuitive digital financial management and automated tools. And with Hijirida at the helm, Simple plans to expand its offerings and bring even greater value and financial well-being to its customers.
Simplifying Finance with an Intuitive Interface and Automated Services
Simple was designed to help customers meet their financial goals, whether that's managing their money, getting out of debt, or saving for a purchase. It facilitates all of these through its fee-free accounts as well as the products and services integrated into its banking app.
The Goals feature allows customers to easily save for major purchases and vacations, emergency funds, or any other purposes. Users set the amount of money they want to save, a completion date, and a schedule of contributions, and then the automated system handles everything else. To date, Simple customers have established and achieved more than 5 million goals.
But Simple employees noticed customers using the Goals feature in an unexpected way. Rather than saving for single expenditures, some customers were using them to pay bills and other recurring expenses. To make that process easier, Simple created Expenses, which allows customers to set up automatic saving, similar to Goals but tailored to recurring payments. After debuting in the third quarter of 2018, more than 100,000 Simple customers have used the Expenses tool. "It's something we know the customers want," Hijirida said. "Now the question is: 'How do we make Expenses better?"
Simple also offers shared accounts, which notify both account holders of any changes. As with Goals and Expenses, these accounts make it easier for two people to manage their mutual finances. "A good percentage of customers have opened Shared Accounts, which are joint accounts but with a very easy interface," Hijirida said. "We see that usage grow tremendously."
All accounts and services are easily accessed and managed through the Simple app. That fulfills another of Simple's goals: to help people improve their financial situations with ease and gain a sense of accomplishment and reward.
Creating Brand Value through Customer Service
Simple also focuses on the human aspect of financial confidence. A major component of this emphasis involves ensuring the customer is valued and feels well-served by the institution.
"That piece is hard to replicate, especially if you're an incumbent bank. I think we've done it for so long that it's deeply ingrained within us. We aren't going to pursue profits at the expense of our customers," Hijirida said. "That DNA was already here. It's much easier to take that culture and add execution to it."
As an online bank, Simple achieves greater efficiency without the overhead cost of physical branches. Hijirida and Simple believe these benefits should be given back to the customer in the form of enhanced services and better lending and deposit rates. "That was part of the 2% campaign in Q4 of last year, which was a chance to give some of that back to our customers," Hijirida said.
The 2% campaign was launched in September of 2018. Simple offered customers a 2.02% APY for Goals carrying balances of $2,000 or higher. This groundbreaking rate allowed customers to get more mileage from their savings and reach their saving goals more quickly.
"Customers do have extra money, and they want to put it to work. They just need a place to go put it," Hijirida said. "We're going to learn from that and keep going."
Providing Traditional Services and Meeting Modern Needs
Many consumers derive confidence from the experience of conducting financial transactions at a brick-and-mortar location. Others prefer the sense of security that a physical location represents. Simple and Hijirida are aware of the need to balance the value of purely digital banking with more traditional experiences and offerings.
"Look at Amazon. It started as an online store. Online will continue to grow," Hijirida said. "There's something to be said for brick-and-mortar stores as well. But we're here to help customers feel confident about their financial health," Hijirida said.
While Hijirida said he doesn't see physical locations in Simple's future, the company will strive to accommodate the customer's desire for traditional banking services. One of these is access to cash. To this end, Simple has partnered with Allpoint to enable its customers to access 40,000 fee-free ATMs across the country.
Another service that Simple strives to provide is financial education. According to a 2018 survey conducted by the Federal Reserve, 40% of American adults don't have $400 saved for emergencies. Although this is down slightly from the 50% of Americans in 2013 without a $400 safety net, there is still a pressing need for more adequate financial literacy resources — a responsibility that, today, frequently falls on financial institutions.
Simple's Goals and Safe-To-Spend feature — which separates discretionary income that customers can safely use for leisure expenditures — lay a foundation for financial stability. But motivating customers to take responsibility for their money is a different matter.
"That's something we haven't pushed yet," Hijirida said. "But we plan to do a better job of educating our customers in addition to providing the tools."
Preserving a Company Culture that Puts Customers First
One of Hijirida's most significant challenges as CEO is helping Simple improve its offerings while preserving the company culture he found so attractive. "That's always something you want to tread very carefully on," Hijirida said. "I feel like I've been handed a jewel. The last thing you want to do is run fast and drop it. I think I've been very careful coming in."
After two months as Simple's CEO, Hijirida said he is still in the process of meeting one-on-one with every single employee. By acquainting himself with each person in the company, Hijirida said he hopes to preserve the brand's culture while implementing progressive changes and improvements.
"I would say more than 90% of people here have told me, 'I'm here because of the mission, and I want to see this through,'" Hijirida said. "The people here have been through a lot of changes. They know that we need to innovate, but what keeps them passionate is the mission to help people. We have to make sure we're advancing that mission."
Hijirida said he plans to continue evaluating and meeting customer needs — as Simple has done with Expenses and the 2% campaign.
"Simple had been lagging in terms of launching new features and products, so that is something I want to change going forward," Hijirida said. "We're going to get faster and more nimble. I think you'll start to see some of those effects later on in 2019."