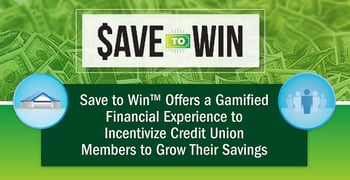 Experts share their tips and advice on BadCredit.org, with the goal of helping subprime consumers. Our articles follow strict
editorial guidelines
.
In a Nutshell: Save to Win combines the excitement of the lottery with the benefits of saving money. Users earn entries into raffles by making deposits into a prize-linked savings account at a participating credit union, where they have the chance to win cash prizes of up to $5,000. These prizes, in turn, help credit unions raise their public profiles, expand their reach, and educate members on the importance of responsible financial behavior. Even if members never win a prize, they still build up their savings and learn positive financial habits.
A few years ago, Sadie M. of North Carolina was in debt, didn't have an emergency savings fund, and lacked the knowledge and skills to plan for her financial future. But the tide began to turn the day she went to Greensboro Municipal Federal Credit Union and opened a Save to Win account. She did so hoping to win a cash prize, but she got something even more valuable: a savings account, a financial education, and a fresh take on her future.
"Save to Win changed my whole life … it's changed how I feel about my future," Sadie said in an online testimonial about her experience with the program.
Save to Win encourages credit union members to deposit money into their savings accounts by offering them chances to win prizes. The program is a collaboration between Commonwealth, the Filene Research Institute, and the Michigan Credit Union League. It launched in Michigan in 2008, and, in that year, saw more than 11,000 accounts opened and $8.5 million in savings deposited by account holders.
"Commonwealth reached out to the Michigan Credit Union League because the state had a unique law that allowed credit unions to promote prize-linked savings products," said Jessica Thelen, Project Manager of Marketing at CU Solutions Group, which administrates the Save to Win program. "We now operate in 14 states and 122 credit unions are promoting this product to 23,000 members. Although the prizes aren't millions of dollars like a lottery jackpot, they're more realistic in terms of the number of prizes offered and they reach more consumers."
In 2015, Save to Win merged its individual state programs into a national program. Save to Win accounts aren't available in all states due to legislative restrictions. But for residents of states where it is available through participating credit unions, the program provides monthly and quarterly drawings for prizes ranging from $25 to $5,000.
With Save to Win, everyone comes out ahead. Even if an account holder's name is never drawn in a raffle, he or she still gets to enjoy the thrill of a lottery without paying any money. More importantly, they're saving, earning interest, and taking control of their financial futures.
Prize-Linked Savings Accounts Promote Responsibility
Save to Win's prize-linked savings accounts take the form of a share certificate account, which is the credit union counterpart to banks' certificates of deposit. These accounts must be opened with a minimum deposit of $25, and they renew automatically after every 12-month term. Only one withdrawal can be made annually, and it incurs a fee of $25 — or more at the credit union's discretion. A second withdrawal within a 12-month period will result in the account's termination.
The prize-linked accounts incur no monthly service fees and accrue interest as a normal savings account does, with no minimums or caps on deposits, which allows members to deposit as much money as they can. For every $25 deposited, the account holder earns one entry into Save to Win's monthly prize drawing (up to a maximum of 10) and an entry into quarterly drawings (maximum 30).
Entries are based on month-over-month balance increases; depositing $250 into the account and then withdrawing the same amount before the month's end will earn no entries.
To qualify for prizes, an account must be open through the last day of the month for drawings that occur on the 14th day of the month and each quarter in January, April, July, and October. To open an account, a person must hold a regular share account with a participating credit union, be of legal age to enter a contract, and be a resident in the state in which the credit union is located. Each member may only open one Save to Win account and businesses and trusts are not eligible.
Easy Implementation Helps Credit Unions Drive Membership
Save to Win accounts hold a variety of benefits for credit unions. The allure of winning cash prizes drives membership and fosters enthusiasm for saving, which helps members build funds and establish positive financial habits. Credit unions also have the option of funding drawings for staff members, further expanding the pool of potential winners and contributing to the credit union's positive organizational culture.
The program is easy to implement thanks to turnkey marketing materials, including posters, brochures, digital and social media resources, press releases, and FAQs. The program also offers training documents for credit union staff and technical support. Credit unions manage the accounts and interest rates, but Save to Win handles all product administration pertaining to the program and drawings.
"The credit union sends us member information on deposits and balances so we can determine the entries and do all the drawings," Thelen said. "We also help them onboard the product starting with marketing materials, technology, and administrative support. Once they are onboard, we provide the drawing results as long as they're a part of the program."
All account holders can earn entries into the raffles to win multi-state prizes, except for Washington residents; the state awards its own prizes. Indiana, Oregon, Texas, and Arkansas award other prizes in addition to the multi-state prize. Save to Win also ensures the winnings are deposited directly into the member's share account, giving them fast access to their windfall. The program also gives them the option to deposit their winnings into their Save to Win account.
Account Holders Can Enjoy the Thrill of Winning
Thelen said Save to Win makes implementing the program easy for credit unions so they can focus on promoting it to members. The purpose of Save to Win is to reach out to financially vulnerable consumers and help them develop better financial habits.
According to a 2017 survey of Save to Win account holders, 60% of respondents had never had a CD before, and 81% hold no other CDs or share certificates. The results also showed that 78% were financially vulnerable, 63% earned low-to-moderate income, and 66% didn't have enough money saved to cover three months' worth of expenses.
"People often waste money on things that are unrealistic, whereas this product is helping people build savings accounts. When you buy a lottery ticket, that money's gone; you're just betting on the outcome. Regardless of the drawing outcome, you have that savings account with interest." — Jessica Thelen, Project Manager of Marketing at CU Solutions Group
Among the survey respondents, 73% said Save to Win made them more enthusiastic about saving, 64% said they were more likely to use their credit union's other financial products. And 10% joined their credit union so they could sign up for a Save to Win account. The opportunity to win cash prizes adds an element of excitement and gamification to positive financial behavior and turns saving into a no-risk game of chance. This is particularly enticing to people in poor financial situations.
"The odds of winning millions of dollars in a lottery are ridiculous. To people who don't have a lot of discretionary income left over after their paycheck, that's appealing to them," Thelen said. "People often waste money on things that are unrealistic, whereas this product is helping people build savings accounts. When you buy a lottery ticket, that money's gone; you're just betting on the outcome. Regardless of the drawing outcome, you have that savings account with interest."
Educational Resources Promote Strong Financial Habits
Users have opened nearly 73,000 Save to Win accounts since the program's launch in 2008. Each has averaged a balance of $2,442, and account holders — like Sadie from North Carolina — have collectively saved over $178 million. Prizes worth $2.8 million have been awarded, and, in 2017 alone, 4,498 people won a total of $248,085.
Save to Win accounts encourage saving and serve as a stepping stone to responsible financial behavior. The program provides educational resources for credit unions to distribute to members, and it offers additional materials on its website to help account holders and prize winners develop and maintain strong financial habits.
In the Savings Toolbox on its website, visitors can access financial calculators for auto loans and purchases, business finances, and credit cards, among other categories. They can also find guides to help them create savings goals and develop personal budgets.
The site's Financial Resource Center hosts additional information on car buying, financial planning, tax planning, saving and investing, and other consumer resources. The section also provides links to additional educational material, including information for young adults.
These resources build on the basic premise of Save to Win, which is to encourage people to put money into savings. By starting with that fundamental goal, Save to Win can help expand an account holder's financial literacy. That helps credit union members better manage their money and establish responsible financial habits that can benefit them for the rest of their lives.