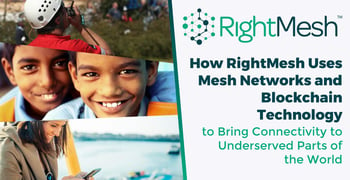 Experts share their tips and advice on BadCredit.org, with the goal of helping subprime consumers. Our articles follow strict
editorial guidelines
.
In a Nutshell: Internet connectivity is often taken for granted in modernized countries like the U.S., yet more than half of the world's population still offline. RightMesh is trying to remedy this problem by using people's existing smartphones to connect to one another and create mesh networks. The company operates under the philosophy that everyone should have access to a decentralized internet, and that access will help boost the quality of life of individuals and communities. RightMesh combines mesh networking with blockchain technology to create a truly modern solution for supplying internet connectivity to the entire world.
Can you read this? If you said yes, congratulations — you're on the internet. You are also most likely in a modern country with ample access to the internet all around you.
But that's not the case for more than half of the world's population.
"Connectivity rates are still low in many areas across the world — often in rural or indigenous communities and in certain populations in urban environments," said RightMesh CEO John Lyotier. "There is still a wide digital divide that we need to bridge."
RightMesh is attempting to conquer that divide through a combination of existing and new technology. The Switzerland-based company — with scientists and developers across the world — operates under the philosophy that a connected world is a better world.
And it is doing everything in its power to make its vision of a truly connected world a reality. The company uses wireless mesh and blockchain technology to connect previously unconnected people in underserved populations around the globe.
We spoke with Lyotier about the problem of connectivity, RightMesh's elegant solution, and how the technology behind it works.
Connectivity is Nearly Essential in Today's World Yet Approximately 4 Billion People Remain Unconnected
In addition to RightMesh, Lyotier is also the Co-Founder of its parent company, Left. About five years ago, he said Left had been working with an impressive developer out of Bangladesh and Lyotier decided to bring him on as a full-time employee.
"He did really great work. But it wasn't until a few years after we brought him on that we discovered he was doing everything over a dial-up internet connection," Lyotier said. "I began to realize that our concept of the internet was not universal."
This led Lyotier to dig deeper into the subject and he was surprised to learn that almost 4 billion people around the world are not connected to the internet. Even in the U.S., around 12% of the population remains unconnected.
And, Lyotier pointed out, while Americans think of being connected as having 24/7 internet access and full online capabilities, for many parts of the world being connected simply means having the ability to access the internet.

He said even though people may have smartphones, they are most likely not constantly connected. Instead, they power on their devices and connect to the internet only when they are in range and need to actually use it for something. Otherwise, they remain unconnected to save data and power.
As a company, RightMesh believes that increasing connectivity throughout the world can help individuals and communities live better lives.
"A person has a right to privacy, security, freedom of expression, and freedom of association," according to the RightMesh website. "We believe that when you give a person the ability to earn, contribute, own property, and generate value, the community benefits."
In today's world, being able to access the internet and communicate with others via wifi signal goes a long way toward helping people accomplish these kinds of goals.
"Only half of the world can experience internet technology," Lyotier said. "People are falling further and further behind. The rate of connectivity is widening that gap, and it's very unfortunate."
Using Existing Devices to Create P2P Mesh Applications that Bring Connectivity to Millions
While only half of the world's population is connected to the internet, 96% of the population lives within range of a 2G cellular signal, according to Facebook's 2016 State of Connectivity Report.
Lyotier said 80% of smartphone users across the world use Android devices and almost all of them are capable of sending and receiving a wifi signal, whether the user has direct access to the internet or not.
"If you and I are sitting in a classroom together or are otherwise in geographical proximity, our devices can talk and share data in various capacities," he said.
Yet, in many countries, the infrastructure makes it so that if one person in a classroom sends a message via smartphone, the message goes to a router, then to a central internet hub, then, in places like China, to the government, then back to the hub, then back to the router, then finally to the intended recipient sitting a few feet away.
"With RightMesh, we're able to go phone-to-phone and cut out all the middle communication," Lyotier said. "The consequence of that is we're basically using that free over the air data that every phone is capable of sending."
This concept forms the basis of the mesh networking that RightMesh uses. Lyotier explained that not only can devices share data from one to another, but if one device has access to the internet, then other devices can share that internet access. And the more people in geo-proximity, the more internet access available and the more devices that can share it.
Then one device can carry the signal to another device that may be out of the original device's wifi range. Eventually, a signal chain forms and many devices become connected to one another and can share information across the devices and can access the internet.
The result is a network with an infrastructure formed by Android devices that "brings connectivity to the last mile or operates with no internet access," and is self-forming, self-monitoring, and self-healing, according to RightMesh.
Population Density and Blockchain Technology Come Together to Make RightMesh Possible
"When we first started looking at this idea several years ago, it wasn't even possible," Lyotier said. "It wasn't that mesh networking wasn't thought of, it was that people weren't walking around with these wifi-capable devices in their pockets."
He said population density is also a major factor that makes RightMesh vision a possibility. As the world has become much denser in large population areas, along with the widespread ownership of smartphones, there is now enough density to create networks with the devices themselves.
The other key factor that plays into the system is blockchain technology.
RightMesh's developers configured the technology to use the Ethereum blockchain rather than relying on IP addresses to provide unique identities for each node.
"When a client and hotspot node find each other, they form a new mesh for people to join and share, and it grows from there. Every mesh node has an Ethereum ID and account that provides a unique identity to other users. RMESH tokens transfer from content providers and between users to reward behavior and pay for goods and services essentially helping the network to grow and coverage to expand," according to the RightMesh website.
Lyotier said RightMesh never intended to become a cryptocurrency company but came up with the concept of RMESH tokens when it realized users needed an incentive to share their networks and signal access.
"Some of our early work was in Cuba, and we realized people weren't really taking action and using the technology," he said. The company conducted some user studies and concluded that people weren't using it because there was no incentive.
Luckily, the solution was already built into the product via the Ethereum blockchain. The existing infrastructure allowed RightMesh to incentivize users to share their networks by paying them in microtransactions of the RMESH digital currency.
"Lo and behold, overnight we became a cryptocurrency company to solve our technology challenges," Lyotier said.
Gearing Up to Reach More People Starting with a Pilot Program in Northern Labrador
RightMesh is doing all it can to bring its unique technology to as many people as possible.
As part of its efforts to scale its technology, RightMesh is currently running a pilot program in Rigolet, a small Inuit town of about 310 people in Northern Labrador, Lyotier said. RightMesh is bringing connectivity to the community by helping connect residents to one another first, then connect them to the outside world.
"We truly believe that the way the world is connecting today is broken," Lyotier said. "We think the centralized model where everybody must connect to a central authority is wrong."