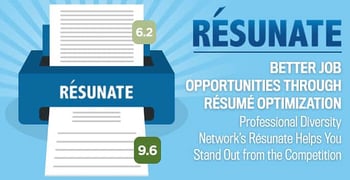 Experts share their tips and advice on BadCredit.org, with the goal of helping subprime consumers. Our articles follow strict
editorial guidelines
.
In a Nutshell: As the hiring process turns more toward automation, digital screening programs often eliminate candidates before a recruiter ever sees their résumé. Resunate helps job seekers optimize their résumés for the positions they're applying to, increasing the chances that hiring managers will see it. The tool is offered by Professional Diversity Network and connects a wide range of job seekers with companies that want a more diverse workforce. Many colleges and universities also use Resunate to improve the job prospects of graduates and alumni.
I can still remember the first professional résumé I ever created.
I was just out of school, and I wanted to be sure I highlighted not only my academic achievements but also the part-time jobs I had held throughout my college years. I got plenty of advice on what it should look like, how it should be formatted, what to include, and what not to. In the end, I discovered one important thing — ask 10 people what the perfect résumé should look like, and you'll get 10 different answers.
Later in my career, I found myself in the position of reviewing résumés for technical positions within the company I worked for. I don't think any two were the same, but some stood out more than others. That's when I learned that résumé writing is more art than science.
But the climate is different today. The image of a hiring manager poring over a stack of résumés in the hopes of finding the perfect candidate has been replaced by automated résumé screening programs and applicant tracking systems (ATS). These computerized gatekeepers are designed to scour the hundreds — or thousands — of résumés a company receives and only send the best to the recruiting department. Which is why job seekers need services like Resunate.
Resunate is an optimization tool that will fine-tune your résumé to match the job you're applying for. Using the language from the job description, Resunate makes sure your résumé gets past the bots and into the hands of the people who make decisions.
Resunate is operated by Professional Diversity Network, a company that uses technology to connect diverse job seekers with employers who want a more diverse workforce.
"Resunate is not a résumé builder. Rather, its main function is to optimize your current résumé based on the job you're applying for," said Russell Esquivel, Vice President of Client Services and Sales at Professional Diversity Network. "It will look at the job description and will auto-format your résumé or make suggestions for things that will make it more relevant to that particular job."
Even a Perfect Résumé Doesn't Guarantee You'll Get Noticed
Almost all large corporations today — and many medium-sized companies — use an ATS to screen and keep track of job applicants. These automated systems use software to filter through the information on your résumé and assign scores based on your compatibility with the job. Too low a score, and your résumé gets sent to the digital trash bin. In fact, it's estimated that as many as 72% of résumés are never seen by a human.
Once your credentials and skills are ranked based on the score assigned, only the top handful are sent to recruiters for follow-up and a potential interview. Chris Urna, Client Services and IT Support Specialist at Professional Diversity Network, described the process this way.
"If the ATS sees things that are irrelevant to the job too many times, it may discard the résumé before even reaching the section where the experience is," he said. "So that's what Resunate does — it makes sure everything is prominent and even suggests removing certain items that may be so irrelevant that they're actually hurting you."
Even the most well-written and perfectly formatted résumé won't make it past an automated screening program that's set up to match key criteria that you haven't included. Resunate identifies the key criteria in a job description and uses advanced semantic matching technology that's very similar to what an automated screener might use. It then assigns a JobFocus™ score based on what you've included. That way, you can see your score for a job position and adjust your résumé until it receives the highest ranking possible.
"Resunate scores how strong a résumé is compared to the requirements in the job posting," Urna said. "It's going to look at your résumé and say, 'How much of this is based on key criteria? How many keywords do I see matching up?' Every keyword increases the chances of a résumé being seen, and it will suggest keywords to add if you haven't included them."
The results seem to speak for themselves. Testimonials from Resunate users indicate a two-fold increase in the number of interviews offered after résumé optimization. Job applicants say they are more likely to make it past screening software. One user said he submitted two résumés — an original, non-optimized copy and one using Resunate. It was the Resunate version that netted him the interview.
Helping a Diverse Workforce Get the Jobs They Deserve
Professional Diversity Network is a collection of culturally distinct websites that help professionals connect with their peers. Significant parts of PDN's mission are improving career skills and providing access to opportunities.
"Professional Diversity Network exists to connect diverse job seekers, meaning ethnicity, race, veteran status, women, LGBTQ, and people with disabilities," Esquivel said. "We offer different websites that cater to those demographics. Our goal is to connect those job seekers with employers seeking a diverse workforce."
Resunate is a tool that any job seeker can use when submitting a résumé for a job posting. If a candidate applies for a job posted on the website's network, he or she is offered the option to use Resunate. They can then see their score and decide whether they should adjust anything before submitting it.
"We have hundreds of thousands of job seekers that come to our sites each month. And when they're looking at a job from one of our clients, they have the option of using Resunate before they actually apply," Esquivel said.
Colleges and Universities Use Resunate to Boost Graduates' Job Prospects
Remember, even the best résumé isn't going to assure you of landing your dream job, but anything you can do to improve your chances will help. And many educational institutions agree.
Many colleges and universities use Resunate to help students build résumés and increase their chances of landing professional jobs. Some of the most respected schools in the US have incorporated Resunate into their career services programs, including Carnegie Mellon, Wake Forest, Duquesne, Pittsburgh, and SMU, among others.
Pricing for Resunate is flexible, with schools able to license the tool in bulk for an entire student body. Individual pricing is also affordable and can be tailored to fit the needs of individual job seekers. A month-to-month usage fee is just under $50, but there are discounts for more extended periods. For example, if you pay for two months, you will get a third month free. Pay for three months, and you get three more for free.
Resunate is designed to help give job seekers the best chance at getting through today's automated gatekeepers and having their résumé read by a recruiter or hiring manager. The tool takes the same technology that companies often use to keep qualified candidates on the sidelines and puts it to work to help you get an interview.