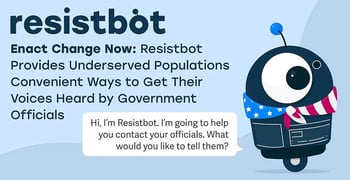 Experts share their tips and advice on BadCredit.org, with the goal of helping subprime consumers. Our articles follow strict
editorial guidelines
.
In a Nutshell: Resistbot facilitates democracy in real time by providing easy-to-use conduits for citizens to reach their government representatives. Founded following the 2016 presidential election, Resistbot quickly gained traction with engaged citizens who wanted to make their voices heard. The application allows users to reach out to their Congressional representatives quickly via smartphone or social media. For the 2018 midterms, Resistbot added a suite of voter tools, including information on voter registration, polling locations, and personalized voting checklists. Resistbot Co-Founder Jason Putorti also provides some tips about how to effectively communicate with officials, including staying up to date on the issues and personalizing your message.
The history books will no doubt look back at the past couple of years as an interesting time for American politics. No matter where you fall along the political spectrum, it's hard to deny that since Donald Trump was elected president in 2016, politics have not been business as usual.
Right out of the gate, Republicans and the Trump administration sought to implement changes to laws that could have adversely affected large portions of the population. Perhaps the most immediate were attempts to repeal the Affordable Care Act (ACA), which would have left a significant number of U.S. citizens without healthcare. And, unfortunately, an unexpected healthcare bill can break an already tight budget and easily send families into a financial downward spiral.
Jason Putorti, the Co-Founder and Executive Director of Resistbot, knew almost from the very beginning of the Trump administration that these types of legal challenges were in store.
And, Resistbot was born.
Putorti had begun connecting voters to their representatives in 2010 with his previous company, Votizen. But when he saw political unrest bubbling to the surface following Trump's inauguration, Putorti said he saw a new opportunity to help citizens make their voices heard, and he and Co-Founder Eric Ries launched Resistbot in March 2017.
In its first iteration, constituents could send text messages to Resistbot and the company would fax them to their respective Congressional representatives. Putorti said the service caught on quickly and almost immediately began making an impact on political policies.
"If you look at the entire ACA reform process, it was the resistance that finally killed it — people calling or writing in to express their opposition," Putorti said. "One Congressional staffer told us that we were the bot that took down the vote."
By the end of April 2017, Resistbot had delivered 800,000 pages of opinions to elected officials, and 1 million people used the service in its first 180 days. By May 2018, Resistbot had delivered millions of messages.
Write Congress in Under Two Minutes with a Smartphone or via Social Media
"The fact that Resistbot took off as quickly as it did, and grew so large, tells me there was a demand for something like this," Putorti said. "I didn't think it was particularly difficult to write my elected officials, but I understand that a lot of people didn't know where to turn. And if the existing methods were easy, people wouldn't use us."
Since its March 2017 launch, Resistbot has evolved and become much more robust in a number of ways.
Users can send a message to Congress by texting the word "congress" to Resistbot on Facebook Messenger, Twitter, Telegram, or texting to 50409 on their smartphones. The service will determine who the users' representatives are and deliver the message in less than two minutes, according to the website.
"The user experience is easy," Putorti said. "You can finish writing a message in 10 minutes. Then, once the letter has been created, it's something you can use in other places."
He said the program will ask users if they would like the letter to be used for other purposes, and, if they reply yes, Resistbot can submit it as a letter to the editor to their local newspaper. This process has yielded letters that were printed in newspapers in nearly every state.
Below is a sample of text commands and accompanying actions Resistbot users can take, according to the website:
congress: Write or call all your representatives in Congress
senate: Write or call one or both of your U.S. Senators
house: Write or call your representative in the U.S. House
gov: Write or call your Governor
editor: Submit your last letter as a letter to the editor to your local paper
check: Lets users check their voter registration
page: Will deliver a user's local newspaper's front page daily
share: Make your last letter an open letter
numbers: Get the phone numbers for your federal and state officials
Putorti said Resistbot is appealing because some people have phone anxiety, or a phone call about a particularly emotional issue can be difficult to get through, which can be a barrier for some citizens. Additionally, he said the last time he checked, government forms to submit messages online were not optimized for mobile use — another barrier.
Resistbot Users Can Make Sure Their Vote Counts with the Organization's Robust Resources
Putorti said Resistbot built a number of tools to assist with voting and to educate voters leading up to the recent midterm elections, which remain available for upcoming elections.
"There are a number of elections coming up in a bunch of states in 2019, so we'll be there," he said. "We don't want people to use us once and that's it. Once they get a relationship with Resistbot, the great thing is we can continue offering value with these voting tools and other educational materials."
He said the company built a voter registration system where citizens can register to vote simply by answering questions from Resistbot, determine polling locations for early voting and on Election Day, and receive absentee ballot instructions.
"One of the features I'm really proud of is a tool to verify registration and check voter rolls," Putorti said. "This was a response to the cases where state officials were getting rid of old voters, but active voters were actually being removed from the voter rolls. If your status ever changes, we'll notify you."
The Resistbot voter tools can also provide citizens with a personalized voting checklist, voter ID requirements, and vote pledge card to help ensure that voters will stay politically engaged.
"The voter section is pretty much end to end," Putorti said. "We tell them when the early voting times are. We ask them if they have the proper form of identification, and if they don't, then we help them get an ID."
The service also sends voting reminders to users ahead of elections.
Communicate with Representatives Effectively via Personal Stories and by Demonstrating Knowledge of the Issues
Many citizens who are new to contacting their representatives are curious about how they should go about crafting a message so it has the most impact. Putorti offered up some advice based on his experience in the area.
"I talk to a lot of people in Congress on a regular basis," he said. "They want to see that a constituent is educated on an issue. A more thoughtful letter or phone call is going to have the highest level of impact."
He said the generic services where a user clicks "Yes, I support this issue," or, "No, I do not support this issue," are much less effective. Bills and laws are often nuanced to include a lot of different topics and information, he said, and saying yes or no doesn't tell lawmakers what exactly it is about an issue that a citizen is addressing.
"It's about taking the time to learn about an issue and writing something thoughtful or even personal about it," Putorti said. "Staffers will pull out the most impactful letters on either side of an issue and hand them to officials who will often read them out loud on the Senate floor."
He said it's like a debate, and officials are looking for the very best arguments, and they really take those into consideration.
"That's also why it's really important for civic engagement issues to be highlighted in the press," he said. "Not only can people learn how a certain policy affects them, they can learn how to engage and affect public policy."
Resistbot is Set to Extend Its Reach to State and Local Reps with Continued Support from Donations
"Resistbot's mission is to improve the voter participation rate in the United States by engaging citizens year-round," according to the Resistbot blog. "We aspire to create both a delightful, rewarding service that works on citizens' own terms, and a smart personal assistant that can educate and inform on issues that they care about or that affect their lives."
Putorti said in support if its mission, Resistbot is continually exploring how to improve and refine its offerings to citizens. He said in January, the company will expand its service to include options for users to contact state officials and mayors.
"The state legislators are closer to the people and represent fewer people, so correspondence to them goes a long way," he said.
Putorti added that, as a 501(c)(4) nonprofit, Resistbot relies on donations. Anyone interested in donating can visit the Resistbot website to contribute.