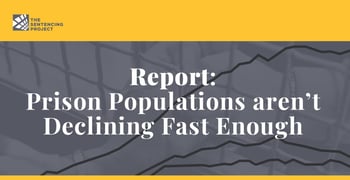 Experts share their tips and advice on BadCredit.org, with the goal of helping subprime consumers. Our articles follow strict
editorial guidelines
.
In a Nutshell: Mass incarceration has been a problem in the U.S. for more than 40 years. A report published by The Sentencing Project demonstrates that prison populations are not declining fast enough to reverse the effects of mass incarceration. The report, "U.S. Prison Decline: Insufficient to Undo Mass Incarceration," reveals that, while incarceration rates are declining by 1% per year since its 2009 peak, it would still take more than 65 years to cut the prison population in half. The Sentencing Project tackles a wide range of issues surrounding America's prison systems, including racial disparity, juvenile justice, and drug policies.
For years, the United States has had the highest incarceration rate of any country in the world. About 2.3 million people are being held in American prisons and jails. But it hasn't always been like this. Over the last 40 years, incarceration rates have increased by 500%.
This drastic spike is due not to rising crime rates but to changes in law and policy, according to The Sentencing Project — an organization that has been studying and raising awareness about America's prison problem since 1986.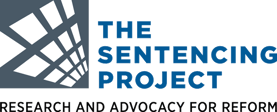 "The Sentencing Project works for a fair and effective U.S. criminal justice system by producing groundbreaking research to promote reforms in sentencing policy, address unjust racial disparities and practices, and to advocate for alternatives to incarceration," according to the website.
That means that, at any given time, the nonprofit may be engaged in a wide range of projects whether its studying the racial disparities in incarceration rates or advocating for juvenile justice reform.
The Sentencing Project recently published the study "U.S. Prison Decline: Insufficient to Undo Mass Incarceration" by Nazgol Ghandnoosh, Ph.D. Ghandnoosh is a Senior Research Analyst for the organization.
We spoke with Ghandnoosh about her study to learn more about the problems surrounding mass incarceration and how the incarceration rates, while on decline, are not going down fast enough.
Despite Lower Numbers, the Pace of Reform Must Increase to Truly Address High Incarceration Rates
"This is something that began as an analysis that I did a couple of years ago with our former Executive Director Mark Mauer, and I've been updating it every year when there's new national data from the federal government on imprisonment levels," Ghandnoosh said.
By the end of 2018, the U.S. prison population was 1.4 million people — a 9% decline from its 2009 peak, according to the study. The research brief highlights notable variation across state decarceration levels and shines a light on what Ghandnoosh considers to be the overall modest pace of reforms relative to the massive imprisonment buildup.
"Although 44 states and the federal system have reduced their prison populations since reaching peak levels, the pace of reform has been slow to reverse nearly four decades of aggressive imprisonment growth that now exacerbates health risks during a pandemic," according to the study.
Ghandnoosh said that the prison population increased every single year from 1972 until 2009. But starting in 2009, the prison population started to decline.
"I think it was around 2014 that we did an analysis to see, if we keep going at this rate of decline, how long would it take to end mass incarceration?" she said. "What we found was that it would take over 80 years at that time, at the rate of decline that had been happening."
The current study cites the rate of decline at about 1% per year, a rate that would still result in 65 more years of mass incarceration, or cutting the prison population in half.
Ghandnoosh said more reforms are needed to effectively decrease America's prison population.
"Most of the reduction in the prison population has happened for people with drug convictions and for people with property offense convictions," she said. "There's been very little reduction in the prison population for people with violent crime convictions — there's only been a 2% reduction in that group. This is despite the fact that the violent crime rate has fallen to half the peak it reached in the 1990s."
For significant progress to be made, the system needs to implement more effective, fiscally sound, and morally just responses to violence.
"Expediting the end of mass incarceration will require making a meaningful dent into the number of people imprisoned for violence as well as intensifying sentencing reforms for non-violent crimes," the study concludes.
Some States are Doing Better than Others
Ghandnoosh also discussed another, related study from 2015 called "Fewer Prisoners, Less Crime: A Tale of Three States."
"It looks at how New Jersey, New York, and California have reduced their prison populations by that time by over 25%," she said.
And the populations have continued to decrease since the study.
"While New York and New Jersey reduced their prisoner counts by 26% between 1999 and 2012, the nationwide state prison population increased by 10%," according to the study. "While California downsized its prison population by 23% between 2006 and 2012, the nationwide level decreased by just 1%."
She said The Sentencing Project also has another analysis of states that have substantially reduced their prison populations.
New York and Connecticut are two states that she believes really stand out, she said.
"They really dramatically reduced their prison and jail population by over 50% since they reached their peak levels," Ghandnoosh said. "So they've already met this milestone that a lot of people are hoping for."
This was accomplished mostly around reform efforts focused on people with nonviolent convictions, she said.
The COVID-19 pandemic has increased the national discussion of mass incarceration to a higher level in the national discussion. The COVID-19 case rate in prisons was lower than that of the general population until mid-April, according to researchers from the Johns Hopkins University and the University of California Los Angeles COVID-19 Behind Bars Data Project. From March 31 to June 6, COVID-19 cases in U.S. federal and state prisons were 5.5 times higher — and death rates three times higher — than in the general population.
"The response that we've had during the pandemic to scaling back incarceration is not commensurate with the problem of mass incarceration that we've been modestly chipping away at," Ghandnoosh said. "This should be a time where policymakers and correctional leaders realize that we need to make really meaningful reductions in the prison population."
Unfortunately, that's not the case, she said. Elected officials are very reluctant to say people serving life sentences should be released.
"But these are some of the oldest people in prison," Ghandnoosh said. "And these are some of the people that are least likely to reoffend when they're released."
The Sentencing Project Works for a Fair and Effective U.S. Criminal Justice System
Of course, these studies are just a small part of the vast amount of work The Sentencing Project does in its mission to achieve a fair and effective criminal justice system.
The main areas the organization addresses are sentencing policy, incarceration, felony disenfranchisement, racial disparity, drug policy, juvenile justice, women, and collateral consequences.
The Sentencing Project has produced, and continues to produce, valuable research in each of these areas to help bring about policy change.
As a result of The Sentencing Project's 34 years of research, publications, and advocacy, many people know that this country is the world's leader in incarceration; that racial disparities pervade the criminal justice system; that over six million Americans can't vote because of felony convictions; and that thousands of women and children have lost food stamps and cash assistance as the result of convictions for drug offenses. — The Sentencing Project
The organization makes it easy for people to get involved and support causes they feel passionate about, whether it's through making their voices heard or providing a monetary donation.
"Help end mass incarceration by letting your representatives know that you stand for responsible criminal justice policies," according to the nonprofit. Visitors to the website can select from a number of current action items The Sentencing Project is supporting.
The nonprofit is currently engaged in efforts to protect incarcerated people from COVID-19 and in asking Congress to support the Second Look Act.
The organization also accepts donations directly through its website. It also helps people take action by connecting them with The Sentencing Project's state and local partners to join criminal justice reform efforts in their area.