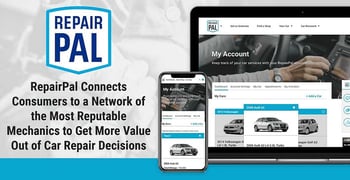 Experts share their tips and advice on BadCredit.org, with the goal of helping subprime consumers. Our articles follow strict
editorial guidelines
.
In a Nutshell: Unplanned expenses, including pesky but necessary auto repairs, pop up from time to time, and many consumers are not financially prepared for these events. But, because 77% of Americans drive automobiles to work, the repairs are unavoidable. RepairPal maintains a nationwide network of vetted auto repair shop partners and provides consumers with a wealth of informational resources, including its online repair estimator, that can make car repairs less painful. The company also conducts in-person educational car care clinics at partner locations several times a year to bring transparency to the repair process.
A wrecked car can wreck a budget.
According to a recent Gallup poll, 77% of Americans drive themselves to work. And, according to a recent AAA survey, about 33% of U.S. drivers cannot pay for an unexpected car repair — which averages about $500 to $600 — without going into some sort of debt.
You don't have to be a math wizard to understand that those numbers reveal a potential problem for a whole lot of U.S. drivers.
We all hope those old tires will hold out a little longer or the funny noise under the hood will go away on its own, but the truth is that unexpected expenses pop up all the time. Ideally, an individual or family has an emergency fund that can take care of those unplanned costs. But, of course, that's just not the case for many Americans.
Whether that car repair cost comes out of a savings account or goes on a credit card, consumers can maintain control over some aspects of the repair process, like where to take their vehicle.
"The cheapest way to get your vehicle fixed is 'right the first time,'" said RepairPal Vice President for Industry Advocacy and Sales Jill Trotta.
And that's just what RepairPal helps consumers accomplish through the wealth of resources available on its website and through its nationwide RepairPal network of approved repair shops.
Trotta said choosing the cheapest mechanic shop is often not the best option when getting car repairs because those shops frequently use cheaper parts or less-skilled labor, and consumers will eventually have to get their auto repair re-repaired.
RepairPal Connects Consumer to High-Quality Auto Repair Shops and Educational Resources
RepairPal's primary service to consumers is connecting them to shops that can provide high-quality, guaranteed repairs at a fair price. Users simply input their zip code on the front page of the RepairPal website to access a list of RepairPal-approved shops in their area.
Most people shouldn't have too much trouble finding a shop reasonably close because RepairPal has a presence in all 50 states with a network of 2,300 shops, according to Trotta.
"You can call around and get the cheapest prices, but usually the person who is going to give you the cheapest price is the person who doesn't have any cars in his or her shop," Trotta said. "The right shop might cost 20% more, but it's worth it."
She said tow trucks are pricey and people's time is valuable. Consumers can quickly negate any money they saved through the cheapest shop by having to go back for multiple repairs for the same issue.
Other advantages to using RepairPal include its Fair Price Estimator. The company compiles a variety of information for its estimates, including cost-of-living data from each zip code in the U.S., the cost of quality auto parts, and labor rates for various regions across the country.
A consumer can then input his or her location, type of vehicle, and the repair needed, and receive a RepairPal estimate on how much the repair should cost. The consumer can then take the estimate to a RepairPal member shop, and if the shop's estimate is higher, the consumer only pays the amount on the original RepairPal estimate.
Then, the auto repair shop sends RepairPal the bill showing how its cost differed from RepairPal's estimate, and RepairPal will reimburse the shop for the price difference and update its estimator accordingly.
RepairPal also offers a wealth of educational resources for consumers from tips on how to select the best used car to troubleshooting car problems at home. She said providing these general resources is very important because there are so many pitfalls awaiting consumers.
"One common tip we like to give people in the market for a used car is to be aware of what the average repair cost of a particular make and model vehicle is," Trotta said. "You can buy a nice used BMW 7Series for like, $20,000. But that car originally sold for $80,000 when it was new. When you go to repair it, you're going to be repairing an $80,000 car, not a $20,000 car."
Trotta said RepairPal users can also register on the website to receive emails about recalls, access symptom guides, maintenance schedules, and more.
Familiarizing Consumers with the Repair Process and Emphasizing the Importance of Communication
Trotta said she is part of a six-person automotive team at RepairPal with an extensive automotive repair background, and several times a year the team will partner with a RepairPal member shop to conduct a car care clinic on-site.
"The member shop is usually having some kind of car care event, and our team will go out and put cars up on the racks, and we'll talk about things like the brakes, under the hood, the suspension, or the dash," she said.
The clinics aren't meant to teach consumers how to fix the vehicles themselves, Trotta said. Rather, they are intended to familiarize consumers with automotive terminology to take some of the mystery out of the repair experience. She said it's very important for consumers to know what questions to ask, or even to request to see the repairs.
"A really good auto shop will have no problem showing you what repairs are needed," she said. "We just want to get people more comfortable with what questions to ask."
RepairPal member shops are also making strides to help demystify this process for consumers through the use of tablet inspections, which allows shops to email consumers with pictures and all the information about the repairs the vehicle needs.
She said this increased level of transparency and communication is important because she estimates that half of the problems that arise during the vehicle repair process can be chalked up to miscommunication.
"A mechanic might be really good with cars but not so great at communicating with people about what the car needs or putting it in laymen's terms," she said.
Auto Shops in the RepairPal Network are Thoroughly Vetted and Held to High Standards
Before RepairPal adds a repair shop to its member network, the shop must meet a number of RepairPal standards, Trotta said.
"We don't just list anybody in our network," she said. "We're not a pay-to-play network. You have to apply and be accepted, and once you are, we send customers to you."
The process is more than just a formality. RepairPal has a team of Automotive Service Excellence-certified (ASE) professionals who evaluate the shop on a number of requirements. Trotta said they look at technical ability, staff expertise and training, the quality of parts the shop uses, whether the shop has the right tools, and the type of warranty it offers.
To become a RepairPal-approved shop, the shop must offer at least a 12-month or 12,000-mile warranty on its repairs, although Trotta said many of its shops offer 24-month/24,000 mile warranties and even 36-month/36,000 mile warranties.
"If a shop isn't willing to stand behind their work for at least a year, you should leave — bottom line," she said. "There's a reason."
The RepairPal team also surveys the shop's customers to make sure they are happy with their service and experiences at the shop.
"It takes about two weeks to get through our approval process," Trotta said. "It's pretty thorough."
She said RepairPal also takes into consideration whether the shop mechanics are participating in ongoing education at a professional level to stay up to date on the latest systems and technology in newer vehicles.
A Partnership to Benefit RepairPal and CarMax Customers
Even if you are not in a financial position to build an emergency fund but the dreaded unplanned car repair becomes necessary, with RepairPal you can feel confident that you are getting the best quality repair for your money.
Last year, RepairPal partnered with CarMax because both organizations strive to provide a great customer experience in an industry that can have customer perception challenges, Trotta said.
Consumers can reap the benefits of this partnership. If you buy a car at CarMax, you'll get $50 off the deductible on your warranty when you go to a RepairPal-approved shop for repairs, Trotta said.
"It brings really good quality customers to our shops, and it provides a really good experience for CarMax customers when they get their cars repaired," she said. "It's a great partnership and people save money."