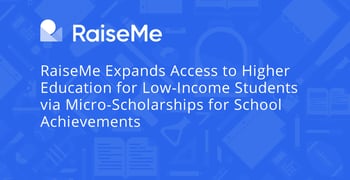 Experts share their tips and advice on BadCredit.org, with the goal of helping subprime consumers. Our articles follow strict
editorial guidelines
.
In a Nutshell: With student loan debt and college tuition on the rise, RaiseMe offers a platform for low-income and first-generation students to offset some of the costs associated with attending college. The platform allows students to follow colleges they are interested in and complete certain tasks that earn monetary rewards that go toward micro-scholarships. Tasks can include anything from participating in extracurricular activities to earning an A in a course. And students can earn from as little as $2 to thousands of dollars for the tasks they complete. The company also provides a host of educational tools and resources to students, educators, and community organizations that engage students.
Many students spend years being prepped for college so they can continue their education with the idea that, after graduating, they will be equipped to enter into a lucrative career and maybe even give something back to society.
Today, the reality is that many new college graduates are taking jobs to simply help pay off the high amount of student debt they accrued while pursuing their degree. In fact, student loan debt in the U.S. exceeds $1.5 trillion and is only surpassed by mortgage debt.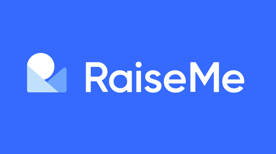 Millennials have even been known to delay marriage and avoid purchasing a home because so much of their income goes toward paying down their student loans. There are many factors at play in this pressing issue but one simple fact is that college costs much more than it used to.
"Students at public four-year institutions paid an average of $3,190 in tuition for the 1987-1988 school year, with prices adjusted to reflect 2017 dollars," according to a CNBC article. "Thirty years later, that average has risen to $9,970 for the 2017-2018 school year. That's a 213 percent increase."
Private four-year school costs rose significantly as well, from $15,160 (with prices adjusted to 2017 dollars) to $34,740.
RaiseMe is an organization that is doing its part to help all students, and particularly those who are lower-income and first-generation, achieve their dreams of pursuing higher education by making this costly endeavor more accessible.
The social enterprise company does this by partnering with higher education institutions across the company to offer high school students micro-scholarships based on specific accomplishments.
We recently spoke with RaiseMe's Senior Marketing Manager Cecilia Xia to learn more about this unique and innovative approach that is helping remove cost barriers for underserved students.
Earn Micro-Scholarships as Early as the 9th Grade
"We help students attain a clear path to affordability when it comes to paying for higher education," Xia said. "They can join the platform as early as 9th grade and begin earning micro-scholarships from four-year universities."
Students enrolled in RaiseMe can also earn micro-scholarships in community colleges while they make plans to transfer to four-year universities.
"Micro-scholarships are incremental, achievement-based awards that are designed to incentivize and motivate students toward completing actions that will help them be on a better path and strengthen their college applications and their educational journeys," Xia said.
These tasks can include things like getting an A in a class, taking on elective courses, or participating in extracurricular activities. Doing community services, taking financial literacy coursework, and even completing the FAFSA are also common micro-scholarship achievements, Xia said.
By signing up with RaiseMe, students can research the colleges that best fit their goals and learn about the micro-scholarships schools are offering. Students then follow the colleges they are most interested in, which also makes them eligible to earn micro-scholarships from those colleges.
Each college rewards achievements differently, Xia said.
"These micro-scholarships can range from maybe $2 for an hour of community service to, in some cases, $6,000 for doing well on an AP exam," she said.
When a student selects the college he or she wants to attend, the micro-scholarships they have accrued through that college will be awarded when they attend the school.
"Your total earnings previewed in RaiseMe are a minimum guarantee of the financial award that you will receive from a 4-year institution if you apply and are accepted," according to the company website.
The maximum amount a student can earn is determined by the colleges, according to RaiseMe. One college may set the maximum at $8,000 while another college may provide opportunities to earn up to $80,000 in micro-scholarships.
RaiseMe Provides Resources for Educators and Students
RaiseMe understands that this system of micro-scholarships and achievements may be new to students and higher education institutions alike. That's why the organization provides a robust amount of resources for all parties involved.
"We've created a body of resources for educators, and these tools are really designed for anybody helping students on their journey toward college, whether its college advisors, community-based organizations, parents, teachers, or coaches," Xia said. "These tools are designed to help them keep students accountable for earning micro-scholarships and keeping their portfolios up to date."
RaiseMe has also assembled a healthy number of lesson plans and curriculums, Xia said. A lot of these resources are related to helping students learn about college affordability and financial literacy. They also include important information on FAFSA, student loans, and financial awards.
"We provide these curriculum resources to educators to help students be in a good position once they're ready to apply to college during their senior year, or if they're preparing to transfer from a community college," Xia said.
And RaiseMe provides students with direct access to abundant information on how RaiseMe works as well as insightful and educational materials that will help them prepare for college.
The organization's website guides students every step of the way, from building their portfolios to accessing their scholarship money.
RaiseMe also offers a healthy referral program that can benefit the enrolled student and the person who they refer.
"It's as easy as clicking the +100 button at the top of your Portfolio and inviting your friends. When they sign up for RaiseMe from your referral, you'll both earn $100 to over 60 colleges via RaiseMe!," according to the website.
More Than 1 Million Students of All Ages Have Signed Up to Use the Platform
RaiseMe partners with more than 330 colleges and universities across the country to help the dream of college become a reality for low-income students. And more than 1 million students across 25,000-plus high schools have signed up to use the platform.
The average annual scholarship earned on RaiseMe is $5,000, according to the company. And stories are plentiful from students who have benefited from RaiseMe and its unique micro-scholarship strategy.
Susquehanna University student Wynn Phillips was able to earn a whopping $54,385 in scholarships.
"I found RaiseMe helpful because I didn't really have any direction towards schools and the cost was a huge concern going into it," Phillips wrote on RaiseMe's website. "RaiseMe opened my eyes to schools that are willing to give back to their students and that was very important to me."
Xia said RaiseMe regularly talks to students who have gone through the process of earning micro-scholarships to learn how smoothly their experience went and whether there are ways to make it better for future students.
The organization also conducts research by soliciting information from graduating seniors and community college students to understand what their experience was like on the platform.
And Xia emphasized that it's not just high school students and 18- and 19-year old community college students who use RaiseMe. The platform helps a large number of adult learners who may have graduated from high school years or even decades ago pursue their dreams of attending college, she said.
"There's a whole host of love letters we've received in the past from students telling us things like how RaiseMe helped reduce the stress of paying for college," Xia said. "And how, because they knew financial aid was waiting for them when they applied to universities, they were able to focus more energy on their academics."
Student success stories are plentiful, and many can be seen on the RaiseMe website.
With student loan debt and tuition rates continuing to soar, RaiseMe offers a sensible, achievement-based path to helping students offset some of their costs and focus on what matters the most — attaining a high-quality education.