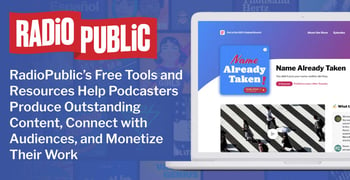 Experts share their tips and advice on BadCredit.org, with the goal of helping subprime consumers. Our articles follow strict
editorial guidelines
.
In a Nutshell: Content creation is a demanding and time-consuming effort, and podcasts are certainly no exception. To help podcasters get their shows up and running, RadioPublic offers free tools and resources to encourage production, publicity, and monetization. Among these are guides on every aspect of creating and growing a podcast — including marketing and publicity, which are crucial to success. RadioPublic also curates a list of high-quality podcasts, to help listeners discover engaging material and enable new creators to learn from the strategies used by well-established shows.
The digital era has changed the way we consume media, both for learning and leisure. From blogs to on-demand streaming services, you can quickly find information, entertainment, or both, with just a few taps or clicks.
Today, podcasts are one of the most popular options for discovering and exploring a variety of topics. Podcast Insights reports that 50% of U.S. homes listen to podcasts and a Nielsen report found that 16 million Americans describe themselves as "avid podcast fans." And the average listener subscribes to six shows at a time and listens to seven episodes per week.
For aspiring content creators, podcasts represent an efficient means of reaching audiences around the world. However, getting started in podcasting — from production to publicity — can be intimidating. That's why RadioPublic was founded to help podcasters quickly move from the drawing board to widespread distribution.
"The entire point of the company is to help podcasters find their audience and make money," said Matt MacDonald, Chief Product Officer and Co-Founder of RadioPublic. "We help you grow your business, whatever that business might be."
RadioPublic's founders started at Public Radio Exchange, where they worked to help notable shows with distribution and monetization. RadioPublic is an adaptation of the same approach they took when working with those premium podcasts, but tailored to emerging shows trying to grow their audiences.
RadioPublic provides a platform, tools, and resources to help creators who don't have access to extensive professional and financial resources.
"That's what we're trying to do: help podcasters get better and better at what they're doing," MacDonald said. "Our core customer is someone who's in that professional hobbyist status who is looking to turn their side hustle into a more sustainable product that can stand on its own."
Curated Tools Help Users Grow their Shows and Reach
RadioPublic helps podcasters along their journeys with a curated archive of informational resources. These help fledgling and mid-tier creators set up a podcast on a small budget, produce quality content, and grow their audience.
"There is no get-rich-quick thing in the podcasting space," MacDonald said. "It is not like you just start doing this and immediately you're going to have some ancillary, recurring revenue that's showing up. It's tough. It's a hard thing to do."
The first step is to create an account with a hosting service like Anchor or Soundcloud. After that, podcasters can register with RadioPublic, at which point they will gain access to a free, 21-day training course. It also offers additional resources divided into four major topics: starting a podcast, building and improving the show, growing an audience, and achieving monetization.
RadioPublic also offers custom websites and domains through Podsites. This premium platform allows podcasters to establish a virtual home base for their podcast.
"Rather than directing someone to a platform, like Facebook or YouTube, it's important for each podcaster to own their own domain name," MacDonald said. "It can be a pain to create a website for a podcast using a product like Squarespace, Wix, or Weebly. They're just not designed for podcasting needs."
Some podcasters produce content as a hobby, but everyone would like to see a reward for their time and effort — and RadioPublic makes that easier. Podcasters can earn revenue each time one of their podcasts plays on the RadioPublic app, and listeners also have the option of directly supporting the shows they enjoy. But before that can happen, podcasters must meet another, more fundamental challenge: connecting with an audience.
The First Rule of Podcasting: Know Your Audience
"It's hard to get noticed doing anything. Whether it's a new company, new product, or new musician — getting your voice to become recognizable is definitely a challenge," MacDonald said. "One of the things that is often not thought about as much in podcasting is how much effort needs to go into the marketing side of things."
MacDonald recommends podcasters split their time evenly between production and marketing. The show must be a quality product that people will want to listen to, of course, but it's important to ensure potential listeners are aware it exists. To that end, knowing your show's purpose and target audience are crucial.
"If you aren't spending time thinking about who you're trying to reach in the first place, it gets hard to think about how to market it. One of the key early things we tell podcasters is, 'If you're not understanding who it is that could be listening to the show, you're doing yourself a disservice.' Podcasts are really about the niche, just like the internet and the web itself."
Podcasters should define and emphasize what it is that makes their show unique and noteworthy within its niche. Having established that, creators can connect with their audiences through social media platforms like Reddit and Twitter.
Additionally, they can connect with other podcasters and bloggers in that same niche. One of the best ways to publicize a new show is to create guest content for an established outlet in the space.
And many more marketing tactics are available in RadioPublic's free podcast marketing course.
Users Can Find Podcasts — and Learn from Their Success
Podcasts are a straightforward way for listeners to find information and entertainment, and they're also valuable to consumers trying to save money by cutting more costly media — including streaming services and premium television channels. Podcasts represent free access to a wide variety of topics, and thousands of offerings await discovery.
"The easiest way to find podcasts is by searching on the web. The internet is incredibly useful as a discovery tool," MacDonald said. "Search for a topic you're interested in and add the word podcast, and you're going to find something."
RadioPublic curates its content to help listeners find shows they'll enjoy. The company has a podcast librarian on staff, and her job is to sift through the hundreds of thousands of shows to find the top listening choices each week. Her work makes it easy for listeners to find shows they'll enjoy rather than spending hours searching through countless offerings and trying to decide which is worth their time.
"I have the same issue. Sometimes, I get overloaded by the paradox of choice. I'm overwhelmed by the things I could be listening to," MacDonald said. "That's where curation kicks in. Each week, we narrow things down to about 50 podcasts that could interest you, instead of you trying to deal with the 500,000 or 600,000 that are available."
Of course, all podcasters would like to have their show recommended to listeners. To work toward that goal, they can take advantage of curated content to discover and keep tabs on successful shows. By seeing what those podcasts are doing well and how they're attracting and retaining listeners, novice podcasters can adapt and implement those strategies in their own shows to increase their success.
RadioPublic Uses Feedback to Improve Its Services
According to Forbes, podcasts are expected to remain one of the most popular forms of entertainment for years to come. They are suited to on-demand consumption, and listeners can customize their experience, listening to what they want and skipping over the rest.
Moving forward, technology will adapt to make listening to podcasts easier in both homes and cars. But another significant reason podcasts continue to enjoy popularity is loyalty; listeners enjoy the personalities and authorities on subjects and make connections with those they like and trust.
The loyal relationship between fans and podcast creators goes both ways, with podcasters improving their shows by listening to their audience.
And just as creators can benefit from listening to feedback, RadioPublic uses customer suggestions to guide its service and developments, ensuring a quality experience for both content creators and their listeners.
"We talk to podcasters all the time about how we can help them, and where we should focus our efforts," MacDonald said "Learning what problems and challenges podcasters encounter helps us prioritize what we work on next."
Each month, MacDonald talks to dozens of podcasters, learning about the goals they have for their shows. Those interactions allow RadioPublic to understand how its offerings meet podcaster needs, and where the service can be optimized and improved. By implementing solutions based on that feedback, RadioPublic can continue to provide meaningful solutions for development, distribution, and marketing so that all of its podcasters can grow and succeed.