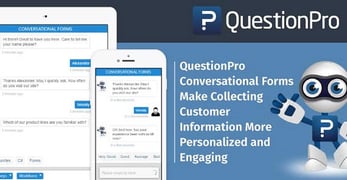 Experts share their tips and advice on BadCredit.org, with the goal of helping subprime consumers. Our articles follow strict
editorial guidelines
.
In a Nutshell: Customer data is invaluable to retailers, but as more consumers want to control how they interact with brands online, that information can be difficult to gather. QuestionPro Conversational Forms are survey-based chatbots that use artificial intelligence and personalization to engage with consumers, gathering data in a more inviting format. Through a familiar chat-based interface, a retailer can answer customer questions and gauge sentiment. The Conversational Forms platform has also proven to be five-times more engaging than surveys alone, meaning more data for retailers and less hassle for consumers.
In a retail store, an associate can ask customers if they need assistance or if they've found what they were looking for. But online, those conversations become complex, especially since customers don't always know how to get help.
While many businesses offer live customer support options, like chat, email, or phone support, each of those solutions take a significant investment on behalf of a business in terms of development and staffing.
QuestionPro, a leading online survey software brand, designed an innovative solution that increases customer engagement in areas such as customer support while also respecting the customer journey when gathering customer data. The company introduced QuestionPro Conversational Forms to turn tedious surveys into interactive experiences using questions and paths set by retailers.
"The main purpose of Conversational Forms is to drive engagement and make a survey more of a conversation," said Lindsey Rapose, QuestionPro Product Manager. "Conversational Forms help consumers open up about their experiences and make them more willing to give you insights."
While much of the content is the same as what's typically in a form, survey, or FAQ, the interaction aspect means consumers feel more comfortable using it and providing companies with the information they need to not only assist future customers but also convert more prospects.
See a 5X Increase in Customer Engagement
Conversational Forms are nonintrusive and smart, so consumers can interact with them at any time during their journey.
"You are getting the feedback you need, but in a way that makes it easy for the customer to provide," Lindsey told us. "We found that having this interface can lead to a fivefold increase in engagement because users don't feel like they are filling out a form."
The app builds on QuestionPro's robust survey platform and is optimized for mobile, tablet, and desktop use. That means consumers can interact across the devices they use to browse and shop. And the Forms interface feels familiar, inviting, and human, as any web or mobile device user understands how to use it immediately — compared to a survey or questionnaire that may be too lengthy or offer too many choices.
"There are times when a survey reminds me of taking a test in high school or college, and I am filling in bubbles and answering questions," Lindsey said. "Conversational Forms is a back-and-forth that is a little more fun for users."
Through customized questions, response mapping, and AI, Conversational Forms let customers follow their own path with a retailer as their guide.

Businesses Create Individualized Customer Journeys Through Conversation
There are currently 11 different question types available on Conversational Forms, with more in the works. The question categories include prompts for contact information, a list of answer choices, and net promoter score (NPS) — a metric that indicates how willing a consumer is to recommend a business to others.
"For retailers especially, NPS is a key metric," Lindsey told us. "With Conversational Forms, you can get that data in real time without having to wait for people to open an email and fill it out.
Each answered question elicits a response from the bot based on logic rules that can be set up by the retailer, and those rules can change based on a user's answer, giving the consumer a personalized experience that's preferable to searching a help section or filling out a satisfaction survey. Businesses may also design their own templates for lead generation, customer experience, or NPS.
The conversation can also follow the customer throughout his or her interaction with a brand's website or app. It can be easily accessed — usually from a small button at the bottom of a page — and the chat picks up wherever the customer left off.
That persistence can help businesses generate more leads while allowing the customer to have complete control of the interaction. And Conversational Forms have plenty of other uses for businesses, as well.
Retail Applications Span Support, Marketing, and More
By deploying Conversational Forms, retailers can do more than just simplify the consumer journey; they can be used for customer service and to test marketing strategies. A form can be embedded in a landing page for a marketing campaign to gauge its effectiveness on visitors.
An analytics dashboard gives a retailer a real-time view of insights that are being gathered — down to individual questions — and makes them easy to export. In the future, more CRM integrations will be added so answers can be connected with users.
Also, a form can be sent as a link after a transaction to assess satisfaction and play the role of a customer support assistant if something goes wrong. That kind of brand interaction can be comforting to consumers, and Conversational Forms automate that process.
"Most chatbots have to be embedded on a page, but ours can be shared with a link, which is innovative," said Lindsey.
The app also has integrations with many business collaboration tools like Slack, Atlassian HipChat, and Jive so a company can quickly add a Conversational Form to any of those channels and be used to gauge internal sentiment on anything from upcoming projects to what a team wants for lunch.
Conversational Forms have many use cases and can become anything a business needs them to be. And QuestionPro is working on expanding the functionalities and look of the new tool to give businesses even more choices.
Helping Brands Hear What Consumers Are Saying
Conversing with consumers online is far more challenging than engaging customers in person — but e-commerce shoppers still want the feeling of personalized service. Instead of having to pay live support staff to work around the clock, businesses can use QuestionPro's Conversational Forms to listen to feedback 24/7.
QuestionPro is even working on expanding the functionality of the platform — from question categories to additional branding — to suit even more business needs.
"We are working on adding more complex logic for the next iteration as well as more customizations so businesses can upload their own branded avatars," Lindsey told us.
With consumer engagement being top-of-mind for e-commerce companies of all sizes, boosting interactions while automating the process can be a boon. QuestionPro has provided retailers with that ability, through Conversational Forms, and the result is a more fluid, personalized experience.