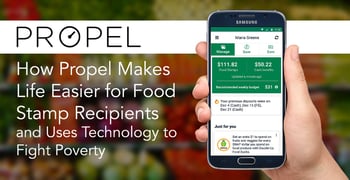 Experts share their tips and advice on BadCredit.org, with the goal of helping subprime consumers. Our articles follow strict
editorial guidelines
.
In a Nutshell: With all the technological innovations happening in recent years, low-income consumers are often overlooked and underserved.Low-income consumers often remain overlooked and underserved despite all the technological innovations in recent years. Propel seeks to use technology to deliver valuable products and services to low-income consumers. Its first product, Fresh EBT, is an app that improves the cumbersome user experience for food stamp recipients. The app allows users to check their Electronic Benefits Transaction (EBT) card balance in an instant, offers money-saving grocery coupons, and lets users know about job opportunities in their area. The company values security and has a team of industry professionals implementing the highest security standards.
Childhood experiences often shape who we become as an adult, and that is certainly the case for Jimmy Chen.
Chen grew up in a loving home but there were times when his family struggled to put food on the table. But Chen's future was bright. He landed a full scholarship to Stanford, where he studied computer science and cognitive science.
After he graduated, Chen became immersed in the fast-paced tech world of Silicon Valley. He wielded his tech skills at LinkedIn and Facebook. Many people would consider playing important roles at some of the world's leading social media companies to be living the dream.
But Chen's connection to his family's struggles during his childhood stuck with him, and he wanted to do something more.
"In 2014, I left my job at Facebook with this idea that I wanted to blend the things that I learned in software and Silicon Valley and Stanford with the background of how I grew up," Chen said. "I was thinking about how to use software to solve some of the challenges that my parents had when I was a kid."
Chen moved to Brooklyn to participate in a fellowship at the Robin Hood Foundation, New York City's largest poverty-fighting organization. The experience laid the foundation for him to launch Propel, which uses software to fight poverty and make the lives of low-income families just a little bit easier.
During his fellowship, Chen gained insight into the modern challenges facing those living in poverty, particularly for those in the Supplemental Nutrition Assistance Program (SNAP) — commonly referred to as the food stamp program.
One thing that stood out for Chen was how the food stamp program's technology seemed to be lagging. He said that, despite a majority of Americans being connected to the internet or using smartphones, the vast majority of new tech companies are focused on solving the problems of those in the middle-to-high income ranges.
Addressing the problems of underserved through technology is a huge blind spot for most tech entrepreneurs, Chen said.
Chen founded Propel based on the vision to use technology to serve the low-income consumers who are often overlooked when it comes to new ways of delivering convenience and efficiency.
Fresh EBT is an App That Lets Food Stamp Users Conveniently Check Their Balances
Chen said 40 million Americans receive food stamp benefits, along with an Electronic Benefits Transaction (EBT) card.
"The EBT card looks like a debit card you would get from any bank," he said. "Except with one big difference. On the back of the card, there's a toll-free number you have to call to check your balance."
Users are then required to enter their EBT card number. The cumbersome process causes headaches for food stamp users — especially if they have to call while they are shopping and watching their kids at the same time, Chen said.
"Having built software and led a software team at Facebook, it just seemed strange to me that we have this SNAP program — that is frankly more important than products like Facebook because it is putting food on the table — with so little attention given to the user experience," Chen said.
Fresh EBT set out to change this and deliver a more practical and pleasant user experience for food stamp recipients. Chen said he believes people who are facing financial difficulties should have access to effective, modern, and trustworthy services to help them get back on their feet.
Anyone who receives benefits on an EBT card — whether it's through SNAP, Supplemental Security Income (SSI), or Temporary Assistance for Needy Families (TANF) — can use Fresh EBT.
Smartphone users can download the app for free on Android and iOS devices. It is available in all 50 U.S. states and U.S. territories.
Once the app is installed, users can instantly check their EBT balances and never have to call the toll-free number again.
Chen said Fresh EBT currently has about 2 million users and he attributes most of the app's adoption to word-of-mouth recommendations.
The App's Other Features Include Budgeting Tips and Employment Opportunities
"When we first launched the app back in January of 2016, the focus was mostly on replacing the need to call the toll-free number — to save time and add convenience," Chen said. "Since then, we have expanded to offer more in the way of helping EBT users improve their financial health."
Fresh EBT now includes a variety of tools, services, and other resources designed to help users get on the right financial path.
In addition to being able to check EBT balances, users can also view their transaction history and set up budgets within the app. The app also includes a search function so users can find stores in their area that accept food stamps.
Chen said Fresh EBT also helps users save money.
"We partner with a platform called Coupons.com to publish grocery coupons inside of the Fresh EBT app," he said. "These are coupons that work at stores throughout the country. And they don't actually require you to pay with your EBT card so you can use any payment method."
Propel also partners with small and large employers across the country in an effort to let Fresh EBT users know of employment opportunities in their areas. Chen said the app publishes a variety of job opportunities, including shift work, part-time positions, and full-time positions in areas where users live.
"Those are all the different types of things people do in the Fresh EBT app right now," he said. "Oftentimes, people open the app because they're checking their balance. But really, we see that as an opportunity to help surface a variety of other opportunities to help you save money and find jobs."
Propel Maintains High Security Standards and Seeks User Feedback to Make Improvements
"A lot of people ask us questions about privacy and security in Fresh EBT, and very rightfully so," Chen said. "If you are a low-income consumer, there are lots of challenges out there around privacy and security, especially in this day and age."
That's why Propel prioritizes protecting Fresh EBT users' personal information.
"We built Fresh EBT to fight poverty through world-class technology. That extends far beyond look and feel  — it also entails world-class privacy and security protocols," according to the Fresh EBT website.
The app's technical team includes members who have built core technology at companies that include Google, Cisco, and Facebook, and they approach data security from the standpoint that it is of utmost importance to Fresh EBT users.
"First and foremost, we don't actually save any personal information that people enter into the app — no card numbers, PINs, usernames, or passwords," Chen said. "All that stuff is passed through a secure channel back and forth between us and the data provider."
Chen said the Propel team also believes user feedback is very important and implements features and ideas based on user input when possible.
"At the end of the day, we're trying to build a product that is useful for the person who's opening the app," he said. "The only way that we can learn if it's useful or not is if we listen to what people tell us."
Propel conducts multiple Fresh EBT user interviews per week in its offices or out in the community. It also runs a variety of surveys within the app to solicit user feedback. Chen said the company can also analyze usage data to determine the app features people are using the most.
Chen said the company is committed to using its expertise and resources to continue to deliver a quality user experience with Fresh EBT.
And, he said that although Propel's current focus is on Fresh EBT, the company's long-term plans include introducing new products to support its mission to "build software for low-income Americans who are often overlooked by traditional tech innovation."