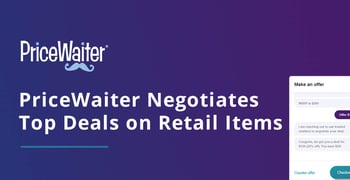 Experts share their tips and advice on BadCredit.org, with the goal of helping subprime consumers. Our articles follow strict
editorial guidelines
.
In a Nutshell: Negotiating the price on retail items is not a common practice in the U.S. as it is in other parts of the world. Many consumers don't even know it can be done — but it can. PriceWaiter is a company that takes the time and stress out of negotiating prices with its convenient online platform. Users simply find an item they want to buy and submit the amount they want to pay. PriceWaiter will automatically negotiate with the company in real time and come back with a counteroffer or accept the customer's offer. The platform features a wide variety of items, including sporting goods, electronics, and apparel. PriceWaiter recently launched a rewards program that benefits both current users and the friends they refer to the company.
Years ago, I had a chance to study abroad in the Middle East. The unique experience was eye-opening in a lot of ways. I was exposed to cultures, cuisines, and customs I was completely unfamiliar with and loved soaking it all in.
At the beginning of my trip, one custom I encountered fairly quickly that boosted my anxiety was haggling in markets. I was buying souvenirs and other items at face value, when one of my professors, who was originally from the country we were in, explained that I was expected to negotiate those prices.

By the time I returned to the U.S., I fancied myself a haggling king (although, in reality, I'm sure I was far from it).
But the thought of walking into a retail store in the U.S. and trying to negotiate a better price seems outlandish. In the states, prices are prices. Or so many people think. There are certainly instances where prices can be negotiated, and not just on used car lots.
PriceWaiter is a company that knows this and uses its innovative platform to negotiate better prices for customers across a wide range of items.
We recently spoke with Andrew Scarbrough, Co-Founder and COO of PriceWaiter, about the origins of the unique business idea, how it works, and the company's recently launched rewards program.
How PriceWaiter Works to Get Great Deals with Its No-Stress Negotiation Model
"PriceWaiter kind of grew out of necessity as with a lot of startups and businesses," Scarbrough said.
The COO said that, after years of working at SmartFurniture.com, he and the Founder of SmartFurniture.com launched Delegator, a digital agency to help e-commerce businesses manage online ads. Many businesses ran into challenges when it came to converting shoppers to buyers.
That's when Scarbrough recognized a need in the market for a service like PriceWaiter. The initial idea was to help businesses sell more products by helping them offer flexible pricing. On the other side of the equation is a benefit that any shopper appreciates — lower prices.
"We used negotiation as the mechanism and built software for retailers like SmartFurniture.com to install," Scarbrough said. "It started with a software service, and we have moved over the past six years to where we are now, with a full-blown marketplace."
PriceWaiter partners with companies and helps them sell items at prices they are comfortable with, which may be below the minimum advertised price.
From the consumer perspective, PriceWaiter offers a straightforward, stress-free negotiation tool that often helps them land surprisingly great deals.
Users simply go to the PriceWaiter website and search for items from the company's partners or browse through the items by category.
Once they find an item they are interested in purchasing, users click in the dialogue box on the screen to make an offer on the item. The automated system will quickly negotiate with the company in real time and come back with a message that the company accepted the offer or will present a counteroffer.
There's no pressure to buy. Users simply click a button to make the purchase, make a counteroffer, or simply decline the offer.
PriceWaiter displays both the manufacturer's suggested retail price and Amazon's price for easy comparison to the PriceWaiter negotiated price.
Popular Categories Include Electronics, Sporting Goods, Apparel, and Accessories
PriceWaiter's list of marketplace items is continually growing as the company adds more partners to its network.
"Choose from our growing menu of handpicked, top-rated products from trusted sellers," according to the company. "Look for Hot Deals. These are the crème de la crème of savings and are like good doughnuts; best when they're fresh, and they run out fast — so act fast."
Visitors to the PriceWaiter site can quickly access the Hot Deals category by clicking on the tab at the top of the homepage.
Many of these deals offer savings of at least 30% to 50%.
PriceWaiter's featured categories include Electronics, Sporting Goods, and Apparel & Accessories. Users can quickly and easily browse through a selection of TVs, watches, headphones, thermostats, washing machines, and much more.
"For the marketplace, we're typically focusing on products that are over $100 because we have more room to make that a more meaningful savings compared to, say, Amazon's price," Scarbrough said.
PriceWaiter stands by its products, sellers, and customers, according to the company. It aims to provide solid service and a positive shopping experience.
The company is confident in its ability to do just that. The PriceWaiter website features a real-time feed of all of its TrustPilot reviews, both good and bad. The company is currently rated 4.6 out of a 5-star rating.
"I'm a huge fan of the 'Make an Offer' feature," writes Matthew S. on the PriceWaiter website. "I've recommended it to several friends over the past week and will continue to do so in the future. Thanks again, guys! You've earned a new fan!"
With its easy-to-use interface and potential for big savings, the majority of PriceWaiter's customer testimonials are similarly positive.
The PriceWaiter Rewards Program Lets Users Earn Credits Toward Future Purchases
"We recently launched a rewards program to give back to the people who helped build this," Scarbrough said. "We just launched it in the past 30 days so there's going to be a lot more that's built on top of what's already there."
And what's already there is a referral program that benefits both the existing PriceWaiter customer and the person they refer to the platform.
"If you invite your friend, they're going to get $10 tied to their account that will be applied to their next purchase," Scarbrough said. "And you're going to get a $5 kickback for bringing them to us. It's as simple as that."

He said the program will grow with more rewards and credits for certain behaviors like writing reviews or hitting certain thresholds.
"We're also looking at things like leaderboards because people can get pretty competitive about rewards programs," Scarbrough added.
He pointed out that accruing $5 for each person who signs up for PriceWaiter can add up to a significant amount, which, coupled with the savings consumers are likely to receive through PriceWaiter, makes for a hefty discount.
"The reward program is in its early stages, but it's your classic refer-a-friend and you-both-win model," Scarbrough said.
Users can also take advantage of discount codes.
"From online promotions to thank you's, PriceWaiter issues discount codes from time to time," according to the website. "Discount codes can be redeemed for additional rewards credits and used with any of your purchases on PriceWaiter.com"
With its no-pressure negotiation tool, consumers can't really go wrong with PriceWaiter. In a best-case scenario, they get a great discount on an item they want — worst-case scenario, the price is too high and they simply don't make the purchase.
"Our goal is to continue to be below the big box stores with our pricing for the top products that we bring," Scarbrough said.