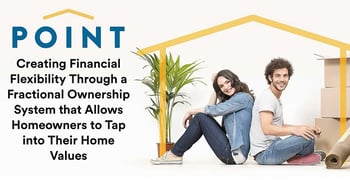 Experts share their tips and advice on BadCredit.org, with the goal of helping subprime consumers. Our articles follow strict
editorial guidelines
.
In a Nutshell: By the time homeowners reach the point where they need to tap into their home equity to help their financial situation, traditional debt-based products may be out of the question. Point helps homeowners unlock the value in their homes through fractional equity sharing, an arrangement in which the company purchases a small percentage of the property's future appreciation. The process puts cash in the homeowner's hand, and if the property appreciates, Point gets to share in the profits. If the property depreciates enough, Point will share in the downside too (i.e., the homeowner could be paying back less than they received initially). Point's team works closely with potential customers to make sure it is the best solution for their circumstances. Most Point clients use the funds for unexpected expenses, to eliminate debt, or invest in the future value of their property.
In the San Francisco Bay Area, Eddie Lim was in between gigs and wanted to free up a small amount of funds from his home equity. Despite being a tech entrepreneur with several successful businesses to his name, Lim was turned down by traditional financial institutions straightaway simply because he did not have a job at the time.
On the other side of the country, a Boston area couple found the house of their dreams for themselves and their two young children. But there was no way they could afford the down payment on it.

The couple came up with an interesting proposal and brought it to their good friend Eoin Matthews, another Silicon Valley entrepreneur. If Matthews would pay the down payment on their home, he would be a partial owner of the property, and when the couple sold the house — assuming it appreciated in value — Matthews would get his investment back and then some.
That's exactly how it played out.
It just so happened that Matthews and Lim were colleagues in the Bay Area tech world. Their shared frustrations with the home equity and mortgage industry — based on the two scenarios above — led them to launch Point in 2015.
Point offers a non-traditional avenue for homeowners to tap into their home's equity in a way similar to how Matthews helped his Boston friends — shared ownership.
"Eddie and I spent a lot of time looking at the home equity industry and trying to figure out a better way," Matthews said. "With Point, I think we've done that."
With Fractional Ownership, the Company Buys Into Your Property to Become a Partner
"You don't wake up and say, "Oh, I'd love to sell a fraction of my home,'" Matthews said. "You wake up and say, 'I have a $15,000 credit card balance because I had to get this medical procedure or I had to help out this family member.'"
Matthews said when these types of financial problems arise — even if they do have $85,000 or $95,000 equity in their home — many homeowners have difficulty accessing it. When homeowners have an unexpected need for non-discretionary funds, they may not be in a position to qualify for a traditional loan. They also may not be in a position to take on a new monthly payment. Banks will lend at higher rates because the homeowner's risk profile has increased, he said.
"That's really the crux of the problem we're trying to solve," Matthews said.
So, how does it work?
Point provides an avenue for a homeowner, who has typically lived in his or her home for five-plus years, to unlock value by selling a small fraction of the equity in the home to investors.
Homeowners begin the process by answering a few basic questions to see if they qualify for Point's services. One of the main qualification requirements is that homeowners must retain at least 20% of the equity in their home after Point's investment.
Once homeowners are pre-qualified, Point makes a provisional offer to purchase a fraction of the property's equity. A licensed appraiser will then visit the home to inspect the property and make sure Point has an accurate idea of the home's value.
Next, the homeowner and Point solidify the offer by finalizing paperwork. The homeowner will then typically receive his or her funds within four business days of closing the deal. Point charges a 3% to 5% processing fee and the homeowner is responsible for the appraisal and escrow fees. These amounts are usually deducted from the amount Point invests into the property so there are generally no out-of-pocket expenses.
Point is paid when the homeowner sells the home, during the agreed upon term, or at the end of the term (usually 10 years). In fact, many end the agreement after just a few years. Homeowners often use Point to improve their finances, then qualify for better terms for a cash-out refinance or HELOC.
To learn more about specific scenarios, Point provides a homeowner calculator on its website.
Point Carefully Walks Approved Homeowners Through the Whole Process with Personalized Service
Matthews said Point understands that this is a whole new concept for many people, so the company tries to make the process as seamless as possible for homeowners.
"We want there to be as little friction as possible through this, so we put in a lot of effort up front with our customers," he said. "Every homeowner has an Account Manager. That Account Manager will touch base with the homeowner and have a 15- to 30-minute phone call to learn about their specific situation and explain how Point works. They are available for every question that comes up during the process."
The most important part of the phone call is to make sure the homeowner understands the product, Matthews said, and also to make sure Point is really the best solution for the potential customer's circumstances.
"If we think somebody is better qualified going for a HELOC or home equity loan, our account managers are going to be the first to tell you if you should be talking to your local credit union before looking at Point as the solution," Matthews said.
Once it is determined that Point is the best path for the homeowner, the deal goes into underwriting. Matthews said this part of the process can also be intimidating to people, especially if their credit is distressed.
"They usually associate underwriting with a process centered on their credit score and worry they'll be rejected," Matthews said. "We use some of the same documentation that the homeowner may provide to a lender, but our underwriting criteria is very different from traditional debt-based products."
Point generally just wants to make sure the homeowner is definitely going to be solvent. He said if the company sees that the customer will be in a good financial position post-funding, then Point is generally confident about proceeding.
"We have a very high funding rate once people go into underwriting," Matthews said.
The company works to answer any other questions homeowners may have throughout the process, he said. Point understands that most people don't think about these kinds of situations on a regular basis so it wants to educate homeowners as much as possible about the product.
Your Funds Can be Applied Toward Extenuating Financial Circumstances or Investing in Property Enhancements
"For every customer we fund, we are helping to solve a real problem for them," Matthews said. "Typically, this isn't adding a nice pool in the backyard. We are often funding homeowners looking to overcome a significant financial challenge brought on by a life event or helping homeowners paving the path for the future."
Using Point to pay off debt may decrease overall credit utilization, an important factor in determining credit scores. Additionally, by freeing up cash flow, homeowners who are in arrears on some obligations are often able to get back on track in terms of making timely monthly payments. Each homeowner's situation is unique, but Point has observed an immediate improvement to the credit scores of some homeowners in the months after using Point to pay down their debts.
When Matthews and Lim were developing Point, Matthews said they didn't think another debt-centric product was going to be a helpful addition to the industry because so many people access home equity for non-discretionary expenses.
"This is an essential product for our customers who are fixing very real problems," he said.
Matthews said use cases also include homeowners making important investments in their property to ensure a solid financial future. Even though these types of uses may not be considered as crucial as paying off a high credit card debt, for many homeowners, planning for the future is just as important.
"How do you get more income if you're going into retirement or if you're already on a fixed income?" he asked. "We've seen a lot of homeowners invest in their property to make rental units for a tenant or as an Airbnb unit."
Some homeowners have used their funds to create a whole separate living unit. Known as accessory dwelling units (ADUs), these are in-law units or granny flats which have their own entrance, bathroom, and kitchen. They have become popular rental income generators in urban and suburban markets, Matthews said.
"In some cases, the homeowner moves into the accessory dwelling unit so their kids can live on the main property, or they'll just rent out the primary property," he said.
Homeowners who plan to use their funds for these types of investments should let Point know in advance because the company can offer preferential pricing in certain scenarios.
"Investing into the future of a property is great for the homeowner and for us," Matthews said. "While we predominantly focus on 10-year funding today, we are starting to test 30-year funding terms with some homeowners. Investing to make more money out of your property is a great option for retirement or for homeowners who don't want to continue kicking their debt down the road."
Point is Now in 13 States and Growing, and Hopes to Broaden Its Criteria to Help More Homeowners
Point first offered its services to homeowners on the West Coast before expanding to East Coast states, including Maryland, Pennsylvania, and Florida. Illinois is expected to become the first Midwestern state to gain Point's services in March or April of 2019.
Matthews said the company now has a presence in 15 states and hopes to continue to expand in the future.
Point also hopes to expand one day to be able to fund a broader base of homeowners. He said some homeowners simply don't have enough equity in their homes or the overall home value is not high enough for Point to be able to buy into it.
"There are some of those customers that we just can't serve today, but we want to in the future. It's definitely something we've thought about," Matthews said.