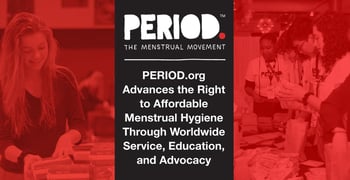 Experts share their tips and advice on BadCredit.org, with the goal of helping subprime consumers. Our articles follow strict
editorial guidelines
.
In a Nutshell: PERIOD.org works to end period poverty — or the lack of menstruation resources — through education, advocacy, and service. Its efforts include advocating for tax-exempt status for pads and tampons, providing products free to those in need, and eliminating the stigma associated with menstruation. Through organized actions and events, PERIOD.org works to increase access to period products for low and no-income individuals, thereby securing the right to basic menstrual hygiene.
During Nadya Okamoto's freshman year of high school, her mother lost her job working for a nonprofit organization, and her family became homeless. During her two-hour-plus commute to and from school, Okamoto found kinship with other homeless women. And she began asking them what they found most challenging about their situations.
The response, overwhelmingly, was the lack of basic menstrual hygiene products. Without access to tampons and pads, the women often resorted to using toilet paper, socks, paper grocery bags, or even cardboard.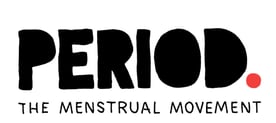 So, when she was 16, Okamoto used the money she earned from babysitting and other odd jobs to provide period products to the homeless and low-income women she knew. In 2014, she took her efforts to the next level and founded PERIOD.org, a nonprofit organization dedicated to ending period poverty and stigma through service, education, and advocacy.
"We're trying to distribute period products to people in need and change the way people think and talk about periods through education. And we're now fighting for access to menstrual hygiene through period policy," Okamoto said.
The organization has more than 600 chapters, including high school and college groups, in all 50 states and nearly 30 countries around the world. Together, the dedicated activists in those groups work to raise the public profile of menstrual hygiene while providing necessary products and advocating for better access.
Access to Affordable Menstrual Hygiene Products Should be a Right, Not a Luxury
For people with low or no income, meeting everyday costs for necessities is a constant challenge. And, while they may receive financial assistance, programs like the Supplemental Nutrition Assistance Program (SNAP) and the Special Supplemental Nutrition Program for Women, Infants, and Children (WIC) do not cover menstrual hygiene products. That policy places pads and tampons in the same category as consumables like tobacco and alcohol. SNAP and WIC also don't cover vitamins, toothpaste, and other health and hygiene products.
Each state maintains a list of necessities that are exempt from taxation, and according to Period Equity, 33 states still charge sales tax on tampons and pads.
That, essentially, classifies the hygiene products as luxuries rather than necessities. Only five states — Maryland, Massachusetts, Minnesota, New Jersey, and Pennsylvania — specifically consider these products necessities and grant them tax-exempt status.
Despite the proliferation of the term, there is no official "Pink Tax" applied to menstrual hygiene products in the way that states levy so-called sin taxes on items like alcohol and tobacco. But advocates like Okamoto believe that these hygiene products are necessary and should be exempt from general sales taxes, which places undue financial stress on the people who consume them.
Okamoto and fellow activists say they believe that advocacy at the legislative level is the most effective way to eliminate those additional costs.
"When we talk with people in power about period poverty, one of the most common reactions is, 'I've never even thought about this,'" Okamoto said. "Because the stigma teaches us that we don't even touch this, and if you do talk about, you don't talk about other people's periods."
Starting the Conversation by Ending Stigma About Periods
Eliminating that stigma and fostering an open discussion are two important goals for the nonprofit. Even women often use euphemisms to refer to menstruation because they feel that it is impolite or improper to discuss. That can keep firmly in place the stigma that has resulted in limited access to menstrual hygiene products.
"We're trying to accomplish menstrual advocacy — ethical access to menstrual hygiene. It's hard work because, before we can even talk about real solutions, we have to get people talking about the topic. Even the name of the organization is a tool for that," Okamoto said. "The stigma creates a reason why people may feel ashamed or silenced because of their periods. That's why we encourage a lot of the people we serve to feel comfortable asking for period products."
That is an especially important mission for those living in homeless shelters, where menstrual hygiene products may be available — but only upon request. The sense of stigma associated with menstruation and period products often prevents individuals in need from asking for them.
Okamoto said that changing the nature of the conversation can remove the stigma for women as well as for transgender and nonbinary individuals.
"A big, easy step that we try to encourage people to do is start a conversation on social media," Okamoto said. "We get people talking about periods. We encourage them to use #MenstrualMovement, post about it, share it, and engage with us on social media."
Offering Diverse Ways to Get Involved with the Movement
Although social media engagement is a vital component of any campaign in the digital age, many people want to get involved beyond the virtual sphere. So, PERIOD.org provides opportunities to raise awareness and direct assistance to the people who need it.
"About 46% of low-income women — not even homeless women — have had to choose between a meal and period products," Okamoto said, citing a citywide study conducted in St. Louis in 2019. "We just released a national study in honor of National Period Day that found 84% of teens have either missed school or know someone who has missed school due to a lack of access to period products."
Individuals can go to the PERIOD.org website to find the closest PERIOD chapter and join in the campaign. With 600 registered chapters around the world, many people will find one nearby. But if not, the organization grants people access to exclusive materials and tool kits to encourage them to start their own chapter.
PERIOD.org also has volunteer and associate positions open, many only in Portland, Oregon. Positions include service, marketing and social media, development, policy coordination, and web design and data systems. Those roles allow activists to use their professional skills to help the campaign advocate for adequate menstrual hygiene products.
Businesses that want to contribute can become PERIOD Partners to help distribute products to those in need, or become Period Sponsors to fund the organization's work. Nonprofits that serve the homeless and the financially insecure can become Menstrual Cup Service Partners, and their personnel receive the necessary training to inform recipients how to properly use the reusable menstrual cups.
And, of course, PERIOD.org also accepts direct donations. According to the website, a $2 donation can cover an entire menstrual cycle. So far, PERIOD.org has helped address more than 950,000 periods.
Ongoing Events and Initiatives Pursue the Fight for Rights
Okamoto said her journey from homeless high school student to champion of menstrual hygiene for the low-income and homeless has been a fulfilling one. Through PERIOD.org, she works to raise awareness, distribute products, and bring the conversation to the public. She said the next phase of that mission will be to address the taxation of period products.
To further the cause, PERIOD.org plans to host events to raise menstrual hygiene awareness and connect activists so they can coordinate efforts. And anyone can join the movement by hosting a drive to end period poverty, raising both money and awareness in their own community.
One event, Period Con 2020, is scheduled for February 29 – March 1 in Portland, Oregon. The gathering of PERIOD.org chapter leaders and other guests will feature presentations by activists, influencers, brand representatives, and legislators. And those who can't attend can follow the event on Instagram.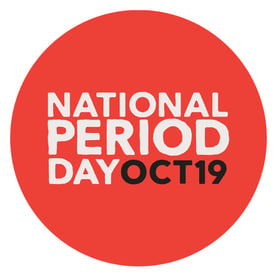 The nonprofit also launched the inaugural National Period Day on October 19 in cities across the nation. Its purpose was to advance awareness of menstrual hygiene deficiency and accessibility to period products.
"A big part of that was pushing forward the idea that menstruation is natural and menstrual hygiene is a right and not a privilege," Okamoto said.
The event served as a kickoff for a year-long campaign to raise the profile of period poverty, to make policy demands for accessible products in schools, shelters, and prisons, and to push for the tax-exempt status of products.
Okamoto said she hopes to make period poverty a problem of the past. Through PERIOD.org, those in need receive period products, and supporters can join the campaign to ensure that everyone, regardless of income, has access to these basic necessities.