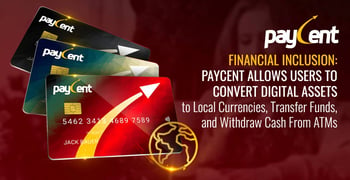 Experts share their tips and advice on BadCredit.org, with the goal of helping subprime consumers. Our articles follow strict
editorial guidelines
.
In a Nutshell: Paycent — with its hybrid app, wallet, and crypto fiat cards — is helping consumers across the globe gain access to digital assets and fiat currencies in a convenient and interchangeable manner. Between the company's mobile wallet and card offerings, users can access their digital assets and use them in 200 countries and at 36 million merchants. Depending on where they live, users can order Paycent's Ruby, Sapphire, or Solitaire crypto fiat card. The company's offerings further the goal of helping break down barriers to entering the world of digital assets and deliver access to financial services to unbanked populations.
The recent wave of blockchain technology and cryptocurrency in the past decade is changing how people approach finance across the globe. With its decentralized and digital nature, cryptocurrency provides a way for the unbanked or those with limited access to banking facilities to save, spend, and transfer their funds.
And Paycent has provided one of the most convenient ways to leverage this technology through its mobile app and card offerings.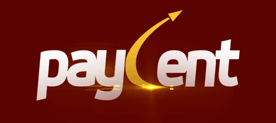 The company's Director of Card Program and Partnerships — Alex Agarwaal — recently spoke with us to shed some light on the motivations behind Paycent, it's card offerings, and how it all comes together to serve people around the world.
"Access is really a problem in large parts of the world," Agarwaal said. "In places like Asia, the space is huge but banking is not widespread. Documents can be a pain because many people are illiterate. And those in agricultural trades may lack exposure to financial services."
The Paycent Co-Founders, Sumedha Goel and Svetlana Umarova, recognized these problems and decided to launch a payments company to try to help address the issue, Agarwaal said. Working in Dubai, Goel and Umarova, noticed that after payday many Indonesian and Filipino workers would line up at exchange shops to send money back home.
Agarwaal said this common practice is costly due to exchange rates and fees and is very time-consuming.
"You only get Friday as a day off in the Middle East," he said. "So, one-fourth of your day is technically spent queuing up and sending back to loved ones. It's not convenient and it's expensive."
How the Paycent App and Wallet Work Together
Goel and Umarova launched Paycent in 2014 as their solution to the problems foreign workers in Dubai were facing. In 2017, the company incorporated cryptocurrency into its mobile solution, making Paycent more efficient and convenient than ever.
"They really expanded their vision," Agarwaal said. "Various industries were seeing a lot of applications for blockchain. And as time has passed, they have become more involved in the fintech industry, so it made sense to apply blockchain to Paycent."
With the inclusion of cryptocurrency capabilities, Paycent went from simply being a mobile payments app to an all-purpose platform that bridges the gap between fiat and cryptocurrency payments. With its hybrid approach, the company has an opportunity to open up the world of digital currency to many more users.
"Paycent is a mobile wallet that enables users to exchange among multiple digital assets seamlessly," according to the company website. "The Paycent mobile wallet is a game changer as it enables users to manage, transfer, and pay using multiple digital assets through your smartphone or physical Paycent Card across 200 countries and 36 million merchants."
The Paycent app can hold Bitcoin, Litecoin, Ethereum , DASH, Binance Coin, and CHE tokens.
The company also recently announced a partnership with Verge, the privacy-focused cryptocurrency. "This partnership will enable the Verge coin holders to use their coins to book flights and hotels globally. It also will give the option to purchase from Amazon," according to Cryptonewsz.com.
The platform is powered by Texcent, a Singapore fintech company focused on delivering fully integrated mobile apps.
Three Card Offerings for Different Regions and User Needs
Paycent's latest offerings of what it calls crypto fiat cards make it even more convenient for consumers to access and use their cryptocurrency assets interchangeably (and with the ease of) fiat currency.
More than 60,000 Paycent cards have been delivered and are being used across the world, according to the company.
"Paycent cards enable users to convert digital assets into local currencies for use or withdraw from automated teller machines with real-time accessibility and convenience while adhering to the highest level of security standards in the industry," according to the Paycent website.
Agarwaal offered further details about Paycent's security practices.
"The platform is regulated in the regions we serve, and our know-your-customer (KYC) standards are pretty stringent. We don't accept everyone," he said. "We use the same system as companies like Citibank and JPMorgan Chase. We run applicants through multiple systems for credit checks and inquiries."
Paycent card options include the Ruby Card, Sapphire Card, and Solitaire Card. The cards were created in partnership with some of the world's leading card issuers. The cards' fee structures vary a bit depending on its issuer and which region it serves. Details and fee information can be found on the Paycent website.
Paycent customers can get virtual versions of the Ruby, Sapphire, and Solitaire cards for free, or order a physical card for a $49 delivery fee.
The company is currently running a promotion in which the first 99,999 physical cards ordered are eligible to receive cash back on the shipping cost if the user holds PYN — Paycent's crypto token — in their virtual wallet.
Agarwaal said that between the app, wallet, and cards, Paycent users have quick, convenient access to their fiat and crypto assets.
Serving the Unbanked Around the Globe by Removing Barriers to Digital Assets
"One of the primary goals of Texcent is to bring the digital asset market/ecosystem to mainstream audiences," according to the Paycent white paper. "Such audiences might have very little experience with digital assets and will more likely have no easy access to use and invest in digital assets."
Additionally, some audiences are hesitant to adopt new and innovative technologies and the company seeks to help users overcome this barrier, the paper goes on to say.
"In the Paycent app, the user swipes right to the Paycent e-wallet, allowing the user to buy digital assets, spend digital assets and invest in digital assets with a simple and seamless interface," according to the white paper. "The benefit to the blockchain/digital asset ecosystem will be a huge influx of fiat market capitalization into digital assets which will enlarge the ecosystem."
The Paycent app also gives unbanked populations easy access to digital currency and fiat capabilities through the use of their smartphones. According to Mobile Payments Today, 75% of underbanked households and 43% of unbanked households around the world have access to smartphones.
"With Paycent, we are helping to push the unbanked to the forefront of currency freedom with the ease of exchanging fiat money into digital assets with a singular app and vice versa to spend it on daily essentials," according to the company.
On the flip side, just as Paycent makes it easy for underserved populations to utilize funds without having to rely on a centralized financial system, it makes it easy for the underserved to receive funds.
With Paycent, those family members the Indonesian and Filipino workers in Dubai were sending money to back home don't need a bank account. They just need Paycent and they can receive and access their funds quickly and conveniently.
Partnering with Electronium
Agarwaal said Paycent's crypto fiat cards have been well-received and the demand for them is growing. And the company is continuing to expand its presence with new partnerships whenever possible.
"We're working on integrating Electronium as we speak. We're announcing that later this summer, and we're really looking forward to that partnership," he said. "They have a massive community of 3 million people globally, and they are aligned with what we do because they served the unbanked."
In general, Agarwaal said it's exciting to see the crypto space expanding with more adoption taking place regularly.
"We're seeing a lot of positive movement," he said. "It's definitely going to catch on. Irrespective of the prices — it doesn't matter if crypto goes up or down — it's all about the adoption of the system itself."