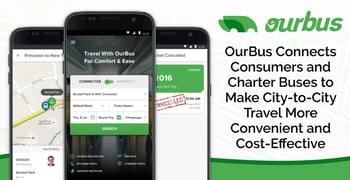 Experts share their tips and advice on BadCredit.org, with the goal of helping subprime consumers. Our articles follow strict
editorial guidelines
.
In a Nutshell: OurBus is a technology company that facilitates bus rides by listening to its customers and working with tour bus companies to establish routes to traditionally underserved areas. With its mobile app, paperless ticketing, and route tracking features, the company offers a convenient customer experience that is often more efficient and cheaper than alternative options. OurBus maintains high standards for the buses used on its routes. Each one must be no more than five years old and include charging ports at each seat, wifi, reclining seats, and clean bathrooms. Riders can take advantage of lower fares if they book early or if they book for times that are in less demand. And OurBus Select members receive discounts that make their trips even more cost-effective.
Traveling — even over relatively short distances — can be expensive.
A 2018 study by AAA revealed that the cost for a consumer to own and operate a new vehicle in 2018 averaged $8,849. The study factored in fuel costs, maintenance, repairs, insurance, depreciation, loan interest, taxes, and fees for a license and registration.
Of course, the more you drive, the higher those costs will likely be.
And most of us don't own new vehicles. That means the potential for repair costs, maintenance, and fuel costs for older, less efficient vehicles will be even higher than the numbers found on the AAA report.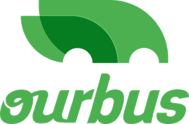 And, while air travel is predicted to continue to increase in the coming decades, regional nonstop flights tend to be pricey and have limited availability.
Meanwhile, train routes with several stops along the way can take longer than driving.
Bus travel can offer an ideal balance of cost and convenience for college students who make frequent trips home or for individuals who routinely visit family members in other cities. Over the years, the notion of unclean bus stations and sketchy passengers have saddled the mode of transportation with some negative connotations.
But OurBus facilitates clean, comfortable, and affordable city-to-city bus travel for the modern age.
"We're a company in the bus travel space that sets up charter buses and work with companies in different regions," said Axel Hellman, OurBus Co-Founder and Transportation Planner. "We have a lot of routes to the suburbs around big cities or to smaller towns that are not as well-served."
The technology company currently serves more than 50 cities, primarily in the Northeast, Florida, and Texas.
Simple Booking and Boarding Through the OurBus App
"For the typical user, let's say you're a person who lives in New York and your family is in Maryland or Pennsylvania, and you have a holiday weekend coming up and you want to visit them," Hellman said. "Sign up for our service, look up the schedule from New York to your family's town, book a ticket, and show up."
All of OurBus's ticketing takes place through its website or via the OurBus app, perhaps the most convenient way to use the service.
The OurBus app provides all of the functionality of the desktop browser, but users can access the app from their smartphones, anytime, anywhere.
OurBus app users can easily search the available routes and book a ticket in minutes. Customers can also track buses in real time. And the app provides easy access to trips and tickets through its convenient interface.
All OurBus tickets are booked electronically, so customers never have to wait in line at a ticket counter or print out boarding passes. And users can use the app to check in for their rides.
App users also gain access to the best offers from OurBus.
"Our bus fare is generally cheaper than air travel and Amtrak, and generally also cheaper than other bus lines because we don't have the massive infrastructure — garages, hundreds of drivers, maintenance facilities — because we're working within an existing system of tour bus companies," Hellman said.
Bus drivers working for the OurBus partner companies also have their own app that allows them to easily check a list of passengers booked for the OurBus ride.
Customers Can Expect Modern Amenities on Every Bus, Including Free WiFi and Charging Ports
OurBus prioritizes comfort and convenience for its passengers, so the company makes sure the buses it uses meets certain quality standards.
Hellman said because OurBus contracts with various charter bus companies, not all the buses are the same make and model, but they all must be five years old or newer.
Additionally, all OurBus riders can expect comfortable, reclining seats, free wifi access, and easily accessible power outlets. OurBus also ensures restrooms are clean and functional, and Hellman said all customers receive a complimentary bottle of water.
OurBus also ensures that the bus companies they work with are committed to safety and have all the required current certifications for operation.
The company also listens to passengers and the general public when determining its itineraries. OurBus routes are determined by the company's in-house research team through a combination of user-driven crowdsourcing, data analytics, and market insights.
"We send out a lot of email surveys to help make our planning decisions," Hellman said. "We're in contact with a lot of colleges, and we'll find out what days and times students are moving in and out of dorms and schedule buses to be there on those days."
And if a passenger suggests a new bus route that is eventually adopted by OurBus, the passenger rides for free with the company as long as the route is active. Hellman said the company has adopted several routes through suggestions on social media and is in the process of launching a route recommended by a university student.
Get the Most From Your Experience by Knowing When to Book and Signing Up for OurBus Select
Hellman said OurBus engages in dynamic pricing, determining the rates of a particular route based on user demand and how many seats are already booked. Generally, riders will find cheaper fares if they know when to book and when to travel.
"The earlier you book, the cheaper the fare," he said. "And usually on weekdays and early mornings, we offer cheaper fares. Early morning is always a good time to travel anyway because there is less traffic on the roads."
For frequent riders, OurBus offers the OurBus Select program. The membership fee is $49 for 90 days, and those who join receive a $15 discount for each of their next 10 city-to-city purchases.
Hellman said the program is great for big groups, families, those who travel often because riders generally break even after four bus rides or two round-trip rides.
And the company strives to keep ticketing issues convenient for all riders.
"We like to make our ticketing policy as flexible as possible for our customers. We allow refunds up to a day in advance. If the customer needs to cancel less than 24 hours before their trip, we will refund the ticket back to their OurBus Wallet, and they can use it on a future ride." — Axel Hellman
Hellman said OurBus is working on developing a number of new routes for the near future, including new beach routes and a route that is intended to replace a discontinued train route.
He said there's still a perception that bus travel is slow, but the forthcoming bus route that replaces the train is about one-and-a-half hours less than the train ride. And, when compared to flying, a four-hour bus trip is often shorter than a one-and-a-half hour flight, he said, because of the time it takes to travel to the airport and get checked in. Plus, there's always the possibility of flight delays.
As far as driving, there's no contest, according to Hellman.
"Driving is difficult and stressful and expensive — and most people are bad at it," he joked.