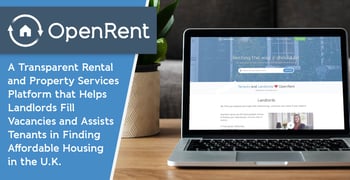 Experts share their tips and advice on BadCredit.org, with the goal of helping subprime consumers. Our articles follow strict
editorial guidelines
.
In a Nutshell: OpenRent connects both landlords and renters in the United Kingdom through its straightforward property services platform. Landlords can start with no investment and upgrade their plans or add management services to showcase their available housing. Intuitive search tools allow tenants to find, view, and rent properties that suit their needs without ever leaving the OpenRent platform. And tenants and landlords can avoid hidden fees and communicate directly with one another, bypassing agency pressure and red tape, making OpenRent a more natural way to rent properties.
Renting a house or a flat can be a time-consuming, frustrating, and stressful process. As a tenant, you may find a property that suits your needs and your budget, but then you contact the landlord only to find it has already been rented out. As a landlord, you have to deal with listing the property, showing it to potential tenants, checking applicant references, and getting the necessary certifications — plus agency fees can add a significant expense.
For tenants and landlords in the United Kingdom who are looking to circumvent these headaches and find a more straightforward way to lease properties, OpenRent provides a solution.
"OpenRent was founded in 2011 by Daz Bradbury and Adam Hyslop, who were both renting at the time," said Sam Hurst, Content Manager at OpenRent. "They were frustrated with the state of the U.K. rental market, especially with having to use traditional letting agents, who charged quite high fees to tenants and landlords and didn't provide particularly efficient or helpful service in most cases."
So they developed OpenRent as an alternative and set out to make it more responsive, less expensive, and transparent for both landlords and tenants.
For landlords, OpenRent advertises properties on its own platform as well as through other major portals. It also offers a Rent Now option that includes advertising and a suite of managerial tools. The platform keeps fees low for landlords, which contributes to lower costs for tenants, who also enjoy a hassle-free experience when hunting for a flat or house.
"We're the people tenants can trust to be straightforward, transparent about everything we do, and not part of the problems in the industry," Hurst said.
Listing Options Help Landlords Quickly Rent Properties
OpenRent provides landlords with three free months of advertising on its platform along with a no-cost viewing and inquiry organizer. Landlords also have access to paid advertising that places their listings on more than 100 partner property portals. Landlords can write a description of the property or outsource the task to OpenRent, ensuring that it will fit the necessary criteria for advertising in other spaces.
OpenRent also offers the Rent Now option, which provides professional-grade tenancy creation service. That option gives landlords an advertising package and curation products as well as tenant credit and reference checks, holding deposit processing, contract drafting and digital signing, and deposit registration.
The platform can also help all users arrange additional ad hoc services — or EPCs — that the leasing process may require, including obtaining certification for gas safety, energy performance, and electrical safety. Other services include obtaining photographs and floor plans for use in advertising, handling accompanied viewings of the property, and creating an inventory report of the property's condition — signed by the landlord and tenants.
Landlords can also obtain insurance through OpenRent to cover situations including unpaid rent, legal expenses incurred through the tenancy, theft of or damage to property, and loss of rent if the property becomes unfit for habitation. OpenRent also offers a legal helpline that landlords can use at no additional cost.
And, when landlords advertise and rent multiple properties through OpenRent, they can manage their entire portfolio through the platform's intuitive dashboard, where they can renew tenants' contracts with just a few clicks as well as automatically collect rent each month.
Tenants Can Find Housing without Hefty Fees
OpenRent's search functionality makes it simple for renters to find housing that meets their needs. Filters allow tenants to sort their options based on availability, terms of the lease, type of dwelling, and various other categories.
Tenants can view listings, contact landlords with questions and inquiries, and set up meetings through the OpenRent platform. Once they've found a property that suits their needs and budget, they can reserve it instantly by clicking the Rent Now button on the listing. They can use their credit or debit card to place a holding deposit and, if necessary, pay their referencing fee. Tenants' deposits and the first month of rent are protected, and they'll encounter no other hidden administrative or agency fees.
"From the tenant's point of view, that's the thing that we're best known for," Hurst said. "On average, a tenant will save £300 per tenancy compared to using a letting agent."
As soon as a lease is signed, OpenRent removes the listing from its platform and other partner sites. That guarantees that tenants will not encounter any dead listings. Everything advertised on OpenRent is currently available, meaning prospective tenants won't waste time sifting through listings trying to find housing options that are still open.
OpenRent doesn't charge tenants any hidden fees, nor does it allow landlords to charge additional fees.
"If the landlord, down the line, tries to ask them for money, they can easily report that to us, and we'll try to stop that from happening," Hurst said.
A Simple Search and Rental Process Maintains Transparency
When a tenant contacts a landlord through OpenRent, the message goes straight to the landlord. Unlike many other platforms, OpenRent does not mediate or act as a go-between, which enables tenants and property owners to communicate directly.
When viewing properties, landlords can meet and interact with prospective tenants face to face. That allows both parties to get acquainted with one another and answer any questions. If the tenant likes the property, he or she can click the Rent Now button to reserve it and pay the refundable holding deposit instantly.
Landlords are notified by SMS when they receive a deposit. They can immediately choose to accept or decline the deposit and, if necessary, request tenant referencing.
That includes a credit check and references from employers and prior landlords to help evaluate the potential tenant's suitability. The process takes between three and five days, and OpenRent updates both parties throughout the process. Once the referencing process is complete, tenants can pay their tenancy deposit online. OpenRent registers that deposit and issues the contract, which all parties can sign online, bypassing common scheduling hassles.
Once the contract is signed, the holding deposit is automatically put toward the first month's rent, the remainder of which is then collected. The landlord is notified by email once full payment is made, and he or she can provide property keys to the tenant.
During the tenancy, all relevant documents are accessible through the OpenRent dashboard. The landlord can elect to collect rent directly or have it paid to OpenRent, which will instantly notify the landlord and transfer the money to their account — at no additional charge. And, if a tenant is late on rent, OpenRent will inform the landlord and seek to collect payment on the landlord's behalf, also free of charge.
Policy Changes will Increase OpenRent's Value for Users
OpenRent prides itself on clarity; it charges no hidden fees, facilitates direct interaction between tenants and landlords, and makes documents freely available to both parties. Additionally, it helps landlords keep up with developments in the rental market.
"We send regular updates to landlords about everything that's going to impact their lives and everything they need to do to stay compliant," Hurst said. "We offer a lot of support, and we have partners who can help, as well."
Additional information is also available on the OpenRent blog. Posts can help tenants and landlords better understand their respective situations as well as legislation and new developments that may affect them. It is sure to be a valuable resource given the upcoming changes to rental policies in the U.K.
"After 30 years of everything being the same, policies for renting are changing quickly. There may be some surprises coming for people who have invested in property in the U.K. to let," Hurst said. "Soon, a new law will basically make charging tenants fees illegal for everyone. We think that high street agents are going to respond to that by charging landlords even more money, which we believe will push more landlords into using OpenRent."
OpenRent's policy against fees makes it an attractive option for landlords seeking to list and rent their properties, and for tenants, it provides up-to-date listings with incentives for cheaper pricing. The platform meets the needs of both parties through transparent, accessible housing options.