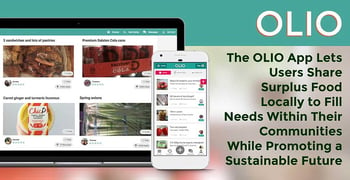 Experts share their tips and advice on BadCredit.org, with the goal of helping subprime consumers. Our articles follow strict
editorial guidelines
.
In a Nutshell: Hundreds of millions of people worldwide lack access to an adequate supply of food. At the same time, millions of tons — and trillions of dollars' worth — of good food goes to waste each year. The OLIO app was designed to solve both issues by enabling easy sharing of food and other goods within local communities. Users post pictures of surplus food, those who would like it request it, and they arrange a meeting. As the world's population grows and food waste threatens to lead to food scarcity, OLIO can play a significant rule in making food insecurity a problem of the past.
Food sharing has always been an essential element of human culture, especially during holiday celebrations.
We serve cake at birthdays and weddings, turkeys at Thanksgiving and Christmas, and a range of delicacies for other festivities. An abundance of food is a sign of prosperity and security — but an excess that can lead to careless waste. At the same time, others — perhaps even those living next door — may have little or nothing to eat. This disparity exists throughout the world, but how can we reconcile it?
One answer is OLIO, a free app designed to address the problem of food waste in the modern world. Rather than throwing away good food, and other household items, OLIO users can share their surplus with people in their communities who need or want it.
"The key thing with OLIO is that everything is free," said Tessa Clarke, Co-Founder and CEO of OLIO. "It's a pay-it-forward community, and it's a great way to declutter and make someone else happy at the same time."
OLIO launched in the UK in January 2016 and became available worldwide later that year. Since then, the app has facilitated food sharing in 32 countries including the United States, which currently has 50,000 users. Three-quarters of OLIO users live in the UK, and Stockholm, Sweden is another active hotbed.
"OLIO's growth has really been thanks to our Ambassadors," Clarke said. "These are volunteers who are spreading the word about OLIO in their local communities. They're telling all their neighbors about it and getting everyone to agree to sign up and get involved. We give them letters and posters and fliers to help them spread the word. We have nearly 750,000 users who have shared well over 1 million portions of food."
For people who find themselves with surplus food, OLIO represents an alternative to throwing it in the trash. For those who struggle to provide enough food for themselves and their families, OLIO can be a lifeline to meeting a basic need. And for everyone else, it represents a way to connect and lend a much-needed helping hand.
Food Waste is One of the World's Most Pressing Problems
According to OLIO's food waste information page, food poverty is a reality for 1 in 9 people globally — a problem that could be remedied with less than a quarter of the food wasted in the U.S., U.K., and Europe. One-third of all food produced goes uneaten, which is an annual waste of 1.3 billion metric tons of food valued at $1 trillion.
Retail waste accounts for less than 2% of that amount; in most developed countries, half of all food waste occurs in homes. The average American family throws out some $2,000 worth of food each year, and nationwide the total food waste represents 1.3% of the U.S. GDP. On a global scale, uneaten food accounts for 25% of global water consumption — which also contributes to the world's water shortage.
"Here in the U.K., we have 8 million people living in food poverty, and in the U.S., you have 40 million living in food poverty," Clarke said. "They have a roof over their heads. Often, they're working two or three jobs just trying to keep their heads above water. We refer to these people as the hidden hungry."
Because these families can afford rent, utilities, and other monthly payments, the fact that they suffer from food insecurity is often overlooked. But the problem is real — and growing.
"The reality is, food waste is one of the largest problems facing humanity today," Clarke said. "We've got 800 million people who go to bed hungry, and food waste is the third-largest source of climate change."
In the face of these interconnected problems, OLIO seeks to implement an indirect solution. Through digitally facilitated food sharing, everyone can contribute to a solution in a straightforward way: by giving their surpluses to those who would like or need them.
How to Reap the Benefits of Food Sharing
The first step in putting surplus food to good use is downloading the OLIO app. From there, distributing food is as simple as taking a picture and posting it — much like you would on social media. Users receive alerts when new items are posted near them, and they can browse listings to request the items they want. The two parties can then arrange a hand-off via the app's private messaging system.
"Perhaps you're on a diet, going on holiday, moving, you've over-catered for a party, or you're a keen gardener — there's no shortage of reasons you may have excess food in your home," Clarke said.
Anyone who wants to support OLIO's mission can learn more through the app or website. Various OLIO volunteer roles allow people to contribute as much time and effort as they can. For example, Ambassadors spread the word on social media and in their neighborhoods through posters, fliers, and other free materials available on the website. These volunteers model good sharing behavior, encouraging others to do the same and help support OLIO's efforts.
Other volunteers are known as Food Waste Heroes, who collect surplus food from local businesses, farmer's markets, and other establishments. They post those items on OLIO and redistribute them to people within their communities. City Champions are responsible for launching and building OLIO communities over 4-6 months by raising awareness, driving new membership, generating press, and recruiting new users. Finally, Market Makers coordinate donations with retailers, collaborate with community groups and businesses, and secure sponsorships in addition to raising awareness and recruiting users and volunteers.
Whether they're an occasional user or a full-time volunteer, every OLIO supporter makes a significant local contribution to a looming global problem. By preventing food waste and its consequences, they help ensure people in need get enough to eat and help local businesses reduce waste and contribute to a broader solution.
OLIO Allows Users to Post More Than Meals
When food sits in a landfill, it eventually decomposes. But other discarded items — such as plastics or metals — may not. Some of these may release hazardous substances into the soil and groundwater, causing further harm to the environment.
Circumventing those effects often means avoiding disposing of items, which means they're still taking up space in the home. Selling them online and shipping them may be unfeasible or cost-prohibitive. There might not be a suitable charity store nearby, or else the organization won't accept items as a donation. We don't want to throw these items out — after all, they're still useful to someone — but we also don't want them sitting around.
"An example of those items are toiletries," Clarke said. "We all have cupboards, drawers, and shelves in our bathrooms stacked full of toiletries we're never going to use. Cosmetics, nail polishes, cleaning products, light bulbs, bubble wrap, et cetera."
In addition to surplus food, OLIO supports sharing of these household items that are still perfectly good, but that the current owner no longer wants. The redistribution process is precisely the same as listing food — and also free. This feature offers a convenient way for people to declutter and minimize landfill waste while helping others in need.
Moreover, using OLIO to exchange everyday items helps keep the app at the forefront of users' minds. So when the problem of surplus food arises, they'll know they have a better place to turn than the trash can.
Sharing is the Key to a Sustainable Future
In 2018, OLIO doubled the size of its team to improve its features and bolster its marketing capabilities to reach more users. Both of these endeavors will be crucial if OLIO is to realize its biggest goal: to reach 1 billion users in the next 10 years.
"We have another 2.3 billion people joining the planet by 2050, and to feed everybody, we need to increase global food production by 50%," Clarke said. "Today, we have no idea how we're going to do that. With no more land available to be farmed, we've topped out in GMO, we've topped out in pesticides."
Clarke said the world is headed toward a full-blown food crisis. That means going from living in a world in which there's too much food for everybody, to one in which there isn't enough food for everybody.
But throughout history, humans have shared food. In ancient Greece, it took the form of Xenia, meaning hospitality, which figures prominently in both The Iliad and The Odyssey. Among the Native Americans of the Pacific Northwest, wealthy hosts shared food and goods with their guests in ceremonial festivals called potlatches. During the Roman festival of Saturnalia, feasting with friends and family was the order of the day, just as people do for holidays like Thanksgiving in the U.S.
"Humans have been sharing food for 2 million years. It's how we've evolved to be so successful as a species," Clarke said. "We didn't get to where we are today through throwing away our most precious resource. It's hard-wired in us to dislike food waste, and on the flip side, to feel great sharing with someone."
OLIO is building on that innate human propensity to share with others through its 21st-century tool. In doing so, it aims to change how people in the modern world think about food waste. By striving to ensure everyone has enough to eat, OLIO can also help prevent harm to the planet and foster a conscientious behavior that has helped humans survive hard times and will help ensure a more secure, sustainable future.