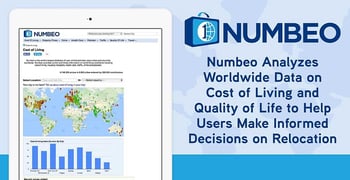 Experts share their tips and advice on BadCredit.org, with the goal of helping subprime consumers. Our articles follow strict
editorial guidelines
.
In a Nutshell: When it debuted in 2009, Numbeo was the first website to provide free information about the cost of living and quality of life worldwide. Its cost-of-living statistics for major cities and countries are based primarily on user-contributed data. The platform also provides comparison tools and calculators that offer personalized views of cities, based on the user's own lifestyle and financial situation. It also offers additional information on quality of life based on pollution, crime, health care, and transit in various places. Created to meet the needs of individuals considering relocation for personal or professional reasons, Numbeo represents a powerful tool that helps people make informed decisions that will benefit their families and financial futures.
In 2009, Mladen Adamovic was living in Dublin, Ireland, but looking to relocate to another city. Through extensive online research, he discovered what kind of salary he could expect to make in various other places, but he couldn't find any information about how far that salary would go toward paying his living expenses. He saw no accessible source of information on the topic.
"I noticed a need for that kind of website. At the time, there were about 700,000 searches per month regarding the cost of living and 2.5 million regarding prices," said Adamovic, Founder and CEO of Numbeo.
Numbeo — operated by the two-person team of Adamovic and his wife — collects, analyzes, and presents information about the cost of living, quality of life, and other aspects of residing and working in various major cities around the world. By making this information free and easily accessible, Numbeo helps eliminate the uncertainty surrounding relocation to another country, whether for professional or family reasons.
"Users often visit because they're considering relocation," Adamovic said.
Numbeo allows users to calculate their expected expenses in a given city based on real-world data. Some of this data is imported from publicly available sources, but Adamovic said that 95% of it is crowdsourced from Numbeo users. If you're living in a city for which there's no data, you can supply some and then use the platform's tools to compare your current cost of living to the cost in other cities of interest.
By reviewing expenses, quality of life, and other metrics offered on Numbeo, users can make more informed decisions and choose the best location for their careers and families.
Realizing the Dream of an Open-Access Database
Numbeo was founded in 2009 as the first free database to provide worldwide cost-of-living information. At the time, other services either didn't offer their data to the public or made obtaining it cost-prohibitive. They also didn't adequately account for errors caused by price oscillation based on the season, scarcity, product prices, or simple recording mistakes.
What information Adamovic found was also extremely limited. Only certain cities were accounted for, so making information more comprehensive meant widening the scope of the research. However, since proprietors were paying to collect the data, expanding the data also meant higher costs.
"There were some international organizations like World Bank or IMF that were considering doing it on an international level. They had some meetings back in the 1980s, and they figured out it was too expensive for them to conduct the research," Adamovic said.
Adamovic found that other cost-of-living reports only provided an index for the hypothetical average person — a statistic that doesn't match the experience of most people. Thus, the information presented couldn't account for lifestyle and consumption choices that can radically alter a resident's budget.
Numbeo, on the other hand, includes information about various expenses in major cities. Anyone can contribute data about their costs and spending, and anyone can use the information. In just its first decade in operation, Numbeo has been cited many times by major news outlets including the BBC, Forbes, The New York Times, and a plethora of others.
And the platform has been used by millions of people to evaluate the cost and quality of life in other cities before relocating.
Users Can Compare Living Costs in Cities Around the Globe
Numbeo began as a site dedicated to providing information on the cost of living. Nearly a decade later, that original offering remains its most popular, attracting 72% of its traffic, according to Adamovic.
The platform's cost-of-living indices give users a broad perspective on the global financial situation. Other features can perform computations and obtain more personalized, relevant results.
One of these tools is the Cost of Living Calculator, which provides a direct comparison of purchasing power between two specified cities. For example, as of October 2018, a monthly budget of $1,000 in New York City was equivalent to a $619.32 budget in Tokyo, Japan. That means someone moving from the former to the latter would enjoy a much lower cost of living.
Numbeo's comparison tool shows how two cities stack up against each other in specific categories — including groceries, transportation, utilities, leisure activities, child care, housing, and financing, among many others. Each category is broken down into several representative products or services. The comparison tool displays costs for each item with the difference expressed as a color-coded percentage.
To get a more personalized estimate of expenses, users can avail themselves of Numbeo's Cost of Living Estimator. By answering a few simple questions about lifestyle and consumption, users can see a fairly accurate picture of a city's prices and how they relate to their own financial situation. Additionally, the basket of goods and services tool lets users fill a virtual shopping cart and see what a typical trip to the grocery store or a night on the town might cost in a particular location.
Of course, purchasing goods implies having somewhere to take them, and housing is always a significant expense. That's why Numbeo offers in-depth information on property prices, too. This tool presents housing costs both within and outside of city centers with one- and three-bedroom apartments as benchmarks. Users can also see the cost-per-square-foot for housing in each of these areas.
Additional Tools Help Gauge a Location's Quality of Life
Numbeo has since expanded its analysis to provide information about quality of life. Those indices present additional metrics on safety, health care, climate, property price-to-income ratio, transit, and pollution. By selecting an index, users can learn more about a particular city or nation.
The pollution index is broken down into many different categories, including air pollution, drinking water quality and accessibility, adequate garbage disposal, general cleanliness, and noise and light pollution. It also rates cities on its parks and green spaces and the general satisfaction of spending time in the city. Users examine the data in the form of positive or negative ratings.
Likewise, the crime index is based on several metrics pertaining to personal safety. These include personal feelings about crime, changes in levels over the last three years, feelings of security during daylight and nighttime hours, and even perceptions of corruption and bribery.
The health care index dives into residents' data about the adequacy and convenience of medical services in a city. Numbeo displays respondents' impressions of the competency and courtesy of medical staffs, examination and reporting speed, and even quality of equipment among many other categories.
Numbeo also has useful information on traffic, generating pie charts depicting how heavily various modes of transportation are used. Additional graphs express the average distance traveled and time spent on each. For example, bus riders in New York City spend more than three minutes each day walking to and from bus stops. Numbeo also provides overall distance and commute times for travel to and from work and school, and its travel calculators provide information on the cost of gas and taxi fares.
Numbeo is Expanding Its Scope to Serve More Users
Back in 2009, the worldwide economy was knee-deep in a recession that wouldn't abate for another few years. At that time, Adamovic was working as a software engineer for Google. "Most of its compensation was in stocks, and stocks were down," he said. Facing tight financial times, Adamovic began the cost-of-living research that would ultimately lead to the conceptualization and founding of Numbeo.
After leaving Dublin, Adamovic landed in Belgrade, Serbia (where, according to Numbeo's data, the cost of living is substantially lower than in Dublin). He is still there and continues working to improve Numbeo and extending the platform's coverage and reach.
By collecting data from residents, Numbeo can provide users with more accurate and up-to-date information on a variety of cities and countries. To facilitate these improvements, Adamovic has started testing Spanish, French, and German versions of the website. By making it more accessible to a broad base of users who can contribute data, Numbeo becomes even more valuable to those users seeking to conduct their own research on cost and quality of life.
Whether your plans involve transplanting or just traveling to a new place, Numbeo provides the information you need to decide where to go and how to budget when you arrive. While you're there, you can submit your expense data to Numbeo, simultaneously helping the platform improve its service while also assisting others to make educated decisions about the future of their careers, finances, and families.