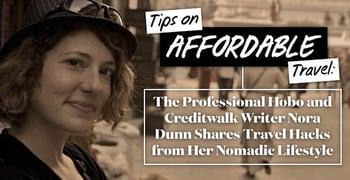 Experts share their tips and advice on BadCredit.org, with the goal of helping subprime consumers. Our articles follow strict
editorial guidelines
.
In a Nutshell: Everything Nora Dunn owns can fit inside one suitcase — and that's exactly how she wants her life to be. Twelve years after selling her financial planning firm in Toronto, and all of her worldly possessions, she's still living her dream of an adventurous, nomadic lifestyle that's taken her to 55 countries. She shares her experiences — as well as expert advice on traveling on a budget — with readers of her website, The Professional Hobo. Her monthly "Dear Nora" column on Creditwalk.ca answers reader questions on ways to achieve their travel goals without breaking the bank.
Aside from my family, I've always had three major loves in my life — travel, classic film, and basketball.
Despite the three being very different, I've found ways to make them work together. My wife and I regularly travel to classic film festivals in various locations. As I write this, I'm less than 24 hours from a trip that will remove a big item from my bucket list. By going to an NBA game in Phoenix, Arizona, I'll complete my goal of attending a game in every professional basketball arena in the US.
No matter what your travel ambitions are, seeing the world and experiencing things you find important will add fulfillment and purpose to your life. One thing, though, that stops many people from scheduling that big trip is the prohibitive cost associated with long-distance travel.
Those costs worried Nora Dunn when she sold her financial planning firm in Toronto 12 years ago to live a full-time nomadic lifestyle. After selling nearly everything she owned, she crammed all of her worldly possessions into a suitcase and set out into the world.
"Somewhere along the line I'd lost track of my own dream," Dunn said. "I wanted to travel the world extensively and immersively. I realized I couldn't exist within the traditional working world for the next three decades just to be able to live the lifestyle I wanted to live down the road."
She's still on the move today. Through her website, The Professional Hobo, and other sites like Creditwalk.ca, she regularly shares tips that help travelers with any-sized budget meet their lifestyle and travel goals for much less money than expected. With that in mind, we knew she'd be the perfect person to provide insight to travel-loving readers of BadCredit.org.

When Dunn's journey started, she wasn't sure what to expect — but she knew one thing was certain.
"I had to make money to support my lifestyle change," she said. "I quickly connected the dots and realized my lifelong penchant for the written word, in conjunction with a laptop and internet connection anywhere in the world, meant I could earn a living."
Dunn uses her expertise in finance, travel, and lifestyle design to create content that is entertaining and informative to readers. Coined by American author and entrepreneur Timothy Ferriss, the term lifestyle design describes the concept of creating the lifestyle you want in the present instead of waiting until retirement to enjoy the activities you love. During her travels, Dunn shares experiences and even posts her annual income and expense reports to show readers that travel can be done on a budget.
"There are lots of ways to travel in style for not a lot of money," she said.
Cutting Accommodation Costs is a Key to Travel Success
To extend her stays in locations like Grenada, Peru, Australia, and New Zealand, Dunn discovered creative ways to find free accommodations and lower the overall cost of her trips — many of which last six months or longer.
"My top tip for saving money while traveling — and anybody can do it — is to get free accommodation," she said. "Accommodation is, without a doubt, the biggest travel expense you'll have. If you can cut that expense out, you can make any kind of travel infinitely more possible."
To achieve this, Dunn has used her various skills to barter for free or reduced housing. "I do things like volunteering, housesitting, living on boats, and hospitality exchanges," she said.
Dunn's volunteer work has included landscaping in Peru, milking goats and working on a permaculture property in Hawaii, designing marketing plans in New Zealand, and leading eco-treks on llamas in Australia.
In her e-book, "How to Get Free Accommodation Around the World," Dunn shares the experiences she's had over the last 12 years to help readers discover ways they can cut out the largest expense in their trips. Her latest book, "Working on the Road: The Unconventional Guide to Full-Time Freedom" gives readers ideas on how they can earn a living while traveling.
"Ask Nora" and Other Ways to Learn New Travel Hacks
To make ends meet during her adventures, Dunn contributes extensive content to her own website, as well as other websites around the world.
"My website is a marriage of the trifecta of my expertise — travel, finance, and lifestyle design. The main theme is that I teach people how to travel full time in a financially sustainable way."
Dunn's found a niche of writing about travel for financial websites, while also writing about financial savings on travel websites. Her work has allowed her to continue the lifestyle she's always wanted.
One of Dunn's most popular features is her monthly, "Dear Nora" column on Creditwalk.ca. The ongoing column answers reader-generated questions about travel savings.
"It fits in well with Creditwalk because they write extensively about credit card hacking, points programs, and various ways to enhance your lifestyle through the judicious use of credit cards," she said.

Dunn said she receives about 50 emails a day — mostly reader questions — that she sifts through to find material for upcoming columns.
"I try to choose questions that are engaging or ones that come up over and over again thematically," she said.
When we spoke with Dunn she was in Vietnam, putting the finishing touches on her latest "Dear Nora" contribution that helps readers find ways to work abroad without running their own online business.
She also shared with BadCredit.org several of her favorite tips for saving money while traveling. They included using lunch as your big meal while eating out since most restaurants offer the same menus all day but charge more for dinner. She also suggests eating a lot if the location you're staying offers free breakfast.
"Also, people should learn to travel slowly," she said. "The faster you move, the more money you're going to spend. Instead of trying to conquer an entire country or area, which is going to be expensive, why not pick one place and stay there and give yourself a chance to feel the flavor of the place you're visiting?"
Dunn also tackled another large expense that all travelers are faced with — transportation.
"I'm a big fan of public transportation," she said. "I obviously like to stay somewhere that is centrally located, where I can walk everywhere I want to be, but that's almost always more expensive. You can usually save money by staying a little bit out of town instead of in town. Plus, that's a good way to experience a slice of local life."
Seeing the World Doesn't Have to Be Cost Prohibitive
Everyone's travel goals are different. Whether you dream of a quiet view of the Swiss Alps, an evening on the town in New York City, or a seat at a basketball game on the other side of the country, consumers with almost any-sized budget have a host of options available.
In the 12 years since Nora Dunn sold her financial planning firm in Toronto and vowed to live a nomadic life of adventure, she's encountered good days and bad days. But she's thankful for each experience and what they've taught her.
Today, she uses those experiences to help others reach their lifestyle goals. She said she sees the tips and advice she gives travelers as a sort of karma that she's repaying for all of the good deeds others have done for her.
And if she can help someone achieve their own dreams, it's a double victory.
"I've lived many lives," she said. "There are a lot of things I can share from my experiences that can help others."