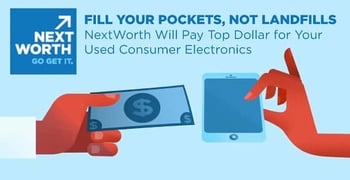 Experts share their tips and advice on BadCredit.org, with the goal of helping subprime consumers. Our articles follow strict
editorial guidelines
.
In a Nutshell: As new consumer electronics enter the market, the value of old devices tend to rapidly decline. But instead of letting outdated smartphones, tablets, and wearables collect dust, consumers can get fast cash and maximum value by selling them to platforms like NextWorth. NextWorth's competitive pricing, efficient processing, and responsible data and waste policies take the risk and hassle out of selling used electronics. With more than a decade's experience and international reach, NextWorth gives new life to old devices, while sellers enjoy peace of mind and money in hand.
If you're the type of consumer who likes to have the latest smartphone or wearable, you've probably asked yourself: when's the best time to trade in my old tech? The answer is right now.
The longer a device languishes on a shelf, the more newer versions enter the market and the less value older devices have. The sooner you get a return on that investment, the more money you stand to recoup.
And if you're looking to buy recent, cutting-edge tech, selling your old devices quickly can help offset the cost of a newly released device.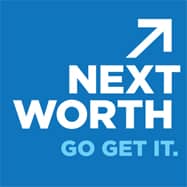 "If they can monetize the previous one, that makes it easier for them to do that upgrade," said Mark Wagner, Chief Operating Officer of NextWorth.
NextWorth pays cash to consumers for their smartphones, tablets, and wearables. Most sellers receive payment in just a few days, making it a quick way to get old devices off your shelf and get money in your pocket. But NextWorth is more than just quick cash; it is committed to ensuring sellers get a fair value for their electronics.
"There are other trade-in options for customers," Wagner said, "and it's always our goal to have the best price."
Risk-Free Selling with Rapid Processing and Payments
Selling a device to NextWorth is quick and intuitive. Just as importantly, the process keeps control in the hands of the sellers, who can be sure they're getting a fair deal.
To get started, the seller selects the device category, manufacturer, and model. Then, the seller provides an assessment of the physical and functional condition of the item. Based on that, NextWorth's real-time quote engine gives the seller an up-to-date, competitive offer for their device. These quotes are valid for 30 days; as long as NextWorth receives the item within that time, it will honor the originally quoted price.
And sellers can include multiple items in a single transaction. Once completed, they need only find an appropriately sized box to pack their devices in; NextWorth pays for shipping, as well as postal insurance. The package can be dropped off at any UPS location, or the seller can schedule a pickup. Once sent, sellers can monitor the package's shipping progress and, once it arrives at its destination, sellers can monitor NextWorth's inspection process.
Before shipping, sellers must ensure that their devices are fully paid off if they were financed (usually through their carrier), and that they are removed from their Apple or Google account. If they are not removed from the account, they will have what is called an "activation lock" (or "iCloud lock" in the case of Apple devices), and cannot be accepted for trade-in.
They should also delete any personal data and remove the SIM cards from the devices. Nextworth requires only the device itself; all cords, chargers, boxes, earbuds, manuals, and other accessories should not be shipped with the device. NextWorth provides instructions to guide sellers through these processes and to help ensure they properly pack their devices.
Once NextWorth receives a seller's device, it guarantees inspection within three days. After assessing each device's cosmetic and functional condition, NextWorth contacts the seller either confirming the originally quoted price or else providing a new quote based on its inspection. In the latter case, the seller can either accept the new quote or decline to sell their item, which NextWorth will ship back free of charge.
NextWorth pays sellers with a check or a PayPal transfer; checks are mailed each Tuesday, and PayPal transactions are processed on Tuesdays and Thursdays. By the time NextWorth resells the device, the seller already has his or her money in hand.
Reputation and Reach Sellers Can Rely On
Even for people who have experience selling items online, trust is pivotal to NextWorth's process. Luckily, NextWorth's reputation and longevity in the field are a solid foundation for that consumer trust.
"The trade-in transaction requires trust on the part of the customer," Wagner said. "They have to have faith that they're going to be dealt with fairly and that nothing's going to go wrong, because they're taking something that they own and has value to them and putting it in a box and shipping it off somewhere."
NextWorth has been in business since 2007. In that time, it has earned an A+ rating on the Better Business Bureau's website and has received positive mentions in the Wall Street Journal, USA Today, The Boston Globe, and CNET.
"We were a very early provider of trade-in services online through our website," Wagner said. "NextWorth was also the pioneer in establishing retail trade-in programs." It enjoyed a five-year partnership with Target and still maintains ongoing business relationships with other retailers.
In total, NextWorth has paid out tens of millions of dollars on more than 5 million trade-ins. Originally dealing in diverse devices and video games, NextWorth has narrowed its focus to smartphones, tablets, and wearables. Newer models in good condition are resold directly to consumers, and some broken items can be repaired and resold depending on the model and current value.
"Right now, iPhone 6s and iPhone 7s are our most popular devices, and we're doing a very brisk business with those," Wagner said.
Though not cutting edge, these models still carry relatively high value. Older models, however, are in much less demand in tech-saturated markets.
"If you trade in an iPhone 5, there's not much of a market for those in the United States. But there are overseas markets for working models of these devices," Wagner said. "The Android devices are particularly popular in many countries."
NextWorth sells these older items in bulk to its partners overseas.
"They can have a second life somewhere where there's a demand for them," Wagner said.
That's great news for sellers, since this wider reach means more opportunity to get cash in hand for rapidly depreciating devices.
Repurposing and Recycling Protect Environmental and Global Health
When dealing with secondhand electronics, the need for trust extends beyond the handling and fair assessment of devices. Sellers must also have faith that their data will be handled responsibly and their privacy adequately safeguarded.
"When you sell a device to a new person, it's very important that the personal data of the previous owner be wiped off of that device," Wagner said. "We and our partners ensure that takes place."
Long before secondhand devices find their way into domestic and overseas markets, NextWorth removes and destroys SIM cards, returns devices to their factory settings, and deletes all data. "Whatever's left after all that is sent to a recycler," Wagner said.
Along with consumer electronics, electronic waste has pervaded the globe: outdated and broken phones, computers, music players, and other disused devices abound. All of these contain elements and components that are highly toxic, which makes e-waste particularly costly to properly dispose of — and hazardous when it isn't.
But electronics also contain valuable materials like copper and gold, and reclaiming these has become an informal industry in developing nations, where valuable materials are extracted through unsafe methods. This poses a threat to the environment and to people exposed to the dangerous substances.
NextWorth assures consumers that its partners recycle valueless devices responsibly. Their safe practices reduce the solid waste generated by old devices and keep toxic material out of the air, water, and soil. Thanks to NextWorth, sellers can not only make money but also do their part to protect the environment.
Helping Tech Enthusiasts Keep Up with Trends
As technology progresses, so do NextWorth's plans for the future, with a redesigned and updated website being planned.
In the meantime, NextWorth is getting ready for the launch of the next iPhone — or, more accurately, it's getting ready to handle the influx of older iPhones.
"We think that will provide people with the opportunity to both do their upgrade and get as much as they can for their old device," Wagner said.
So, if you're a gearhead with your eye on the next big gadget, then NextWorth is an opportunity to sell the old and offset the cost of the new. NextWorth's efficiency and responsible practices take the worry out of selling old devices, letting you focus on more important things — like enjoying your new iPhone.