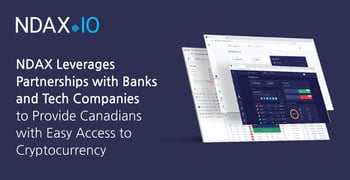 Experts share their tips and advice on BadCredit.org, with the goal of helping subprime consumers. Our articles follow strict
editorial guidelines
.
In a Nutshell: Many investors find cryptocurrency intriguing but are still unsure about the risks of digital currency or even how to get started. That's why the NDAX platform enables retail investors and businesses in Canada to access and trade crypto to complement their current portfolio assets. AI-assisted onboarding allows new users to register in minutes, and partnerships with major Canadian banks enable fast fund transfers into the platform. Strict security and compliance protocols ensure that assets stay safe from malicious actors. That is crucial for NDAX, as it also plans to include non-crypto assets, like digitized stocks, to further empower investors to create strong, diversified portfolios.
Five years ago, most mainstream investors hadn't heard of cryptocurrency or the blockchain. And while they're more recognizable terms now, many still don't understand the technology or its implications.
For example, investors may not know why crypto is so desirable despite its volatility, why it has created such a regulatory stir in recent years, or how blockchains enhance speed, transparency, and security. Without that foundational knowledge, they probably wouldn't understand how to purchase crypto or leverage it as an investment vehicle.
NDAX wants to help investors discover the answers to these questions through hands-on experience and educational resources. And it accomplishes that by providing a vast knowledge base and easy access to cryptocurrency and trading tools. The platform offers eight cryptocurrencies, including Bitcoin, Ethereum, Litecoin, XRP, Stellar, Cardano, Doge, and EOS, and emphasizes user experience and efficiency — especially for crypto novices.

The platform partners with tech providers in New York and banks in its home nation of Canada to deliver responsive service. It is registered with FINTRAC — a Canadian financial intelligence agency — as a Money Service Business (MSB), and it has regular discussions with other regulators to ensure compliance in rapidly changing regulatory landscape.
Those partnerships put traders at ease, and allow them to approach crypto investing with confidence. The NDAX platform also enables users to track and manage their portfolios on desktop or through its mobile app.
"That earned us a lot of trust in the community," said Bilal Hammoud, CEO of NDAX. "Most of our target clients are family offices, hedge funds, miners, merchants, and retail customers. On the business-to-business side, our seamless integration with the Canadian banking system allows us to provide same-day settlements for CAD and USD trades. If someone wants to buy or sell cryptocurrency, we can do that quickly around the clock, with very competitive rates."
Representing a Bridge Between Blockchain Networks and Financial Services
Part of the global regulatory concern surrounding cryptocurrency is how unregulated digital assets might challenge established national currencies and traditional types of investments. But far from seeing crypto as a replacement for fiat, NDAX works with the understanding that digital assets are a complement, rather than a replacement, for traditional financial assets.
"We call our system ARK. In a way, it's a bridge," Hammoud said. "That's why we could build such a strong relationship with our banking partners. We wanted to deliver the message that digital currencies and assets are not necessarily a threat. It's the way everything is going, into digital form."
Although not a substitute for fiat and traditional financial products, crypto offers consumers significant advantages, including transparency, speed, and efficiency. And blockchain networks operate day and night thanks to their decentralized architecture. That also means they are more difficult to hack and tamper with than are centralized databases.
Another benefit is the availability of blockchain-based assets to small investors who lack institutional financial and technological resources. Investing in crypto can reduce costs incurred by going through intermediaries and settling transactions.
Beyond consumers, cryptocurrencies offer benefits to institutions, as well. Foremost among those is that they accommodate emerging consumer demand for digital assets, helping institutions expand their client base.
"We think about it as a bridge between traditional and digital transformations, and we think it's a way for traditional institutions, especially the established ones, to get involved without having to reinvent the wheel," Hammoud said.
AI Onboarding Enables Fast Access to Crypto Markets
As with other crypto-trading platforms, NDAX users must pass the Know Your Customer (KYC) protocols. That ensures that users are reliable actors who will not use crypto to launder money, fund terrorism, or engage in any other malicious activities.
But unlike other KYC processes, the NDAX onboarding procedure leverages artificial intelligence to expedite signup. A majority of users can get approved quickly by providing their names and addresses without the added hassle of submitting photo identification or selfies.
"If you are a customer who is interested in the industry and you want to get in, we provide you with a very pleasant experience," Hammoud said. "Keeping that in mind, our process is very stringent. If for any reason the information that you provide was not fully verified at the initial stage, you will be required to provide additional documentation. But normally, we see 90% to 95% of our users encounter a very smooth onboarding process."
Even after onboarding, NDAX seeks to ensure users enjoy the utmost in speed and convenience. Its partnerships with Canadian banks make transferring money straightforward and secure. And users can add funds from their accounts digitally, or they can conduct the transaction in-person at their bank.
The NDAX mobile app — available on iOS and Android — expands on that versatility by allowing users to make trades from anywhere they have access to wifi or a cellular network.
"Most of our focus is around convenience and security of the client' assets, as well," Hammoud said.
Emphasizing Security and Regulatory Compliance
NDAX provides users with easy access to crypto markets without compromising the security of their information or funds. That's why the platform follows strict rules for data storage and access. Accounts leverage two-factor authentication for user safety and security, and internally, the system limits employee access as needed. User's data is not accessible to people whose jobs don't explicitly require it.
All providers NDAX works with are PCI- or ISO-compliant, and it has partnered with Bitgo and Ledger Vault for hot and cold storage of crypto assets. Cold storage, where the vast majority of crypto assets are held, deploys multi-signature access to ensure asset security.
"About 98% of our assets are stored in cold storage and the rest in hot storage," Hammoud said. "We have implemented many protocols to detect and effectively intercept any suspicious activities."
The platform's data servers are isolated and monitored around the clock to ensure constant security. In the event of a malicious attack, the servers automatically shut down to prevent a breach of digital assets and client data.
NDAX also places a high priority on compliance with applicable rules and regulations.
"In Canada, the CSA — which is similar to the SEC in the United States — released guidance on how they envision future regulations of cryptocurrency-related businesses," Hammoud said. "And they came down with quite a hefty proposal."
Far from being a hindrance to crypto exchanges, though, Hammoud expects these regulations to work in everyone's favor. Most importantly, the regulations are designed to protect consumers who invest and trade in cryptocurrencies and digital assets. NDAX anticipated such rules from the start, so it is poised to continue providing compliant service that satisfies both consumers and regulators.
NDAX: Meeting Consumer Demand for Digital Assets
NDAX makes crypto trading more accessible to everyone and provides access to innovative and valuable financial tools. It also serves to prepare the market for the next evolution of digital assets. Hammoud envisions those encompassing the digitization of non-crypto assets.
"We're diversifying our offerings beyond cryptocurrencies," Hammoud said. "We noticed that millennials and Generation Z, are seeking an alternative to the traditional ways of investing in conventional assets. and we are here to provide it to them"
The ICO boom of 2017 demonstrated public interest and eagerness to invest in digital assets, and it attested to the market's ability to offer them to consumers at large. NDAX also focuses on expanding into regulated digital assets — including the digitization and trading of stocks in virtual form. NDAX and its founding team are closely working with regulators to bring such investment products to the consumers.
"We went through a bear market in the last few years — pretty much most of 2018 and some of 2019," Hammoud said. "That kind of slowed down the retail investor, but that did not affect operations of the platform. We have a very solid technology platform, and we're capable of scaling to 100 million users quickly and easily."
NDAX plans to leverage that capacity to expand through its diversified offerings. In the future, the platform intends to grant retail investors access not only to cryptos but also to a more diverse range of products.
"Everything's becoming easier because of the digital transformation," Hammoud said. "We see no reason why we can't also transform the way traditional assets are traded and made available to everyday investors."