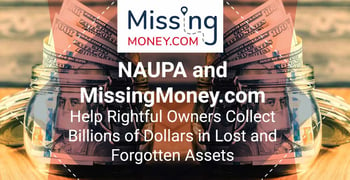 Experts share their tips and advice on BadCredit.org, with the goal of helping subprime consumers. Our articles follow strict
editorial guidelines
.
In a Nutshell: Each year in the U.S., billions of dollars go unclaimed and end up in the custody of state treasurers for safekeeping until claimed. States are required to maintain records of this unclaimed property and provide the public access to this information. The National Association of Unclaimed Property Administrators (NAUPA) facilitates collaboration among state administrators and helps to return unclaimed property to lawful owners. Currently, 40 states participate in the national database, MissingMoney.com, which is endorsed by NAUPA. For non-participating states, MissingMoney.com lists the contact information for the appropriate state agency, and for all, a link to each state's search website.
Have you heard of the 87-year-old millionaire who buried a treasure chest containing millions of dollars' worth of gold and jewels?
Forrest Fenn is an eccentric former art dealer who claims to have buried the treasure somewhere in the Rocky Mountains and wrote a 24-line poem with clues to its whereabouts. It's estimated that as many as 350,000 people have searched for the treasure and at least four have died in the attempt.
Searching for buried treasure has a romantic charm that's naturally appealing to the more adventurous among us. But to risk your life doing it? No thanks, says this armchair adventurer. I'll take a good thriller or adventure novel any day. For those who dream of buried treasure, there's an easier and safer way to go about it.
Each year, billions of dollars in property and assets go unclaimed by the rightful owners and instead is placed into the custody of the state treasurer. The good news is that these agencies are required by law to keep track of where this money came from and make it available in a searchable database. All it takes is a little detective work, and you just might find something that rightfully belongs to you.
The National Association of Unclaimed Property Administrators (NAUPA) is an organization affiliated with the National Association of State Treasurers that's devoted to locating and returning lost and missing financial assets to the legal and rightful owners.
Working with administrators from all 50 states, the District of Columbia, and some Canadian provinces, NAUPA helps return missing and unclaimed financial assets to those to whom it belongs.
Currently, 40 states, the District of Columbia, Puerto Rico and portions of Canada participate in MissingMoney.com, the national search database endorsed by NAUPA. This one-stop-shop contains the most current information about unclaimed assets from participating states. With a single profile and ID, users can search the databases of all these states at once.
To search for missing property in the other 11 states, MissingMoney.com provides the contact information and a link to the official state search website.
What's Unclaimed Property and How Would I Know About It?
Unclaimed property comes in many forms, including uncashed tax refund checks, forgotten savings account funds, unclaimed life insurance benefits, investment assets that have gone dormant, and unpaid safe deposit box contents. Most of this property has simply been forgotten or the owner may have moved without leaving the proper forwarding information, or perhaps has died.
Every U.S. state and most U.S. territories, as well as the Canadian provinces of British Columbia, Alberta, and Quebec, have active unclaimed property programs. The laws protecting this property say these assets must remain on the books and claimable until reunited with the owners. However, state resources are limited, and that's where NAUPA and MissingMoney.com come in.
Anyone can simply enter their name into the MissingMoney.com search window. Required information includes the last name and state of residence, but if you have a common name, additional residential information may be needed.
The website also includes contact information and links to the unclaimed property offices of the states that do not participate in the national search database. Just click the "State Contact Information" button, and you will see a map of the U.S., where you can choose any state you wish to search and will be taken to that state's search page.
Why do states maintain records of unclaimed property, and why do they put so much effort into returning it to the rightful owners? Well, for one thing, it's the law. States are responsible for keeping track of that property so it can be claimed and returned home where it belongs.
Additionally, it's a huge, direct consumer protection and service while also reducing the amount of record-keeping necessary to keep items on the books.
Forgotten Family Assets Can Be Claimed by Heirs
Searching for unclaimed property can also be done in anyone's name. If you had parents, grandparents, or relatives that you suspect had assets that weren't identified in a will or trust, you can search the MissingMoney.com database for their names, too. Unclaimed assets, even if owned by someone who is now deceased, can be claimed by the legal heirs of that individual in perpetuity.
To search for assets of a deceased relative, it's important to have as much information about that person as possible, including previous residential addresses, full legal names, and maiden names, which can all help narrow the search. And don't forget business names. If your relative had a business or legal partnership of some type, enter the business name in the search field.
Anyone can search MissingMoney.com or individual state databases for assets, even if it's not their own. However, to file a claim for property that isn't in your name, you must be the legal heir of the individual who owned the property.
Unclaimed property that isn't actual money is physical contents from safe deposit boxes. These items range from jewelry and gold, to stock and bond certificates, to any number of valuable heirlooms.
When rent is not paid on a safe deposit box and a bank can't locate the renter, the bank must deliver the contents to the state unclaimed property office. As with financial assets, the state will enter the owner information into the unclaimed property database, where it can be discovered and claimed.
Is Searching for Unclaimed Property Really Free?
The MissingMoney.com website and individual state databases are providing a valuable service in reconnecting people with their assets. However, as is the case whenever money is involved, many shady businesses and outright scams have emerged.
While a business that claims to locate unclaimed property for a fee isn't illegal in most instances, it's not necessary to pay for this service. There are no resources a company can access that aren't available to the public for free. All state databases and the MissingMoney.com search engine are accessible free of charge for anyone who wants to search them. Claiming funds from the state is also a free service.
Much more useful, valuable information can be found on the NAUPA website, Unclaimed.org. Be sure to use the ".org" domain rather than ".com," as ".com" will direct you to a pay-for-search website.
As more and more states are actively making efforts to reunite owners with their property, states are now returning more than 50% each year of the funds they receive, and it all remains claimable indefinitely.