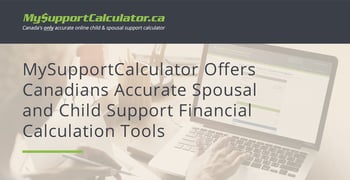 Experts share their tips and advice on BadCredit.org, with the goal of helping subprime consumers. Our articles follow strict
editorial guidelines
.
In a Nutshell: Canadians who need to accurately calculate potential spousal and child support payments often turn to MySupportCalculator for help. Its basic offering calculates payments based on federal guidelines while the premium version includes estimates for alternative incomes and additional child expenses. The site also offers a nationwide directory of legal services and an expansive knowledge base that covers a range of topics concerning divorce and legal proceedings. MySupportCalculator's resources and tools ensure that Canadians have all the information they need to help them through difficult times.
In 2008, Statistics Canada stopped gathering information regarding divorces on the national census. But the numbers had already started to show a troubling trend, with as many as 40% of marriages ending in divorce.
Among the challenges for people facing divorce is quickly determining what they need to do to be financially prepared.
That's why Canadians facing the prospect of divorce can turn to MySupportCalculator. The tool is a subsidiary of DivorceMate Software, which boasts a 31-year history of providing legal software to family lawyers, mediators, and judges across Canada.
While DivorceMate offers professionals legal precedents, tools, and court forms, MySupportCalculator is the company's consumer-facing product. It allows users to easily calculate spousal support and child support, and while legal professionals often use it, the tool is targeted to individuals.
The calculator's site also hosts informational resources that range from a directory of legal professionals to an expansive knowledge base concerning divorce law. MySupportCalculator resources provide individuals greater transparency so they can budget their money more effectively and find help when they need it.
"We service about 900 Canadians a day through the website," said Faith Feldman, Project Manager at MySupportCalculator. "We try to provide an accurate number for them to base their life on and tell them what they will owe or receive every month in support. It's good to know what's coming out of or going into your bank account so you can budget."
Free and Paid Calculators Account for a Range of Variables
The basic version of MySupportCalculator is free to the public, allowing users to calculate spousal support and child support based on employment income. It requires no personal information, and there is no limit on the number of calculations a user can perform.
Basic child support is calculated based on the Federal Child Support Guidelines (CSG), and spousal support calculations follow the Spousal Support Advisory Guidelines (SSAG).
"Our calculator provides the only accurate online child and spousal support calculator in the country," Feldman said. "Other online calculators are not as detailed as ours and just not accurate in many situations."
The calculator summarizes the information the user provides and the calculations it performed. The printout also includes footnotes with detailed explanations.
"Those details are important for people to understand why they're getting the numbers they're getting," Feldman said. "For people to see where we're getting the final numbers, we want to be as transparent as possible."
MSC Advantage, the premium version of the calculator, includes many more variables in its calculations.
"It is particularly useful for people who have other types of income, including self-employment income, non-taxable income, or other taxable cash income."
MSC Advantage is equally robust when it comes to calculating child support. The premium offering takes into account children's expenses such as daycare and extracurricular expenses, and education, and medical costs.
"If you have any of those expenses, you want to use MSC Advantage for the most accurate results," Feldman said. "Some people use the free calculator, which is fine, but it's not going to give you the most accurate results because it doesn't take into account all of the most important factors."
A Nationwide Legal Directory Allows Couples to Evaluate Local Legal Services
MySupportCalculator's legal directory is a database of family law professionals located across Canada. It helps users who are seeking legal assistance educate themselves about a given firm's personality, philosophy, and range of services before choosing to commit to its services.
The directory listings are primarily lawyers who can help with legal issues and court matters. But the resource also contains listings for other professionals offering family law-related services, which can be valuable for those who can't afford full legal services or who choose to handle their own cases. Users can search the database by area to find the best possible local legal service.
Users can also search the database based on other criteria like hourly fees, services offered, or whether or not the lawyer accepts legal aid certificates.
For example, users searching "unbundled services" can get professional assistance for certain parts of the process. They include consultations, attending court dates, negotiation, and mediation on the client's behalf, among many other services.
Educational Resources Explain Divorce Intricacies
MySupportCalculator's Must Read Docs section contains three critical resources for anyone preparing for divorce. The first is Instructions for Completing Form 13.1 Financial Statement, which is for Ontario residents, but legislative similarities across the country make it a widely applicable first step.
The second is Documents To Provide Your Lawyer, which — as the title suggests — offers a checklist of documents a lawyer will need to review. That helps the client save time and money through early preparation. It is also a useful guide for anyone independently completing the Financial Statement court form and for gathering other necessary documents.
The third vital resource, Information To Provide To Lawyer, organizes additional data about the client's history, relationship, financial, and family situations. Like the other must-reads, it is a useful tool for those who don't need legal representation in court.
The Learn section is a collection of resources to help the reader understand the divorce process and outcomes. It provides in-depth but easy-to-understand education on the financial aspects of family law, focusing on child and spousal support. It is intended as a supplement to — or preparation for seeking — qualified legal advice.
MySupportCalculator's knowledge base also has information on topics including lifestyle, safety, health, and wellness while going through a divorce. And finally, it features checklists of general documents for family law cases, business interest documents for family lawyers, and other information to provide to your legal representative.
"We have some checklists that are incredibly helpful for getting your documents together for your family law case and information to gather if you're going to go see a family lawyer," Feldman said. "There's lots of different information. We update it all the time and generally post new articles weekly."
MySupportCalculator: Poised to Support Emerging Needs
In early March, the Global Times reported an increase in China's divorce rate, coinciding with the easing of the country's COVID-19 lockdowns. Similar situations may surface in other nations emerging from lockdown, including Canada.
MySupportCalculator has provided valuable information regarding legal matters surrounding the virus during Canada's lockdown. Topics included the courts' availability to address urgent family matters as well as custody and parenting rights during the lockdown. And as restrictions are lifted, the site can provide information and guidance to help separating couples reach faster, more mutually beneficial agreements.
"Hopefully, in lots of circumstances, people who use our website are amicable enough to say, 'This is what I got, what did you get? Where are our differences and where do you think we can agree?'" Feldman said. "At the end of the day, as long as both people can agree to an amount of support that meets the requirements under the legislation — and are entitled to under the legislation — everything else can be agreed on if you're reasonable and willing to discuss it."
Of course, in conflicts that lead to divorce, an agreement isn't always easy to reach. But knowing that your financial calculations and obligations are accurate can do much to ease a challenging process.
"You can imagine all sorts of situations where people would disagree about it," Feldman said. "But MySupportCalculator gives them a place where they know if they input accurate information they're going to get accurate results. And that's something that can give people peace of mind."