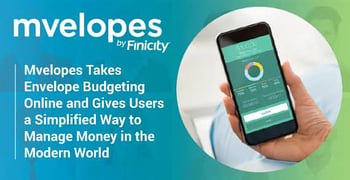 Experts share their tips and advice on BadCredit.org, with the goal of helping subprime consumers. Our articles follow strict
editorial guidelines
.
In a Nutshell: With the growing popularity of financial technology, old-school budgeting tactics and basic accounting tools, like handwritten ledgers, have become passé and, quite frankly, inconvenient. Envelope budgeting, however, is a tried-and-true tactic people having been employing for years to curb overspending, and while it may seem obsolete in the digital age, the concept behind it can still be effective. That's why the folks at Finicity have digitized the popular budgeting method in the form of an online platform and mobile application it calls Mvelopes. The tool allows you to consolidate all of your financial accounts into one budgetary system, bringing a new level of convenience to the concept of envelope budgeting.
Once upon a time, people paid for goods and services using the barter system. They haggled, they swapped, and their assets were mostly tangible and easily accounted for. Then, paper money emerged in China's Tang Dynasty during the 7th century, followed by the emergence of modern banking in the 15th century in Italy.
It wasn't until the 20th century, however, that modern concepts, like credit cards and automated teller machines, came onto the scene. Then, the internet gave birth to online banking, which started to gain traction in the US during the early 1980s. Today, the financial world as we know it has gone, more or less, digital.
While modern advancements have brought convenience to your life, they've also put more distance between you and your tangible cash, which can complicate the way you manage your budget. The majority of your cash is probably out of sight, and perhaps somewhat out of mind as well. The ease of the card swipe also makes it really easy to overspend and lose track of how much you're spending.
Envelope budgeting has been a fairly common practice in American households for more than a hundred years. People would receive their weekly paychecks, then divide their cash into envelopes dedicated to their various monthly expenses. For example, one envelope might have been used for household expenses, another for utilities; one for entertainment, and another for emergencies. It's a straightforward way to set money aside in advance, easily visualize how much is being spent based on categories, and determine how much is left until the next paycheck.
"If you can imagine a consumer in the old days taking up all their savings, sitting at the kitchen table, and putting it in envelopes. Then, they'd start creating spending categories," said Christopher Tracy, President of the budgeting application, Mvelopes. "Maybe one is for groceries, one is for clothes — whatever those categories may be. The consumer will then work out of those envelopes, and they'll only spend what's in those envelopes. It's really about cash-flow management, and that's why envelope budgeting is so successful."
Mvelopes helps you make better financial decisions by bringing you an easy-to-use digitized version of the envelope budgeting approach. Available online and as an app for iOS and Android, the platform and app connect to more than 15,000 financial institutions, enabling users to attach as many accounts as they'd like to as many envelopes as they need.
"What we've done on our end is taken envelope budgeting into the 21st century," Christopher said. "From an envelope budgeting perspective, it really is a time-tested principle. It's about taking one's money, and then partitioning and separating it into different envelopes. On average, Mvelope consumers increase their savings by over $3,000 dollars and pay down their debt by over $14,000 dollars over two years."
Access and Organize Your Budget at Home or On the Go Using a Simple Application
Most of us have better things to do with our time than to cash out our paychecks and parcel out the wad of cash into pre-labeled envelopes. That's why Mvelopes was developed to simplify the money management process into a single platform. Once you've attached your accounts, you can start creating your budget, dividing your money into envelopes, and tracking your spending from anywhere.
When you're constantly on the go, it can be easy to lose track of spending. With Mvelopes, you can set up all of your envelopes at home and give your money a purpose by divvying it up into spending categories. Once that's set up, you can take this information with you through the mobile app and keep up with your budget from anywhere. Through Mvelopes, you always know where your money is going, and how much you have left to spend.
"In the offline world, we'd take the money out of an envelope," Christopher said. "In the digital world, we're going to assign transactions. Let's say I had a $6 transaction that I wanted to assign specifically to come out of one of my budgets. Boom, I swipe, and it's gone. Then, I see the new balance."
As an Mvelopes' user, you can rest assured that your transactions are secure. The information handled on Mvelopes' end is read-only. This means that none of your money can be moved around by anyone but you, and your data is encrypted. And just to be sure, Mvelopes performs regular security audits to ensure that customer data is never compromised.
"Security is a really big deal for consumers these days, and it's an even bigger deal for us here at Mvelopes," Christopher said. "We work with over 15,000 financial institutions in the US, and we use the exact same high-level security standards that they hold us to, so it's very important to us that we meet those standards."
Sign Up for the Mvelopes' Plus or Complete Package and Work with Your Own Financial Trainer
Budgeting your income can be a daunting task, and while Mvelopes helps ease much of the typical associated pain points, a little extra support can go a long way. When users sign up for Mvelopes, they have three options to choose from: Mvelopes Basic, Mvelopes Plus, or Mvelopes Complete. The Mvelopes Basic package is the tool itself, and it covers most of your budgeting needs. For those who want more help, the Plus and Complete packages give you access to certified financial trainers.
"We've got about 25 financial trainers who work across the country," Christopher said. "They are certified Mvelopes financial trainers so we have a set process, and we have amazing financial trainers who provide coaching services for our clients. How this works is, if you were to sign up for this program, you'd have an initial session with your coach and they'd talk to you about your budget."
The Mvelopes Plus plan offers all of the same benefits as the Basic plan, but you'll also receive access to a quarterly checkup with a financial trainer. You can set up four phone calls per year with a trainer, go over your budget, discuss your savings goals, and make sure you're on the right financial path.
With Mvelopes Complete, you'll gain access to a more tailored and focused budget approach, based on your personal needs. The primary difference between the two is that with Plus, you'll speak with a different financial trainer every quarter. With Complete, you'll be matched with a dedicated personal financial trainer, and you'll speak with them every month. The Complete plan allows your coach to really get to know you and your spending habits, helping you reach your goals more quickly.
Learning Center: Access a Customized Curriculum Based on Personal Budgeting Goals
When it comes to getting organized and managing spending, many don't know where to even begin. Even though learning to manage one's money is an important part of life, the American public school system typically doesn't do a great job of teaching us the ins and outs of personal finance.
This is where Mvelopes' Learning Center can help, bringing Plus and Complete users access to hundreds of interactive courses that will teach them how to manage their cashflow. Here, users can learn how to pay off debt effectively using the Mvelopes system, and begin planning for the future, all within a few weeks if they remain dedicated to the platform.
"Our Learning Center is available to the Plus and the Complete customer," Christopher said. "Here, we're really starting to focus on awareness, living within your means, paying down your debt, and starting to think about your future."
Financial trainers can help users customize a curriculum and select the most pertinent courses based on your budgeting goals. You'll also gain access to elective courses that help you apply your newly acquired skills to real-life scenarios. Learning Center resources are offered in a variety of formats, including videos and ebooks in the standard core courses and elective sections, as well as articles in the additional resources section.
21st Century Envelope Budgeting: Put an End to Overspending and Watch Your Savings Grow
Convenience is key with 21st century financial technology. However, that doesn't mean old-school money management strategies like envelope budgeting aren't here to stay, and for good reason.
"Why envelope budgeting is successful in the offline world is that it's about changing behaviors," Christopher said. "It's about disciplining behavior for the consumer as they start making some of these spending decisions, and thinking about how they're going to assign every dollar to one of these categories. I truly believe that there's a big opportunity here to help consumers make smarter financial decisions."
Thankfully, the good people at Mvelopes have modernized envelope budgeting for us, giving us a more convenient way to make better financial decisions. This way, we can keep our hard-earned dollars safe in the bank, rather than stuffed into a bunch of paper envelopes. And we can do it all while watching our savings grow, and being mindful before dipping into our mortgage payments for that last Starbucks of the month.