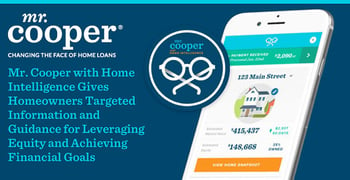 Experts share their tips and advice on BadCredit.org, with the goal of helping subprime consumers. Our articles follow strict
editorial guidelines
.
In a Nutshell: As Americans continue to accumulate debt, many consumers are literally losing sleep over their financial situations. But that need not be the case. Almost 40 million Americans overlook the security they have in their biggest asset: the equity in their homes. Among the many benefits of homeownership, harnessing a home's equity is an important one for consumers. Home Intelligence, a new app from Mr. Cooper, a popular mortgage lending firm, will help these homeowners understand their home's value and learn ways they can tap into equity to help their financial situations. The app will also allow users to connect with home loan experts who can provide information and consistent advice, helping users understand their financing options, make responsible choices, and take charge of their homeownership goals.
Chronic insomniacs, like myself, know that you're just not yourself after a series of restless nights. Anxiety, stress, and depression are the leading causes of sleeplessness, but you may not know that sizable debt is also causing many Americans to stare at their ceilings until daybreak.
In its survey of more than 1,000 people who owe more than $500 in credit card debt, leading non-bank lender and servicer Mr. Cooper (formerly known as Nationstar Mortgage) found that 68% are concerned about their debt. A third said worrying about debt keeps them awake at night, and 24% said the issue has strained their relationships. And these concerns are becoming more relevant for an increasing number of US residents.
Many are troubled by debt, but few have concrete plans for addressing the problem. However, for millions of Americans, financial flexibility is literally right under their noses — and over their heads. That flexibility is their homes, and specifically, the equity they have accrued and continue to grow over years of payments.
"For most Americans, the home is their biggest asset and a key component of their overall financial portfolio," said Tony Ebers, Executive Vice President & Chief Operating Officer at Mr. Cooper.
Mr. Cooper's survey revealed that 44% of respondents have over $100,000 in home equity, which is the value of their home they own outright from making mortgage payments. Now, a new mobile application from Mr. Cooper can help consumers understand how to use that value to improve their financial standing now and in the future.
Mr. Cooper with Home Intelligence is a home-centric app designed to enhance the homeownership experience by helping users manage their home as an asset. With artificial intelligence and real-time guidance, the app shows them the approximate value and equity of their home in relation to similar properties and how that fits into their larger financial picture. Additionally, users can access data to view their current options for debt consolidation through their equity.
Home Intelligence also helps users optimize their personal finances and gain access to advice from dedicated mortgage professionals. Overall, Mr. Cooper's goal is to help homeowners take ownership of their financial situations so they can focus on more important aspects of their lives.
How Homeowners Can Leverage Their Most Valuable Assets
Owning a home offers many financial advantages over renting. Mortgage interest and property taxes can be deducted when filing personal income taxes. Homes also tend to increase in value over time, and mortgage payments create equity that can be drawn on for home improvements and emergency funds. Monthly mortgage payments are also more stable than rental rates, and responsibly managing a mortgage elevates homeowners' credit scores through timely payments and credit account diversification. Additionally, real estate is a solid choice for a more versatile investment portfolio.
As high-value assets, homes can play a major role in an owner's financial and emotional well-being. Mortgages are considered to be "good" debt that often help homeowners yield returns on their investments. On the other hand, debt from credit cards, auto financing, and student loans carries higher interest and generates little to zero equity. But this stress from "bad" debt can be offset by recognizing the equity you carry in your own home and the options available to you because of it.
"According to a report from Black Knight Data, homeowners collectively have an estimated $5.8 trillion in tappable equity," Ebers said.
If this sounds complex and overwhelming, don't worry — you're not the only person who feels that way. Many Americans can benefit from understanding how they can use home equity to improve their personal finances. And that's why Mr. Cooper is introducing the Home Intelligence app: so homeowners can make informed decisions about leveraging equity and eliminating troublesome debt.
Means of accessing equity, such as a cash-out refinance, personal loan, or second mortgage, can carry lower interest rates that allow homeowners to pay off their looming debt and make smaller monthly payments. But since these options come with risks that are dependent on income and lifestyle, the app presents users debt consolidation ideas tailored to their circumstances so they can determine the pros and cons of leveraging home equity before making key decisions.
Home Intelligence Provides Valuable Insight into Users' Personal Finances
"Mr. Cooper with Home Intelligence provides homeowners with valuable insight into their largest asset — their homes — to help them manage not just their mortgage, but their broader financial well-being," Ebers said.
Through Home Intelligence, homeowners can get an accurate idea of their home's value, the equity available to them, and sales trends in their neighborhoods. The app can also provide additional financial advice and guidance based on the homeowner's situation and goals.
Home Intelligence will provide users with options for refinancing along with explanations of the benefits and drawbacks of each. The app will be able to suggest personalized ways to save money and manage debt based on credit card spending and provide tips to help the user borrow responsibly.
All of this information is important to improve personal finances, but the key is knowing how to use that information. Getting the appropriate guidance when you're working to positively change your financial situation can be a deciding factor for success. And, for users who have questions or need clarification, Mr. Cooper knows exactly the right person who can help them.
Home Advisers Help Users Gain Maximum Benefit
"The housing industry as a whole has historically viewed the home as a financial transaction and not a customer relationship," Ebers said. "The customer experience has suffered."
In response, Home Intelligence allows users to connect directly with a Mr. Cooper home loan expert. The app will match them with an adviser who can answer their questions and help them work toward their financial and homeownership goals. If additional questions and concerns arise, users can contact the same expert, who will be familiar with their situation and able to provide consistent advice.
"At Mr. Cooper, we believe having a consistent person to turn to is a critical part of making it easier for our customers to navigate through this often confusing and complex process," Ebers said.
Mr. Cooper's long-term objective is to use technology to assist homeowners when they're stuck and need help, whenever and wherever that may be. Whether it's via phone, chat, or a video call from a mobile device or computer, Home Intelligence users will be able to access the knowledge and guidance they need to make sound decisions about their homes and personal finance.
Get a Head Start on Financial Improvement
Home Intelligence will be available to Mr. Cooper customers in late summer of 2018. It will be rolled out for general consumer use shortly thereafter. Prospective users can sign up for updates and notifications of the app's launch.
In the meantime, consumers seeking information and advice on home equity and value can turn to Mr. Cooper's blog, which provides a wealth of useful information for current and aspiring homeowners. Until they can get their hands on the app, the blog presents a solid resource for anyone who is interested in learning how home equity can help them achieve financial wellness and start sleeping better at night in the process.