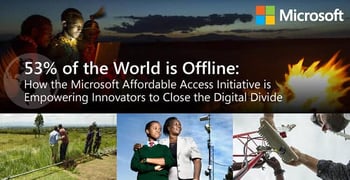 Experts share their tips and advice on BadCredit.org, with the goal of helping subprime consumers. Our articles follow strict
editorial guidelines
.
In a Nutshell: Despite its near-ubiquity in some countries, internet access is hardly universal. In fact, 53% of the world's population lacks access to internet services. Microsoft's Affordable Access Initiative Grant Fund partners with early-stage companies creating innovative solutions to the four components of affordable access: power, connectivity, applications, and hardware. Hailing from 11 countries across five continents, the 12 recipients of the inaugural Affordable Access grants are accomplishing big goals, like extending broadband networks through TV white space technology, developing in-classroom wireless solutions, and changing the way healthcare providers manage patient data. These companies are creating jobs, educating children, and even savings lives — all while closing the digital divide.
For billions of people in advanced industrialized nations, internet access is so ubiquitous, they likely don't even think about it — even as they stay continuously connected. For billions of those in rural or undeveloped areas, however, the World Wide Web is no more accessible to them than is the planet Mars.
Indeed, despite the seemingly hyper-connected state of the technological world, 53% of the global population does not have access to internet services. While some who have become jaded to the technology may consider the internet little more than a tool for entertainment and networking, to those in developing or disadvantaged markets, internet service providers bring far more than just broadband.
"To these communities, technology represents opportunity," said Peggy Johnson, Executive Vice President of Business Development for Microsoft. "The internet can connect an expectant mother with her doctor, even if they're hundreds of miles away. With a basic mobile phone, a rural smallholder farmer can access financial services like microloans and online banking. And with a simple wifi connection, any child can take online courses from the world's best schools."
To help close the digital divide and bring all people, around the world, online, Microsoft created the Affordable Access Initiative (AAI) Grant Fund. Through the fund, Microsoft invests in small startups and entrepreneurs with innovative solutions to the four aspects of affordable access: power, connectivity, applications, and hardware.
"In parts of the world where opportunities are scarce — from remote islands off the coast of Maine to sub-Saharan Africa — the public and private sectors are racing to find connectivity solutions," said Paul Garnett, Senior Director of AAI. "At Microsoft, we believe that some of the most innovative solutions bridging the digital divide are being created by entrepreneurs that are local to the communities they serve. By investing in their businesses, we help spark and scale-up market innovations that create jobs, educate the next generation, and even save lives."
The 12 Startups Using Affordable Access Grants to Get the World Online
For its inaugural year, Microsoft's AAI awarded grants to 12 early-stage businesses from 11 countries across five continents. Each company is working to develop last-mile or broad-scale solutions to the problem of affordable access through a variety of digital technologies, including remarkable innovations in healthcare, education, networks, and energy production.
1. Movivo, United Kingdom

Movivo, a UK-based software company, has integrated with telecom operators and sponsor companies to develop a mobile application that enables users to earn free airtime for phones. Through the Movivo app, users can try new mobile apps, take surveys, or complete crowd-sourcing tasks in exchange for mobile phone minutes. With the AAI grant from Microsoft, Movivo is working to expand its application across devices to provide access to as many people as possible around the world.
2. African Renewable Energy Distributor (ARED), Rwanda
Based in Rwanda, ARED works to provide reliable energy solutions for remote areas through Mobile Solar Kiosks operated by ARED franchisees. The kiosks, powered by modest-sized solar panels connected to internal lithium batteries, can charge a variety of small electronics, including mobile phones, as well as produce a wifi network. Additionally, to promote equality in the communities it serves, ARED requires 30% of its franchisees to be women.
3. New Sun Road, Uganda

Though founded in California, New Sun Road is having big impacts in developing areas around the world. The technology company works with local rural communities to develop clean, renewable power systems. In particular, New Sun Road is using its grant to expand its network of micro-grid stations throughout the Lake Victoria region of Uganda.
4. Ekovolt, Nigeria

Telecommunications company Ekovolt is bringing affordable broadband access to remote and underserved regions of its home country of Nigeria. Through its Affordable Access Initiative grant, Ekovolt is expanding access to its internet services as well as helping Nigerian SMBs access cloud-based technologies and solutions to help them better compete against connected corporations.
5. C3, Malawi

C3, a communications startup based out of Malawi, designs, builds, and optimizes broadband networks, and provides network and infrastructure development. With funding from AAI, C3 is building a TV White Space network to generate affordable internet and phone access in underserved rural areas around Southern Africa.
6. VistaAfrica, Botswana

VistaAfrica, a medical technology company based in Botswana, has developed an innovative approach to maintaining medical records and health information for rural communities. The company's digital application utilizes cloud technology to capture and store patient charts, helping healthcare providers screen, track, and treat patients in remote regions where distance makes for sporadic clinic visits.
7. AirJaldi, India

Based in India, AirJaldi is working to create and scale a wireless broadband network granting affordable internet access to rural and remote areas around the country. The company works with local entrepreneurs to build, run, and own segments of the rural internet distribution network.
8. Zaya Learning Labs, India

Also out of India, Zaya Learning Labs is innovating digital education through the development of a series of products designed to improve classroom learning. In addition to creating new software platforms that help children learn English and make it easier for teachers to develop dynamic curricula, Zaya Learning Labs offers the ClassCloud technology, a plug-and-play wireless solution that reduces the cost of interactive and personalized learning in areas with limited internet connectivity.
9. WiFi Interactive Network (WIN), Philippines

One of the first companies to use TV White Space technology in urban Asia, WIN provides free wifi connectivity in communities throughout the Philippines. By partnering with global consumer brands, WIN is able to leverage sponsored ads and products to offer free internet access on a monthly basis, as well as awarding additional data to users who purchase sponsored products.
10. Kelase, Indonesia

A digital learning solutions provider from Indonesia, Kelase is working to give teachers, students, and parents access to better technologies. Through its online learning platform, learning management system, and digital content marketplace, Kelase provides digital courses, training, and materials, including electronic books, applications, and educational videos.
11. Tambero.com, Argentina

Argentinia-based Tambero is modernizing farming with an innovative cloud-based application that helps farmers manage their animals. The company's software allows farmers to keep an eye on everything, including monitoring animal health, tracking rainfall, and recording crop and parcel information.
12. Axiom, United States

Recognizing that not all access limitations occur in undeveloped countries, US-based Axiom delivers broadband service to rural communities across the state of Maine. In addition to developing last-mile connections, Axiom provides technology education to help connect consumers with businesses, municipalities, and nonprofits.
Still a Lot of Work to Do: 3.5 Billion People Online — 4 Billion to Go
With the success of its first round of grants, Microsoft announced in December 2016 the decision to fund AAI for a second year. The organization accepted applications through the end of January 2017 and hopes to provide even more grants than in its first year of funding.
"The social enterprises we support have inspired us with practical, high-impact and scalable approaches to help close the digital divide," said Paul. "It's a privilege to see these solutions take shape, and to play a role in helping local entrepreneurs spur job creation and economic growth."
While pleased with the progress thus far, Microsoft recognizes that there is still a long way to go in the fight to close the digital divide for good.
"Last-mile connectivity is a global challenge — and it's going to require global solutions. Ultimately, it's the innovators and risk-takers in the private sector who are having the most impact in building a real market," said Peggy. "If we empower those innovators to build the right solutions for their communities, and support their work, their education, and their advocacy, then we can help create the kind of lasting impact that will truly close the digital divide"