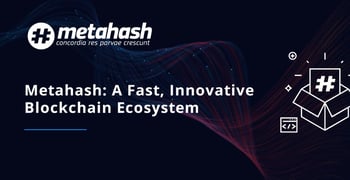 Experts share their tips and advice on BadCredit.org, with the goal of helping subprime consumers. Our articles follow strict
editorial guidelines
.
In a Nutshell: At this point, blockchain technology and cryptocurrencies are firmly planted into mainstream culture. But the decentralized blockchain ecosystem is only a decade old and continues to evolve. MetaHash is an innovative blockchain platform that facilitates transactions much faster than most other blockchains. With its unique approach, the system can process more than 5 billion transactions per day. The company's MetaApps service takes a fresh approach to smart contracts, as well, in a new, secure, and efficient way. MetaHash's MetaGate is another crucial part of the platform, serving as a gateway to the decentralized internet.
It's easy to forget that blockchain is still a rapidly evolving technology. Cryptocurrencies were introduced to the world just a decade ago, but with the impact they have made in headlines and in the financial world, it can seem like they've been around for decades.
Bitcoin was created as a decentralized, secure way to send virtual funds outside of the traditional financial infrastructure. It didn't take long for other cryptos like Ethereum and Litecoin to pop up.

And soon enough, rather than using digital currencies for actual transactions, they were being viewed as a store of value similar to stocks.
Nevertheless, the value of blockchain and crypto functionality is still very much real. And companies like MetaHash are making sure blockchain tech and digital currencies remain relevant for real-world use cases.
"MetaHash is a next-generation network based on the Blockchain 4.0 technology for sharing digital assets and a platform for creating and managing decentralized apps and services in real-time," according to the company.
We recently spoke with MetaHash's Co-Founder and Chief Research Officer Gleb Nikitin about the company's innovations in blockchain, including its products and services.
Nikitin said that, by creating MetaHash, he and the company co-founders sought to establish a blockchain platform that could surpass the technical limitations of existing blockchains.
"We believe in the future of cryptocurrencies. But today it is far from perfect," according to the company white paper. "MetaHash represents all the blockchain-powered opportunities of the future embodied in a single project."
More Than Five Billion Transaction per Day
Nikitin said one of MetaHash's main goals is to facilitate faster transactions than other blockchains — transactions that take seconds rather than minutes or hours.
Today's systems do not provide sufficient speed or convenience to make blockchain solutions usable on an industrial scale, according to MetaHash. Speed is even an obstacle for individual users.
"That would be very convenient to make a transaction like you make in a normal bank, but it goes over our crypto gateway with convenience," he said. "And with commissions that are low enough to make microtransactions possible and to make mass payments to users possible."
MetaHash overcame the speed limitations of other blockchains by implementing an automatic, self-learning algorithm for routing signals over the network.
"Starting at a rate of 50,000 transactions per second (the capability of a 100-megabit channel), it grows as more nodes with higher bandwidth are added to the network forming the core of the network and improving the reliability of additional DataChains which are needed for running applications," according to the company.
This means MetaHash can facilitate more than 5 billion transactions in one day.
Such high speeds also mean MetaHash can process all global transactions in blockchain and achieve the lowest price per transaction in the history of blockchain, according to the company.
Additionally, each transaction is protected by five different consensus algorithms.
"It's impossible to gain control over the network even with a budget of billions of dollars," according to MetaHash. "Real decentralization amongst real people rather than groups
of dominant pools with gigantic mining farms."
MetaApps Offer a New Approach to Smart Contracts
Another innovative component that makes MetaHash stand apart from other blockchain platforms is its MetaApps cloud service for smart, real-time applications.
"MetaApps is an evolution of smart contracts and can be used to decentralize any service," according to MetaHash. "These are independent programs that can exist forever and do not belong to anyone. They work exactly as programmed and cannot be tampered with by third parties."
MetaApps comes with three key advantages, according to the company.
The service runs in real time, just as fast as regular web services and applications. It also works with any GUI design and can look like ordinary applications or webpages. And it's secure.
"No one can change the application's behavior bypassing the update rules," according to MetaHash.
MetaHash's platform enables the creation of independent subchains protected by the main MetaHash network that also operates on the basis of the TraceChain protocol, according to the company white paper.
"These sub-chains are created so thousands of MetaApps can cost-effectively operate without overloading the main network and slow other applications," the paper continues. "Lots of applications are waiting for a solution to build isolated, cost-effective, and secure chains that would let them transfer the required data."
MetaApps also facilitates self-financing applications.
"Any app developer can program an application to use a certain share of its revenue to support its work in the network and keep the rest of the revenue to finance further app development," according to MetaHash. "In this model, the team that develops an application can be selected by the users of the project by general voting."
Marketing issues and the need for other services can also be addressed collectively.
MetaGate is an Open Source Program that Serves as a Gateway to the Decentralized Internet
MetaHash's other core service is MetaGate, which serves as a gateway to the decentralized internet.
"MetaGate is a browser," Nikitin said. "It has connectivity to the MetaHash native network, but it also has connectivity to the standard internet and Tor-based websites. It's basically a browser for multi-protocols."
It is an open source interface that uses the company's TraceChain protocol which is what makes it possible to work with MetaApps and networks. Third-party developers can use the MetaGate code to embed MetaApps and TraceChain blockchain features into various applications and browsers, according to the company white paper.

"With all the technical complexity, MetaGate is much easier for the user than the usual cryptocurrencies," according to the company. "All the necessary elements that provide network security function in the background, leaving the end user with a concise and clear interface."
The service also comes with a multi-asset wallet that supports "light mode," according to MetaHash, without downloading the entire blockchain. Data comes from different sources
of the network and is checked by the user. The wallet can also work in "full node" mode or by selecting trusted nodes.
"People can declare their public key on blockchain and other people can message to the public number," Nikitin said. "That is how it's an interesting example of how you can use blockchain and create messengers that are decentralized, encrypted, and P2P."
Voting functions in the MetaHash network begin in MetaGate, where notifications are initially sent, along with alerts in corresponding channels.
"The voting system is based on the amount of #MHC belonging to voters," according to the company. "A vote is a technical transaction signed by a private key of the voter, available publicly. In order to win, a suggested proposal needs to accumulate 50% + 1 vote."