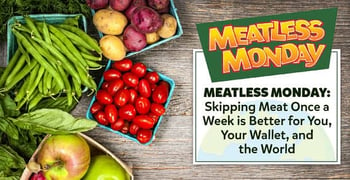 Experts share their tips and advice on BadCredit.org, with the goal of helping subprime consumers. Our articles follow strict
editorial guidelines
.
In a Nutshell: Cutting back on meat consumption has numerous advantages, from your physical health to the well-being of the environment. Meat is also expensive, so reducing how much you eat can have a positive impact on your wallet. With roots that trace back to food rationing during World War I, Meatless Monday was relaunched as an international public health awareness program in 2003 with one clear goal: skip eating meat one day each week. Nearly half of Americans are now aware of Meatless Monday, and more people across the globe are protecting their health, the planet, and their wallets by taking a break from their carnivorous habits once a week.
Meat: it's what's for dinner … and lunch … and breakfast … and don't forget that afternoon Slim Jim.
Overindulging in meat is especially an issue in the US, where Americans consume more meat than anywhere else in the world, averaging 265 pounds (120 kg) per person annually.
Numerous studies have brought to light the adverse effects of meat consumption, from the greenhouse gases that contribute to climate change to the higher risks of cancer for those who eat too much red or processed meats. That's not to mention the impact on your wallets.
Research has shown that vegetarians save at least $750 per year on food costs compared with their meat-eating counterparts, while getting more nutritionally balanced meals. Meat-free options are much more affordable, and that's because vegetarian and vegan diets are far less resource intensive than what goes into breeding and slaughtering livestock.
In 2003,  Sid Lerner, an ad executive turned public health advocate, in association with the Johns Hopkins Bloomberg School of Public Health, launched a public health awareness campaign called Meatless Monday — a movement that traces its roots and name to rationing practices during World War I. Essentially, the goal is to get people to skip eating meat on Mondays each week.
The modern movement is active in 44 countries, and it continues to grow as more people become aware of the concept. Schools, restaurants, hospitals, and individuals are all beginning to observe the weekly holiday by implementing Meatless Monday meal plans into their menus and lives.
"According to research in 2014, we found that 45% of Americans were aware of Meatless Monday," said Cherry Dumaual, the PR and Partnerships Director for The Monday Campaigns, which includes other Monday-centered health initiatives. "Also, from that 45%, quite a number of them said that being aware of Meatless Monday will encourage them to go meatless one day a week because they realize how good it is for their health and the health of their planet."
Anyone curious about Meatless Monday can visit the website and access free recipes, resources, and information about the movement. You can even take an active role in your community by starting your own Meatless Monday campaign.
Meatless Monday & Wheatless Wednesday Date Back to WWI
The modern Meatless Monday movement helps to raise awareness about the prevalence of preventable illnesses, many of which have been linked to excessive meat consumption. However, the concept is nothing new.
During World War I, people were urged to reduce certain staples to help the war effort. Conserving food by skipping meat or wheat on certain days of the week supported the troops and preserved more rations to help feed populations in Europe where the war had interrupted food production had been interrupted by the war. The practice was revived during World War II and the aftermath thanks to conservation efforts by Presidents Franklin D. Roosevelt and Harry S. Truman.
"During the World War I and World War II days, there was rationing, so Sid knew that people could do something similar," Cherry said. "He and Dr. Bob Lawrence brought Meatless Monday back, and it's made a difference."
Mondays are a Popular Day for New Beginnings
When Sid started the Monday Campaigns, which includes other initiatives like The Kids Cook Monday, Quit and Stay Quit Monday, and DeStress Monday, among others, he chose the day of the week carefully.
"Research shows that Monday is a day when people are prone to listen to health messages," Cherry said. "People Google health-related terms more than any day of the week on Monday — how to diet, how to exercise, how to quit smoking. For people in the health business, it's a good time to remind people about their health because people do listen and take action. We also found that when people use Monday to get started, they continue doing so the rest of the week."
Adopting a one-day-per-week healthy habit is far less daunting than trying to go cold turkey (pun intended) on any behavioral change. Going meat free on Mondays can jump-start a week of healthy and budget-friendly choices throughout the week.
Advance the Movement with Free Resources for Schools, Restaurants, and Consumers
The Meatless Monday site distributes free materials that can help you start your own campaign to benefit your school, restaurant, and maybe win over a few friends.
Users of the site can download Meatless Monday's starter kits to help spread the word about the movement. Resources on the site include Meatless Monday educational information used to implement meatless programs in schools or hospitals, as well as visual aids, like logos, graphics, and posters.
"We have Meatless Monday implementation kits that are targeted for different industries," Cherry said. "For example, we have one for schools and universities. On the Meatless Monday site, you can find a kit for hospitals and restaurants. For consumers, there's a community kit. Anyone can download these and customize with their own logo."
All of these materials are geared toward advancing the movement and raise awareness in as many places as possible. The goal is to reduce global meat consumption by 15%, and these resources are being used to change one mind at a time.
Save Money While Doing Your Part to Save the Planet
By reducing your meat consumption just one day per week, you're giving your body and the planet a lot of love. You'll also save yourself money in the process.
Meatless Monday has a variety of resources, including hundreds of nutritious, plant-based recipes that can help people who are new to the idea. You can also follow the movement on Twitter, Instagram, and Facebook, and whenever you mention Meatless Monday, make sure to use the hashtag #meatlessmonday. Spread the word and give Meatless Monday a try if you haven't already.