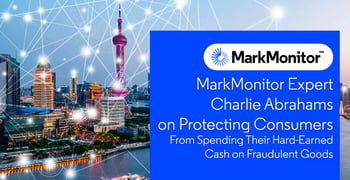 Experts share their tips and advice on BadCredit.org, with the goal of helping subprime consumers. Our articles follow strict
editorial guidelines
.
In a Nutshell: The internet makes it easier than ever for sellers to pass off counterfeit goods as legitimate. MarkMonitor helps companies protect their brands by guarding against counterfeiting and other fraudulent acts. A 2018 company report revealed that one-third of consumers had purchased counterfeit goods in the previous five years. Brands and consumers can both benefit from MarkMonitor's smart technology. MarkMonitor's Senior Vice President, Charlie Abrahams, also provided us with some tips to help consumers know how to avoid purchasing counterfeit goods.
About 10 years ago I was in the market for a Gibson SG — an iconic guitar rockers like Angus Young from AC/DC and Tony Iommi from Black Sabbath played. I scoured local stores and online listings.
Eventually, I found a guitar at the right price on Craigslist. The seller lived a couple of hours south so we agreed to meet in the middle to make the transaction. I pulled into the busy gas station at dusk (public places only!) and made a quick inspection of the guitar under the bright fluorescent parking lot lights.

After I got home and looked more closely at the guitar, I noticed that the red color was much brighter than any Gibson SG I had seen before. Then I began to notice other small inconsistencies. I removed the backplate of the guitar to look at the wiring and saw a mess of generic parts and sloppy work.
My stomach dropped. I bought a counterfeit Gibson SG. For almost $1,000.
It took a lot of work, but I eventually got my money back. Luck was on my side. Many consumers who purchase counterfeit goods never see their cash again and are stuck with a worthless item.
These kinds of scenarios hurt both consumers and brands. If I hadn't identified the guitar as a counterfeit, I may have chalked its poor quality up to the Gibson brand. Additionally, for every counterfeit Gibson that's sold, that's one less real Gibson guitar the company can profit from.
Thankfully, companies like MarkMonitor are working to protect brands from counterfeiters and fraudulent sales — which in turn helps consumers as well.
We recently spoke with Charlie Abrahams, the Senior Vice President of MarkMonitor, who told us about how the company guards against counterfeiters. He also discussed MarkMonitor's recent study on global counterfeiting rates and how the internet makes it easier than ever for consumers to fall victim to counterfeits.
One in Three Consumers Have Lost Money by Unknowingly Purchasing Counterfeit Items
Abrahams said MarkMonitor's recent study, "Global Online Shopping Survey 2018: Facts, Figures, and Fakery," revealed that about a third of consumers had inadvertently purchased counterfeit items in the past five years.
"For this study, we interviewed just over 2,500 people across the United States and most of Western Europe," Abrahams said. "And to learn that a third of them had unintentionally bought counterfeit goods — that's a big proportion."
The report also dove deeper to show that 49% of the victims had suffered the embarrassment of actually giving the counterfeit items they had purchased as gifts.
Abrahams said the rise of e-commerce capabilities on the internet has made it easier for bad actors to pass off counterfeit goods as legitimate.
"I could be running an operation out of my house with a bunch of stock in my garage, and I could make it appear online that my storefront looks like Harrods," he said. "I could make myself look relatively authentic, even going deep into the structure of the website."
Scenarios like these lead consumers to believe they are shopping on a reputable platform when they may actually be making purchases from a fraudulent seller.
Abrahams contrasted unknowingly buying counterfeit goods online with street markets in big cities.
"You can go and buy knockoff watches, handbags, or football shirts," he said. "But you can pretty much tell they're counterfeit. If you buy a fake Rolex for $20, you know what you gave them and what you're getting. On the internet, consumers are misled because all they see is a photograph."
And, the photograph can be stolen from another website and may be of a legitimate product.
Online counterfeiters are also more difficult to track down because they can obfuscate their location by running their websites off servers located in different countries, and other misleading tactics.
Tips to Avoid Making Counterfeit Purchases Online
During our conversation, Abrahams clued us in with some tips on how consumers can avoid making those disheartening counterfeit purchases. MarkMonitor's research revealed that clothing and electronics made up the two largest segments of counterfeit goods purchased in 2018.
"The first thing I always say to people is if the deal looks too good to be true — if it's a Rolex watch for $20 — then it's probably not legitimate," Abrahams said.
Consumers should also take note of online sales prices, he said. A 20% or 30% discount may be realistic but if a product is far below the manufacturer's suggested retail price or the price available in stores, the item is likely not genuine.
"The next thing is when you're on websites, the ideal approach would be to buy from the trusted sources — the manufacturers or brand owners' sites," Abrahams said. "Or go to a trusted retailer that you know is legitimate. They're not going to be selling counterfeit merchandise."
The challenge is when consumers veer away from these known entities for what may look like a legitimate website at first glance. But if the consumer is not familiar with the website, he or she should dig a little deeper before conducting any transactions.
"You can try to identify the veracity of the site," he said. "Look at different sections of the website, not just the portion selling items. Look at the returns policy page, the contact page, have a look at how well-constructed the English is."
Other things to look at when shopping on retail sites and online auction sites are feedback and product reviews.
"If there are only four or five reviews of a product and they're all glowing, I wouldn't necessarily assume that means it's authentic," Abrahams said. "They could have just gotten their mates to write those. It's even quite easy to log in and do it yourself."
How MarkMonitor Leverages Technology to Protect Brands and Prevent Loss of Revenue
"The web enables previously unthinkable reach, targeting, and economies of scale — and scammers have noticed," according to the MarkMonitor website. "Online brand abuse — from fraud to counterfeiting — is more widespread, sophisticated, and lucrative than ever."
And many brands are not fully aware of the scope of this abuse, and even fewer have made any significant efforts to address the issue to guard against losses and protect consumers.
MarkMonitor offers technology-based solutions to strengthen brands' defense strategies. The company's approach to addressing fraud and counterfeit mirrors the consumer's online journey so the client knows which results show up when their brand name is searched.
"By employing the latest in geo-targeting, visible listing searches, and marketplace monitoring — with results based on your customer's location — you can take down offenders faster, and even in bulk," according to the company.
MarkMonitor's solutions stand apart from other protection models, which often fail to identify the source of an infringement problem before launching its anti-counterfeiting campaign.
The company's solutions can lead to exponential recoveries of revenue and brand reputation, according to MarkMonitor.
MarkMonitor's brand defense solutions include IP protection, anti-piracy tactics, anti-fraud tactics, dark web monitoring, anti-counterfeiting measures, and malware protection.
In today's digital era, guarding a brand involves much more than simply being vigilant for bootleg products made to look like the original.
"An effective digital brand protection strategy allows you to recapture revenue, enjoy direct cost savings and safeguard your marketing investments," according to the website. "Ensuring authentic brand experiences has the added benefit of solidifying brand reputation while reducing instances of online fraud and unauthorized channels."
In the end, it pays for consumers to remain vigilant when purchasing items online or in real life. And as more brands adopt a service, such as MarkMonitor, to protect their reputations and their customers, everybody benefits.