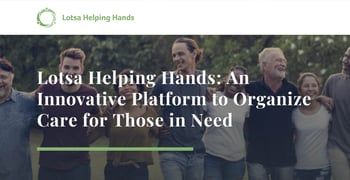 Experts share their tips and advice on BadCredit.org, with the goal of helping subprime consumers. Our articles follow strict
editorial guidelines
.
In a Nutshell: Caring for a loved one can be difficult. Lotsa Helping Hands offers a tech-based solution to help caregivers manage this responsibility by providing a platform for easy communication and planning. The platform provides a central calendar and other functions so all parties can better understand how and when to help. Lotsa has helped millions of users organize caregiving tasks over the past 15 years. The company is also ready-made to help people navigate the challenges of caregiving during the COVID-19 pandemic and offers a number of tips on its website.
Have you ever tried to organize a night out for more than a handful of people? I have, and it's surprisingly challenging. Texts and phone calls abound as everyone tries to get on the same page and solidify the schedule and details.
Now, imagine this scenario when it comes to scheduling and organizing care for a loved one in need, or for new parents bringing their baby home from the hospital for the first time.
I've been in both of these situations as well, and the stresses around organizing schedules and dividing up responsibilities are much greater than simply planning a night out with friends.
But thanks to modern technology and companies like Lotsa Helping Hands, organizing care for loved ones doesn't have to be so stressful.
Lotsa Helping Hands — most commonly known as Lotsa — is a platform that covers a lot of ground when it comes to coordinating the details of someone's care. With Lotsa, people can focus more attention on the needs of their loved ones. And caregivers do not have to shoulder the burden of spending time on endless planning.
As with so many valuable inventions, Lotsa was born when Hal Chapel sought to find a solution for challenges he was facing in his own life, said Lotsa General Manager Matt McCabe.
"He founded Lotsa after an experience he and some others had with taking care of a loved one who was sick and getting frustrated with email chains and text messaging," McCabe said. "Then there was the hassle of trying to communicate with people about what was going on and generally trying to coordinate help."
Chapel had a background in technology and set out to find a better way.
His solution — Lotsa — provides a central location for people to coordinate caregiving efforts through a number of convenient ways.
As we grapple with the COVID-19 pandemic, many people have elderly or at-risk loved ones who need special care during this difficult time. Although Lotsa was founded in 2005, it seems to be ready-made for today's challenges.
How Lotsa Makes it Easier to Help Others and Eases the Burden of Caregivers
"More than a third of people in America are caregivers in one form or another," McCabe said. "One of the most prevalent scenarios is caring for a spouse with cancer or a chronic disease. Other people may be caring for an aging parent while raising children at the same time."
And Lotsa's mission focuses on helping caregivers meet the challenges that come with patient care, he said.
"Our platform exists, hopefully, to ease that burden by allowing users to invite others to help, whether it's bringing a meal, giving a ride, doing chores around the house, or going grocery shopping," McCabe said. "There's a myriad of ways to help."
Lotsa can also be used to allow friends and family to schedule a visit to simply say hello or to provide the primary caregiver with a respite from their responsibilities.
McCabe said that, as Lotsa has evolved over the years, the company has maintained its focus on how Lotsa can be the most valuable in those kinds of situations.
"We find there's really three key elements that make a tool like this important," he said. "First, you have a patient or someone who needs the help. And a lot of times it's not easy to ask for help. It can be embarrassing to say, 'I need help; I need you to do this.'"
Additionally, there are caregivers who are overwhelmed by trying to coordinate the ways in which other people can provide assistance, McCabe said.
"And the other key part is you have people that want to help, but they don't know what to do," he said. "That's why people end up with 10 frozen lasagnas because people want to do something."
When people don't know what to do, that's when helping becomes unhelpful despite the best intentions, McCabe said.
Lotsa serves as an intermediary between caregivers and others who want to help.
"The caregiver can figure out what they need and post it on a calendar so they're not just asking someone directly," McCabe said. "And people can join the community and see what the needs are and choose to help in ways that make sense for them."
In addition to its Care Calendar, Lotsa also allows users to post announcements to keep people updated on the situation and upload photo gallery where people can share milestones and memories. The platform also facilitates a way for well-wishers to say hello or send a message of support to the patient or family.
McCabe said that, outside of these health care-oriented uses, volunteer groups, religious groups, and school sports teams have also used Lotsa as a means to organize people and assign duties.
The Platform Boasts an Active Community of Users and Garners Positive Reviews
Lotsa's focus on coordination, communication, and support has proven extremely valuable to more than 2 million users over the years.
The platform boasts 125,000 active monthly users, according to the company. And user data reveals just how much Lotsa's tools help enhance the caregiving experience. 
Lotsa users have created more than 100,000 communities on the platform, delivered 2.1 million meals, and covered 822,000 child care shifts. Additionally, friends and family have posted 250,000 well wishes on Lotsa and provided 580,000 rides to those in need.
And many of the platform's users say they are grateful for the service Lotsa provides.
"Lotsa Helping Hands has a rapidly growing network of over one million caregivers and volunteers," according to the company website. "How easy is it for caregivers to schedule tasks and for people in the community to find volunteering opportunities on Lotsa Helping Hands? Our members say it best."
Lotsa provides a service to people often dealing with a difficult time and the glowing testimonials from Lotsa users are abundant.
"Just wanted to acknowledge you for this immensely wonderful service. It's amazing to think of all the people helped by this web site. I'm especially grateful for how our family in Denver was helped, and I believe that my son-in-law's healing was greatly assisted by how easy it was to coordinate those who wanted to help. Thank you so very much!" — Connie, Columbia, Missouri
Even with its thousands of satisfied users, McCabe said, Lotsa continues to try to improve whenever it can.
"We are huge believers in user-centered design and feature enhancements. We're trying to get better all the time," McCabe said. "I spend four to five hours per week answering support questions myself. I want to be able to hear the concerns or frustrations about what's not working or what can be better."
Caring for Loved Ones During the COVID-19 Pandemic
With its focus on conveniently organizing care, Lotsa may be perfectly suited for a crisis such as the current COVID-19 pandemic.
The company has provided a handy guide on its website that outlines how caregivers can help those in need, as well as themselves, during this time.
"Being a caregiver is challenging; and taking care of a loved one during COVID-19 can be particularly stressful with social distancing and the uncertainty around when our lives can go back to normal," according to the website.
In addition to keeping loved ones safe, it's important for caregivers to take care of themselves physically and mentally, according to the company, so they can continue to be there for those in their care.
The company breaks down the task of caregiving into six main areas of focus, which we have summarized here. For complete details, visit the Lotsa blog.
"Keep you and your loved ones safe," according to Lotsa. "Older adults and people with chronic conditions such as lung or heart disease are at higher risk for having more serious complications from COVID-19."
For this category of patients, Lotsa recommends following CDC guidelines and limiting visits to those that are absolutely necessary. Caregivers should wear gloves and other protective equipment when having close interactions with at-risk people.
Next, Lotsa recommends enlisting help to procure essential items using the platform's Lists function and asking helpers to leave the items at the door.
Caregivers are also encouraged to set up virtual visits so you and your loved ones feel connected.
"Physical isolation and distancing does not have to be mentally or emotionally isolating," according to the company. "Create ways for your loved ones to have virtual interaction and 'visitation.'"
Caregivers can do this by setting up video calls during which people can chat, read books aloud, and even play games.
It is also important for people to know the benefits they and the person being cared for are entitled from their health plan.
Those who are at-risk and even healthy people should opt for telemedicine visits whenever possible, according to Lotsa. When at all possible, they should avoid healthcare facilities where other people may be spreading germs.
Finally, Lotsa recommends that caregivers prioritize their own mental health.
"It's important not to lose sight of your own health and well-being when caring for a loved one," according to the company. "Make sure to take time to relax, de-stress, and focus on maintaining a healthy mental state."
Being a caregiver can be overwhelming during normal circumstances, and dealing with the COVID-19 pandemic can make the situation even more stressful. But Lotsa's convenient platform offers a way to make things easier during difficult times.