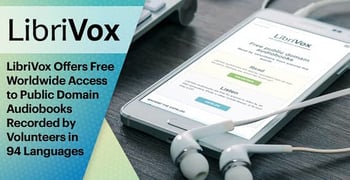 Experts share their tips and advice on BadCredit.org, with the goal of helping subprime consumers. Our articles follow strict
editorial guidelines
.
In a Nutshell: The current popularity of audiobooks and the ubiquity of smartphones and tablets have revolutionized the way we experience the written word. For more than a decade, the nonprofit, ad-free site, LibriVox, has been providing listeners free access to recordings of public domain audiobooks. Volunteers from around the world have read and recorded audiobooks in 94 languages and made them available as downloadable podcasts. With more than 10,000 titles from which to choose, LibriVox makes it possible for anyone with an internet connection to enjoy quality literature — absolutely free.
The simple pleasure of escaping into a book is only part of the reward enjoyed by readers. Science has shown reading increases intelligence and makes people more empathetic. Avid readers are also 2.5 times less likely to develop Alzheimer's disease.
However, we spend so much of our time on the go these days that time must be carved out to sit down and enjoy reading a book. This basic fact is what has largely influenced the rise of audiobooks, which can be played in the car, on the bus, while exercising, or doing odd chores. It's no wonder booksellers have found audiobooks are the fastest-growing segment of the publishing industry.
But, for those on tight budgets, monthly subscription fees to audiobook sites can stack up quickly. Luckily, there is a free alternative to get your literature fix.
Since 2005, LibriVox has operated with a mission to make books in the public domain available in audio format free of charge. Volunteers worldwide have recorded more than 10,000 audiobooks in 94 languages, and the site is poised to add its 11,000th book any day now.
Audiobooks Provide Free Entertainment and Education in a Wide Variety of Topics
The first thing one should understand about LibriVox is that it can, by law, only post audiobooks in the US' public domain. Works in the public domain are those whose copyright has expired, which presently covers anything published before 1923. So, enthusiasts looking for contemporary works will need to visit their public libraries, most of which now offer audiobooks.
But make no mistake – some of history's greatest literary works are available at LibriVox, including The Adventures of Tom Sawyer, Alice in Wonderland, Treasure Island, On the Origin of Species, Dracula, and Heidi.
What LibriVox doesn't have in newer works is made up for by the sheer variety and range of genres, styles, and languages. For example, children's fiction alone has 10 sub-genres such as myths, legends and fairy tales, and action and adventure. Travel fiction, fantasy fiction (with six sub-genres), humor, drama, and poetry, among others, are also available.
In addition to the wide selection of genres, LibriVox currently has audio books in 94 different languages. English is the most popular language, with Chinese, French, and German coming in second, third, and fourth respectively. And with languages as varied as Tagalog, Minangkabau, Catalan, and Yiddish (to name just a few), LibriVox has made it possible for a truly global audience to have access to these important works.
10,000 Projects and Counting — A Site Powered by Volunteer Readers
One of the most endearing and unique aspects of LibriVox's model is that the site is entirely curated by volunteers. These unpaid volunteers offer up their own time to read and record classic works simply for the sake of helping to make these audiobooks available to anyone who may want them.
It's simple for volunteers to start their own projects or join another already in progress. Once a volunteer finishes a recording, it's uploaded to the site so the volunteer community can "proof-listen" before making it widely available for download.
LibriVox explains, "Each project is run by a coordinator who is responsible for choosing the project and organizing readers. The projects are then organized into forums, and the project threads are moved into the thread suitable at that time."
The finished recordings are available on the LibriVox website, and MP3 and Ogg Vorbis files are hosted separately. Recordings are also available on iTunes. And since these recordings are in the public domain and completely free of copyright, users can do whatever they wish with them.
LibriVox's site features a forum on which volunteers can communicate with one another, and newcomers can get needed guidance on how to get started. The forum is also a way for volunteers to manage projects, which are presently just shy of 11,000.
No Ads, No Cost — A Nonprofit Dedicated to Public Service
LibriVox is completely not-for-profit and operated solely by its volunteers. The Internet Archive hosts the site's audio free of charge.
LibriVox does accept donations to help cover "ongoing system administration costs and development support" for future upgrades to our software systems. But the site is totally non-commercial and accepts no advertising dollars, and thereby is not beholden to corporate interests of any kind.
LibriVox also has no plans for an IPO and makes explicit it is "not for sale" in any capacity. LibriVox reminds readers that, though it is not for sale, "…anyone is free to use [the] content however they wish – including Yahoo, Google, and Microsoft." Its mission is and always will be to serve the public by providing access to high-quality recorded audiobooks.
Providing Access to Literature for More Than a Decade
Whether you're looking to escape your everyday life, enjoy the scientifically-proven benefits of reading, or both, LibriVox's vast collection of public domain audiobooks will keep you busy for a while. The site's more than 10,000 titles display LibriVox's commitment to a mission of providing the world with access to free literature.
It all started in 2005 when Montreal-based web developer and writer Hugh McGuire set up a blog and posed the following question: "Can the net harness a bunch of volunteers to help bring books in the public domain to life through podcasting?" The answer was clearly yes.
Hugh's belief that books are at the heart of our intellectual lives gave rise to LibriVox and is still the driving vehicle behind the site he started. As Hugh noted, "[Books] are in some sense the operating system for society, and even if we start to build better and more effective mechanisms to transmit the contents of books and textbooks, we still need, and always will need, a written record of 'that which should be known.'"