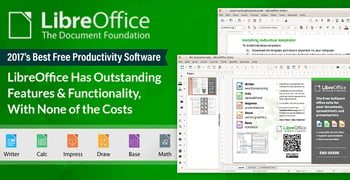 Experts share their tips and advice on BadCredit.org, with the goal of helping subprime consumers. Our articles follow strict
editorial guidelines
.
In a Nutshell: Whether it's a simple résumé or a complex professional presentation, being able to read and develop word documents, spreadsheets, and slideshows is no longer a luxury in our modern world — it's a necessity. For all its importance, however, the high price tags on many of the top-rated proprietary programs, such as Microsoft's Office suite, can be enough to make anyone balk. Thankfully, though, there is a solution — and it's free. LibreOffice, developed by The Document Foundation, is a full-feature office suite with the functionality of a proprietary program, but none of the costs. In fact, not only does LibreOffice's suite stand up to a feature-to-feature comparison to Microsoft Office, but it provides better compatibility, more languages — and a dedicated community of thousands of developers and volunteers. Standing heads above the rest, LibreOffice is our pick for 2017's Best Free Productivity Software.
Over the 50 years that programming has evolved, many great minds have created many great software programs — solving a great many problems and inefficiencies along the way. Naturally, as people noticed the wonderful programs and demand for those solutions rose, so, too, did prices. Soon, in order to get their hands on the best software, people had to pay hundreds to thousands of dollars in licensing fees — for every individual computer — making it prohibitive to buy, even when unavoidable.
One extreme example of the massive costs associated with obtaining proprietary software is that of Sun Microsystems, a technology company that spent $59.5 million to buy software company StarDivision in 1999, namely for their office suite product, StarOffice. For Sun Microsystems, who had approximately 42,000 employees at the time, it was considered a better financial move to buy an entire software company to manufacture an office suite of their own, than to purchase licenses from Microsoft for use of the Office suite.
The really amazing part of the Sun Microsystems story, however, is what they did next, an action that turned out to be indicative of the very future of software: they went open-source. In July of 2000, Sun released the source code for the StarOffice programs, hoping to build an open-source development community to create a new project, OpenOffice.org, a full-featured productivity and office suite that it would make available for free.
The project quickly became a legitimate competitor to proprietary software, and thrived for nearly a decade, spawning a number of offshoots in the process. When the project's sponsor, Sun Microsystems, was purchased by Oracle in 2010, however, the community of open-source users and developers around OpenOffice.org acknowledged growing concerns about the future of the project by branching off to build its heir, LibreOffice.
"OpenOffice was instrumental in the growth of the community, but, after 10 years under Sun stewardship — the project was ready for independence," described Italo Vignoli, LibreOffice Marketing and PR. "Sun's acquisition by Oracle was just the trigger for the fork by community members."
Whatever the cause, the fork may have been somewhat prophetic, as Oracle ceased updates to OpenOffice.org in early 2011 — about the same time some of the former developers, now operating as The Document Foundation, released the first stable version of LibreOffice. In just its first year, the LibreOffice suite was downloaded 7.5 million times and, now the current LibreOffice software suite is being used by tens of millions of people around the world.
"Today, LibreOffice is the largest competitor of commercial office suites," said Italo, "and it is growing in every geography — even under heavy pressure from proprietary software companies."
3 Ways LibreOffice Excels the Competition
Often when we think of free software, images come to mind of heavily out-of-date aesthetics and poor-bordering-on-impossible functionality. Fortunately, LibreOffice is about as similar to the usual fare of junky free software as unicycles are to luxury sedans — they'll both probably get you where you're going, but one of them will do it much better, faster, and easier.
In fact, it's probably downright unfair to compare LibreOffice to many of the programs out in the world wide web of yuck! that is free software. Really, LibreOffice is so good, you're better off comparing it to the costly proprietary suites that are LibreOffice's real competition — where it still excels above the rest.
"LibreOffice is recognized as a major Microsoft Office contender, based on a sheer feature-by-feature comparison, and on the number of successful migrations," said Italo. "In five years, LibreOffice developers have not missed a single time-based release—with major announcements in late January and late July, and minor announcements on a monthly basis. Thanks to this sustained pace, LibreOffice has reached a richness of features and a level of interoperability that are second to none."
1. It's Completely Free (While Staying Completely Awesome)
The infamous song-lyrics-turned-cliché really do have it right: the best things in life are free — at least in the case of LibreOffice. The software suite includes all the bells and whistles you'd expect from your productivity software, including a word processor, spreadsheet editor, and presentation builder (and more), plus hundreds of templates and extensions — and it's all free. Free to download, and free to use on as many computers as you like.
How? Unlike proprietary software, where the goal is to profit from what is now a basic requirement in many developed nations, Italo said open-source software has a different focus.
"Open-source software is free to use because the value is not on the idea, but on the competence developed on top of the software." He adds that, while the software is completely free for individuals and businesses, organizations should enlist professional support when implementing open-source software across their companies. "Open-source software does not help only individuals, but also large organizations," described Italo. "They are saving significant amounts of money — such as the Italian Ministry of Defence, which saved over €25 million by switching to LibreOffice from MS Office."
2. It's Managed & Updated by a Dedicated Community
Aside from cost, many of the biggest gripes we have with traditional proprietary programs are a result of poor — and, often, glacially slow — product or customer support. When concerns are chiefly focused on profit and man hours, innovation and updates can get left behind. Being an open-source project, LibreOffice isn't built or managed by a bottom line; instead, it is lovingly maintained by a network of thousands of volunteers and developers.
"Development of LibreOffice is based on a very disciplined – albeit informal – organization. At the center of the project there is a small core team of people who coordinate the most strategic activities, and make sure that releases are on track," explained Italo. "But the global LibreOffice community spans over the continents, and has several thousand active volunteers worldwide." And that community is constantly, actively working to keep LibreOffice in tip-top shape.
"Open-source software, according to independent sources, has a better quality and security mix than proprietary software," Italo said. "This is due to the fact that the community of developers can look into the source code to find issues before they reach the user. There is a large development and QA community working on the source code."
He went to on describe that, in nearly every area of the world where there are LibreOffice volunteers, there are also those developing the software suite in their own languages. "In each geographic region, there are people localizing LibreOffice in the local language — or languages, in large countries — and promoting the software in local events or to local organizations."
3. It's Compatible Across More Systems & Formats
For average users and their basic Windows or Apple machine, system compatibility may seem like a non-issue — and, in some ways, it may be. But, in the immortal lyrics of Bob Dylan, "the times they are a-changin'." With everything digital in a state of constant evolution, technology often seems to be updating at the speed of viral — and those who can't stay compatible may be left behind. Example? Try opening your 10-year-old Office document in the latest version of Microsoft Word (and good luck to you).
"Open-source software, such as LibreOffice, uses a standard document format, ODF," said Italo. "It is supported as a native format by LibreOffice, and as a recognized format by many other free and proprietary applications. Using ODF, governments, organizations and individuals become the sole owners of their content, as there will always be an open-source application able to read and write the document format."
Additionally, Italo said the standard document format is also safer from dangerous malware. "A standard document format reduces, by one order of magnitude, the risk of being affected by malware," he explained, "compared to using proprietary document formats — such as MS Office DOC, DOCX, XLS, XLSX, PPT, and PPTX — which are the preferred vehicle for targeted attacks."
LibreOffice: A Sweet Office Suite — for All
What started with the desire to save on software costs has now evolved into a global phenomenon. With dozens of languages, thousands of volunteers, and millions of users around the world, LibreOffice is a fitting heir to its (mostly) grand open-source office suite legacy — and far and away our pick for Best Free Productivity Software in 2017.

Indeed, thanks to the dedication of The Document Foundation, and organizations like it, open-source software has become a strong competitor to proprietary counterparts. And, according to Italo, open-source development is just coming into its prime.
"Software development based on sharing individual knowledge is winning over software development based on patenting ideas, and then protecting them with lawyers," said Italo. "Today, open-source development is generating the most innovative projects."