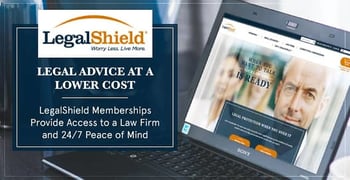 Experts share their tips and advice on BadCredit.org, with the goal of helping subprime consumers. Our articles follow strict
editorial guidelines
.
In a Nutshell: Lawyers are expensive, and most Americans cannot afford to retain a lawyer for any significant period of time. For those with credit problems, however, the prospect of needing legal assistance and not having it can be even more daunting. LegalShield is a legal service provider network that gives individuals and small businesses access to plans with monthly premiums as low as $18 per month. Members can use LegalShield for assistance with everything from contract and document review, to having attorney calls made or letters written on their behalf. Members can call LegalShield 24 hours per day for covered emergencies, and have a lawyer call them back within eight hours (often much sooner). Ultimately, the service is responsible for providing its members with the peace of mind that comes with access to legal advice when they need it most.
Living with subpar credit is never anything we sign up for, but occasionally some of us will encounter hardships, leading to bills not getting paid. This can leave us with balances that end up in collections and, ultimately, wind up on our credit reports.
Having a less-than-perfect FICO score is one thing, but when disputes with creditors arise, bankruptcies are filed, and IRS audits happen, not having access to a good lawyer can lead to even bigger financial consequences. Lawyers don't come cheap, and folks experiencing credit problems are generally not in the financial position to pay expensive legal fees.
LegalShield is a service that offers its members modestly priced prepaid plans giving them access to legal services through a network of provider law firms. Experts are available for advice and consultations on personal legal matters, document review, and even trial defense. For folks who typically cannot afford standard legal fees, LegalShield offers some good protection.
Personal success stories from LegalShield members include accounts of significantly lowered settlements and assistance with obtaining disputed refunds. LegalShield's networks of law firms work with their members, informing them on their legal rights, then guiding them through the process of how to handle specific situations. Lawyers are available to take a more hands-on approach, when necessary, providing legal intervention with phone calls, emails, and, in some cases, actual trial defense, depending upon a member's plan.
A Year of Legal Consultation at a Price Some Lawyers Charge for a Single Hour
More than 1.6 million members use LegalShield's reasonably priced services, which come with access to an entire network of experienced law firms, as opposed to just one lawyer. Members experiencing legal issues have a 24/7 contact number they can call and receive a call back from a lawyer within an eight-hour time frame for covered emergencies.
Under the preferred member discount, a covered member can save at least 25% off a lawyer's hourly rates, even if they have a pre-existing legal issue in which someone has filed a suit against them that's beyond LegalShield's included trial defense.
To drive the point home about just how much money members can save on lawyer fees, LegalShield points out that "Lawyers can charge more than $250 per hour." Personal memberships, on the other hand, start at around $18 per month, which works out to less in a year than the fee that many lawyers charge for just one hour.
From Consultations to Document Preparation, Plans Include a Wide Range of Legal Services
Once you're a LegalShield member, you'll have access to all types of legal services that would normally be cost prohibitive. Your membership comes with trial defense hours, advice and consultations with lawyers on your personal legal matters, personal document review on an unlimited number of legal documents up to 15 pages, letters and phone calls completed on your behalf, and trial defense.
You can save a significant amount of money in lawyer fees should you ever be named as a defendant or respondent in a suit.
LegalShield also has a helpful mobile application for iOS and Android that provides one-button emergency access to legal help, allowing members to create and submit will questionnaires and send speeding tickets to their provider firms.
For those of us who are dealing with debt, having access to LegalShield's services can keep us from spiraling deeper into the financial abyss. The program also enables us to keep a better handle on our budgets because it minimizes the likelihood of incurring unforeseen legal costs.
Paying a set monthly premium for membership each month allows us to keep our finances in check, even if we wind up unexpectedly requiring legal assistance.
A Network that Protects Over 4.1 Million North Americans
LegalShield (formerly Pre-paid Legal Services) was founded by Harland Stonecipher, an insurance salesman, who, in 1969, found himself financially unprepared to deal with legal costs incurred after a lawsuit resulting from a head-on car crash, even though he was not at fault. He was eventually able to settle the lawsuit, but his difficulty in coming up with the fees prompted an idea to form a company that would allow individuals to pay monthly premiums in return for assistance with legal matters.
This idea turned into a reality when Stonecipher founded Pre-Paid Legal Services — the first prepaid legal plan in the United States covering individuals.
"Only the top 10 percent in America could actually afford the services of a lawyer," Stonecipher said in a 2010 video in reference to other Americans like him.
In 2011, Pre-Paid was sold to a private equity firm and renamed LegalShield. In November 2014, Stonecipher passed away, but his idea laid the groundwork for a plan that now protects more than 4.1 million North Americans. No matter who you are, or what your financial situation and credit history looks like, LegalShield can provide services to help protect you and give you peace of mind.
Fast Access to Legal Advice When You Need It Most
Many people in the United States are living with bad credit, no credit, or less-than-perfect credit. For this group, having affordable access to legal advice and assistance when faced with unexpected — and potentially expensive — legal matters can be a real game changer.
LegalShield allows its members to choose from a list of plans for personal, small business, identity theft, and starting a new business. Monthly premiums are as low as $18 per month, and members have access to lawyers who can help with everything from divorces to debt settlements.
LegalShield works with more than 1.6 million members, guiding and assisting them through challenging legal situations while saving them significant amounts of money. Saving money, in and of itself, is always a plus, but legal assistance also frees people up financially to manage their other debts.
Facing complicated legal matters without the help of a lawyer can have grave effects on a person's finances, which can, in turn, lead to added impact on an already-tarnished credit score. LegalShield allows members to breathe easier and live a more carefree life without the worry of "what if." This is because members know that they have access to legal help if and when needed, all for a monthly premium that won't break the bank.