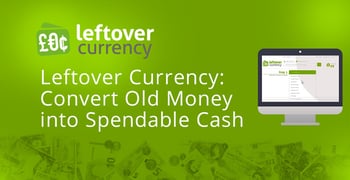 Experts share their tips and advice on BadCredit.org, with the goal of helping subprime consumers. Our articles follow strict
editorial guidelines
.
In a Nutshell: Anyone who has traveled abroad probably returned home with at least a few foreign coins jingling in their pockets. Leftover Currency converts those unused coins, and bills, into the currency of your choice. The company converts obsolete currencies, as well. The process is fast and easy, and customers have been overwhelmingly satisfied with the company's service. Leftover Currency even offers options for the unused currency to be donated to a charity once it is converted.
It happens every time I travel abroad. I come home with fistfuls of unused coins and currency notes from the countries I was visiting. The money goes into a box or a drawer.
Then I come across the unused money every few years and think, "I wonder if I should convert this to dollars? Or should I just keep it in case I go back one day?"

Honestly, when I plan my next trip to Costa Rica or Europe, I highly doubt I'll remember to dig up a box tucked in the back of a closet or buried under other boxes in the garage to grab some old coins.
The next time I come across those old coins, I'll likely enlist a service like Leftover Currency to turn my international currency into money I can use here in the U.S.
Leftover Currency has been helping people convert their old, unused foreign currency into spendable cash for nearly a decade.
We recently spoke with Mario Van Poppel, who co-founded Leftover Currency with his wife Aleksandra Ruchala. We discussed the company's services and how individuals and organizations can donate their unused currency to charity.
Van Poppel said that, while people can certainly take their funds to a bank to have them converted, these experiences are often not very convenient — with paperwork to fill out and tax questions to answer — compared to what Leftover Currency offers.
"We take care of all the hassle of the red tape and paperwork," he said. "If it's a big amount or a small amount, it doesn't matter. We understand the frustration because we go through all these red tape things ourselves."
How A Drawer of Forgotten Money Led to the Launch of Leftover Currency
Van Poppel said he was a student in Belgium in 2002 when the country transitioned its official currency from the Belgian franc to the euro.
"My family lived 40 miles away from the central bank in Antwerp where I was studying," he said. "They told me, 'Well, you need a bank.' And they exchange our notes, so I did it and started providing the service for friends and family."
He said he often earned a small commission for helping people convert their old Belgian francs to euros. Eventually, Van Poppel began noticing unique or nice notes and coins and would buy them for what would become a personal collection.
Van Poppel eventually rediscovered a drawer of those old coins at his parent's house years later and the old bills and coins piqued Van Poppel's interest. He began to wonder if any of them had any real value.
"In search for an answer, I went browsing the internet," Van Poppel writes on the company website. "I was amazed by the volume of sites dedicated to paper money and coins. That was my introduction to numismatics: the study and collection of currency."
Today, Van Poppel describes himself as a passionate numismatist.
"Friends and colleagues would often ask my advice on what to do with old coins or notes they found hidden," writes Van Poppel. "While doing research for them, it struck me how difficult it is to exchange obsolete notes and spare coins. In many cases, it's hard to find any information at all."
That's when Van Poppel began entertaining the idea to offer an online service to exchange old notes and coins into spendable money.
Van Poppel and Ruchala launched their first conversion website, oudevalutas.com, in Belgium in 2010. They launched the English version, Leftover Currency, in 2011, and their service, knowledge, and expertise have continued to grow over the years.
A Fast, Easy Way to Convert Old Currency Into Cash You Can Actually Use
"It's time to turn your old currency into real cash, fast," according to the Leftover Currency website. "Do it soon, before your old Spanish pesetas from that holiday you took in 1993 become unexchangeable."
Van Poppel said obsolete currency actually makes up a large part of the company's business. He said consumers can have difficulty finding banks that exchange expired currency, and Leftover Currency wants to help because they have been there themselves.
Whether you're swapping out currency that's on its way out or simply from a country you're not visiting any time soon, the process is easy.
"Send in obsolete and leftover currency and get paid in cash," according to the company website. "Get paid directly into your bank, PayPal account or by check."
Customers receive their money in five business days or less. And people are able to get more back with Leftover Currency's leading exchange rates. The whole process is easy, fast, and secure, according to the company.
"We really try to think of the user experience through the whole journey," Van Poppel said. "We're proud that we create value, and often it's just the simple thing of being able to identify the currency being sorted."
Many people don't know the value of the currency they are sending in or if it's even still in circulation.
"The perceived value for many people will be rather low because it's just a mix of currencies," Van Poppel said. "We'll take care of all the hassle — this is about identifying what currency is still in use and which ones aren't."
Van Poppel said some coins may also be coveted by collectors because of their rarity, or perhaps a collector is looking for one U.S. quarter from each of the 50 states. Leftover Currency will let its customers know if this is the case and pay them accordingly for coins that are more valuable.
Individuals and Organizations Can Donate Their Leftover Money to Charity
Leftover Currency also facilitates charitable donations.
"There are two types," Van Poppel said. "There are the charities that raise money themselves — they'll come up with an idea to raise money and ask their supporters to donate their leftover foreign currency."
The other option is simply that the individuals who want to get rid of their leftover currency can identify a charity on the company website or choose one of their own, and Leftover Currency will donate the proceeds to it.
"We will donate the complete exchange value," according to the company. "We will even add an extra 5% on top. There are no fees, neither do we subtract any commission. We will send you a confirmation email, containing the amount donated."

Leftover Currency also highlights partner charities on its website to help facilitate people's donation decisions.
"You can donate any banknotes or coins: we'll exchange whatever you send us and will donate the combined exchange value plus 5% extra to charity," according to Leftover Currency.
Currencies listed on the exchangeable currencies page will be exchanged at the displayed rate. All other banknotes and coins will be exchanged against their collector value or scrap metal value, whichever is higher.
"Excellent service! Delighted with how my bank notes and coins from around the world benefited a worthwhile charity," wrote user Natalia Burza on the company website.
Leftover Currency maintains a 4.9-star rating on Trustpilot.
"I was not sure about whether this website was above board but I'm delighted that I gave it a go. I had some 15-year-old South African currency that can't be swapped in bureaux de change outside South Africa. Leftover currency acknowledged receipt of the currency the day after I sent it, and the English equivalent was in my bank account within a week. Delighted!" — Andrew Rose on Trustpilot
With its easy-to-use platform that turns unusable money into spendable cash, and its charitable options, Leftover Currency has certainly earned its reputation for quality service.