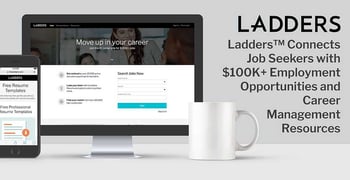 Experts share their tips and advice on BadCredit.org, with the goal of helping subprime consumers. Our articles follow strict
editorial guidelines
.
In a Nutshell: Highly paid professionals with specialized skills often find themselves stuck in a job search where they see an endless stream of irrelevant listings and offers. To help those individuals advance their careers, Ladders specializes in connecting them with high-level positions that require their skills. The platform curates listings to make it easy for job seekers to discover opportunities matching their experience. Ladders also provides free résumé templates and examples, automated review tools, and resources to help applicants present an appealing professional image. And for those still working their way up to the $100,000-plus level, Ladders Founder and CEO Marc Cenedella shares powerful strategies to manage careers, enhance value, increase income, and enjoy a higher quality of life.
Online job search sites often lead people through sprawling web pages that allow employers to post broad categories of employment opportunities. These platforms can make finding a job challenging not only because of the sheer volume of postings, but also because listings don't typically cater to specially trained users seeking high-paying positions.
For example, a veteran web marketer may have to sift through irrelevant listings for jobs in television or direct marketing, hoping that — somewhere amid the noise — the perfect job is out there. Advancing your career in a specialized industry can become an exercise in frustration, and finding a job that meets your requirements can rely as much on luck as on expertise.
Today, high-level professionals who find themselves running up against this barrier to career advancement can turn to Ladders, a platform that lists high-paying positions alongside resources and tips for finding opportunities that match their needs and skills.
Ladders covers US companies that offer the right employees salaries of $100,000 per year and higher. It also includes a starter section for professionals in the $80,000 to $100,000 range. Job seekers can connect with 20,000 recruiters seeking talented workers to fill more than 225,000 positions. And each listing is reviewed by Ladders staff before it is posted.
"Our team screens, sorts, tags, audits, and deletes jobs that are not right for our audience," said Marc Cenedella, Founder and CEO of Ladders and author of the Ladders 2018 Résumé Guide and 2018 Interview Guide. "No one else in the industry does it."
That process means talented professionals will see opportunities, and recruiters can seek someone with a particular skill set. In addition to job listings, Ladders provides information and resources to help job seekers enhance their professional value, improve their income, and advance their careers.
Curated Job Listings and Professional Development Features
Ladders allows users to search for jobs by title, ensuring that they'll find listings relevant to their specialties and goals. Job listings can be sorted by city and state for those looking to narrow down opportunities based on location. Members can also view jobs offered by specific companies. Anyone intrigued by a posting, but unfamiliar with the company, can click on the link to the company website to visit its profile page. That is where they can read a brief description of the organization and find information like the number of employees, market capitalization, revenue, and net income.
All this information enables job seekers to gauge what working with a company would entail. Ladders also deploys a questionnaire called Third Page to increase user chances of finding the best fit. This feature gathers information about job seekers and helps them find an opportunity that suits their particular needs.
"We ask you job preference and personality questions: what type of work you like and would you prefer more money or a better title at your next job?" Cenedella said. "That enables us to help recruiters get a better sense of you before you ever have a phone conversation. That's been hugely successful. We've had almost 10 million questions answered so far."
Beyond connecting professionals with high-level positions, Ladders also provides them with resources to help in their job hunt as well as their personal and professional lives. Those materials, articles, and guides can be found in the site's News & Advice section.
"We've got a whole team of journalists who are writing pieces on news, information, and entertainment for high-end professionals," Cenedella said. "It's everything from 'Nine Words that You Should Use in Meetings' to 'The Four Jobs with the Highest Divorce Rates' to 'Ways to Impress the Boss.'"
Ladders organizes this content into categories that include Office Life, The Future of Work, Job Search, and Interview Tips. Articles contain information on workplace communication, personal branding, productivity, and various other topics relevant to motivated professionals.
How to Get Your Résumé Noticed in 6.5 Seconds
To hold the attention of employers, job seekers should tailor their résumés with content that appeals to readers.
"A résumé is an advertisement, but a lot of people think a résumé is a biography. That's a huge difference," Cenedella said.
In 2012, Ladders conducted a study that used eye-tracking technology to observe how recruiters examine résumés. It revealed useful information, including how readers navigate the page, what details catch their attention, and how much time they spend looking at a single résumé.
"The typical recruiter spends 6.5 seconds looking at your résumé as a first pass. That's surprising to a lot of people because they spend 6.5 hours or 6.5 days or 6.5 months writing it," Cenedella said. "With the volume of résumés coming at recruiters and HR people, they've needed to find a way to deal with that. And one of the ways to deal with it is they do a first pass through a stack of résumés. They only spend 6.5 seconds on your résumé in that first go through."
In this initial phase, they skim the résumé to decide whether it warrants more attention. This practice has clear implications for how résumés should be structured and how applicants must present themselves. The top of the résumé must grab the recruiter's attention by providing the information they're seeking. Later sections should directly relate to and support the attention-grabbing content at the top.
"You've got to decide and define what you do better than other people. If you're a marketing person, what type of marketing person are you? What are your particular skills today? Are you a manager? Are you an individual contributor? Do you know how to run the analytics?" Cenedella said. "All these things need to be very obvious in the top third of your résumé. And then your work history has to stand out to support that story."
To help job seekers refresh their résumés, Ladders offers a free résumé review app. The tool is based on 15 years of experience in reviewing résumés and scans each one in 35 seconds or less to provide advice on things to update. The app can tell users if they are using enough powerful verbs, whether the formatting and length are correct, and if achievements are well-described.
"More than 90% of people who use this tool say they find it useful," Cendella said.
For those who don't yet have a résumé, or who want to start again from scratch, Ladders offers free templates and samples to help them craft an attention-grabbing professional advertisement.
Advice on Increasing Professional Value and Income
Regardless of field or pay grade, searching for employment is most often motivated by income. Everyone needs it, and most would like to have more of it. Even if you're not in a position to seek a higher-paying job right away, you can learn effective ways to increase earning potential that you can put into practice immediately.
"Number one is to get a raise," Cenedella said. "But, really, that means to earn a raise."
First, Cenedella recommends meeting with your boss at the start of each year and asking him or her for a list of things you can do to help them and your company succeed. Each subsequent time you meet, ask how well you're performing these tasks and how you can do better. These efforts, improvements, and accomplishments that benefit the company serve as evidence of hard work that merits higher compensation.
"Every company, when they're making offers at a professional level, they've got another $5,000 to $10,000 that they're not going to tell you about. If you just ask for it, you have a shot at getting a higher offer." — Marc Cenedella, Founder and CEO of Ladders
Cenedella's second tip is to learn a new skill that is in demand in your profession and valuable to your employer. "Every industry, particularly technology, is developing fast, and there's always some new product, tool, or software program. Pick that up," Cenedella said. "That's going to mean you're giving up some nights and weekends to learn it. But by spending your time investing in yourself to learn that skill, you are making yourself more valuable, and you can be worth more over the course of the next 12 months."
Finally, one of the best ways to get a raise is to get an offer for a higher-paying job. Whether or not you intend to take the job, it can provide you with leverage in wage negotiations. "Every company, when they're making offers at a professional level, they've got another $5,000 to $10,000 that they're not going to tell you about. If you just ask for it, you have a shot at getting a higher offer," Cenedella said. "Now you can either take that offer, or you can go to your boss and say, 'I really don't want to leave, but this offer came in. I want to stay here. Do you think you could match it so I can stay?'"
Filling a Void in Career Management Education
Ladders helps job seekers looking for high-paying positions cut through the clutter of irrelevant offers and find what they're looking for. The platform can also be a vital tool for understanding your market value and identifying the skills you need to advance your career.
"Your job is a little business, and maximizing your income is something that people often don't spend enough time or money doing," Cenedella said.
Part of the problem is the current model of professional education, which focuses on practical information and career training but foregoes the topic of career management. Cenedella, a Harvard Business School graduate, compares this situation to the similar dearth of formal financial education.
"Nobody taught us how to handle a mortgage or a household budget. It's just assumed that we're going to figure this out," Cenedella said. "It's not hard to figure out, but it's not easy to guess right."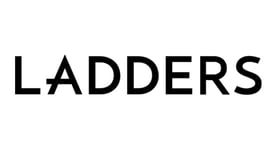 Without a solid knowledge base, learning to manage your career through trial and error can be time-consuming and costly — much like combing through irrelevant job postings on a generic employment site. There may be an opportunity to make more money, but without the relevant information, it could pass you by.
"The biggest challenge is knowing what the market is and knowing what your value is," Cenedella said. "What we hear from users is, 'I got offered a better job for $110,000' or 'Somebody suggested that I should move to this other company for $125,000.'"
Ladders assists high-level professionals in assessing the market and obtaining the compensation they deserve. By presenting a strong professional image to potential employers, they can generate interest, knowledge, and leverage. Through better management of their labor value, they can improve their financial standing and increase their quality of work and life.