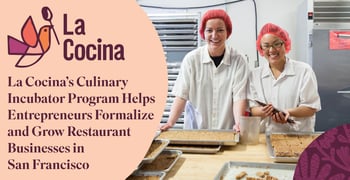 Experts share their tips and advice on BadCredit.org, with the goal of helping subprime consumers. Our articles follow strict
editorial guidelines
.
In a Nutshell: Entrepreneurs seeking to start food-based businesses in San Francisco, California, face many challenges, not least of which is obtaining commercial kitchen space. La Cocina not only provides those entrepreneurs with facilities but also the knowledge necessary to successfully operate restaurants, catering businesses, food trucks, and other culinary endeavors. Through its incubation program, La Cocina provides education and assistance to help businesses start strong and grow steadily. And La Cocina consults with organizations around the world, inspiring them to start similar programs to allow more entrepreneurs to build sustainable, lucrative culinary businesses.
Many years ago, the chef for the Nepalese royal family gave birth to a little girl named Bini. When she was grown, Bini Pradhan emigrated to the United States to be closer to her sister, who ran a daycare center in San Francisco. She married and had a son, but when the relationship turned abusive, she and her son sought refuge with her sister.
To clear her mind and combat depression, Bini occupied herself by making traditional Nepalese dishes, which she began selling to her sister's clients. She quickly branched out into food delivery and grew her own client list to 60 customers. One of them, a fellow chef, suggested that she try to formalize and grow her business, and directed her to La Cocina.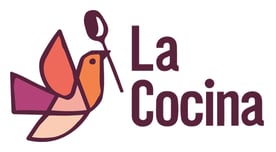 "We're a place for people to come, vet a concept, and grow it to an economically viable business and achieve operational self-sufficiency," said Emiliana Puyana, Program Manager at La Cocina. "And then we support businesses in finding a forever home outside of our walls and continuing to grow."
La Cocina aims to take entrepreneurs from the kitchen to the marketplace. Its training and incubation program assists with scaling, formalizing, financing, and everything else necessary to run a food-based business in San Francisco.
The program primarily targets women who need help achieving financial security and economic mobility. Still, it is open to any low-income entrepreneurs who can produce a business plan and prove their concept's market viability.
The program only accepts three to five entrepreneurs at a time and caps enrollment at 15 per year. That means those who qualify receive expert guidance on entering a notoriously difficult industry. Participants also gain direct access to consumers and clients through La Cocina and a solid foundation for becoming an independent, financially stable entrepreneur.
A Need for Kitchen Space Led to a Comprehensive Incubator
Back in the mid-1990s, multiple organizations and economic development agencies working with female entrepreneurs in the Bay Area noticed a lot of support went to food-related businesses. Although they provided programs for formalizing those ventures at early stages, the women they worked with rarely did so.
"When they were asked why they hadn't turned their business idea and business plan into action, the women continuously cited a lack of access to affordable commercial kitchen space as the biggest barrier to entry," Puyana said.
That realization led to a feasibility study, which resulted in the establishment of La Cocina's certified commercial kitchen space. La Cocina was accessible to the community, enabling women to build full-fledged operations. But it turned out that kitchen access was only one of several barriers to establishing and growing sustainable businesses in San Francisco.
"Almost instantaneously, the services around the access to the community kitchen started to be delivered," Puyana said. "Flash forward five or so years later, and there was then a much more formal and robust set of services delivered around the access to the kitchen."
Today, kitchen space is still an essential component of La Cocina's work. But the program has developed into an incubator that helps women overcome the additional hurdles of establishing and running food-based businesses.
"The host of services we provide around business incubation and the access to community kitchens have become the most valuable resource that La Cocina has to offer," Puyana said.
In its 15 years of operation, La Cocina has incubated more than 120 businesses, graduated over 55 entrepreneurs, and supported provided the support to launch 33 brick-and-mortar locations. Those businesses have generated more than 250 jobs and $16 million in annual revenue.
Providing Education and Support to Foster Dreams
The pre-incubation portion of La Cocina's program is a six-month period in which participants receive technical assistance to establish their business. Entrepreneurs meet as a group for class sessions that cover four phases of a carefully planned curriculum: marketing, product, operations, and finance.
During the first phase, entrepreneurs learn about fundamental marketing principles, including identifying their target markets, sales venues, and establishing their business's mission, vision, and values. They are paired with pro bono graphic designers, food photographers, and web designers who help them develop a forward-facing brand.
The product phase focuses on best practices, writing menus, and optimizing them for different revenue streams the business might try. Pre-packaged food, catering, and street vending are some of the most popular channels. A focus on scaling will help entrepreneurs build their ventures to a level of output that can provide products to these different outlets.
"Most of the folks who come to the program make delicious food but have never actually worked in a commercial kitchen before," Puyana said. "They have to go from making 25 tamales in the way you would in the kitchen of your home to making 500 in a commercial kitchen setting."
The final phase, operations, helps entrepreneurs obtain permits, form business entities, and attain the necessary licenses based on the type of business they want to run. This phase includes financial education and assistance, such as assessing the amount of revenue necessary for viability, coming up with break-even analysis, and establishing a minimum sales target. La Cocina can also help entrepreneurs set up business bank accounts and even apply for loans to pay startup costs.
"We are not a lender, but we work closely with microlenders in the area and can support them in securing small — often initially interest-free — loans in the amounts of $5,000 or $10,000 to get them off the ground," Puyana said.
Next, the entrepreneurs move into incubation, which lasts around one to two years. That process is designed to quickly and sustainably support owners in growing businesses. At this point, entrepreneurs leave the group setting and meet with advisors once a month to set and review short- and long-term goals. La Cocina further assists them by brokering opportunities, including selling at farmers markets and other venues.
"That allows us to both vet the opportunity to ensure it's as low-risk as it can possibly be, and that also allows for us to fully understand the opportunity and work hand in hand with the entrepreneur to set up the system," Puyana said.
Successful Entrepreneurs Cater to the Bay Area's Appetite for Exotic Foods
San Francisco is home to a diverse population that, according to Puyana, is enthusiastic about travel. When residents can't go somewhere in person, though, their second option is often to sample cuisine from the locale. That dynamic creates substantial opportunities in the market for businesses that serve exotic foods from unique locations.
"In a world in which big consumer packaged goods companies are pretending that they have a sense of place to try to gain customer base, that is one area in which our entrepreneurs can genuinely compete and beat them," Puyana said. "They have stories. They can speak to a real sense of place."
Bini is an excellent example, as her business has roots in her childhood in Nepal, where she remembers watching her mother prepare meals for the royal family. Another is Nite Yun, a Cambodian woman who was born in a refugee camp in Thailand after her family fled the brutal oppression of the Khmer Rouge. Nite grew up listening to her father's Cambodian rock-and-roll records and eating traditional cuisine.
Those were her primary links to her lost heritage until, at the age of 18, she returned to Cambodia to meet the family members who stayed behind. While there, she gained a greater appreciation for the food and culture. With the help of La Cocina, Nite started and grew a highly successful Cambodian rock-and-roll themed restaurant called Nyum Bai.
"She has won a ton of awards," Puyana said. "You name it; she won it."
And the restaurant is much more than a business or a way of earning a living. Nyum Bai is, at heart, Nite Yun's way of reclaiming the food and music of her nation's golden era.
"That's what we hope that entrepreneurs will play up," Puyana said. "Because their stories are really meaningful. They're a point of connection."
La Cocina Works with Organizations Around the World to Help Businesswomen
When Bini approached La Cocina, her plan was a modest one: To sell Nepalese food directly to consumers through catering and meal prep services. But after six short years, she now employs 26 staff members at two brick-and-mortar locations — with plans to open another in early 2020.
"Her business grew over $1.5 million last year and is on track to do more than that this year," Puyana said.
And like the businesses it serves, La Cocina is growing as well. Its upcoming ventures include a municipal marketplace and a food hall in partnership with the City of San Francisco and the Tenderloin neighborhood, where the hall will be located.
Given the success of La Cocina and its incubated businesses, many entrepreneurs — and food lovers — could benefit from La Cocina expanding its operation to other areas. But the circumstances around such a venture are complex.
"We really feel like our success is directly tied to our knowledge of the area and the community that we inhabit," Puyana said. "If San Francisco La Cocina expanded elsewhere, we would lack those connections and, therefore, be less efficient."
Instead, La Cocina consults with other organizations interested in establishing programs using similar models. It has worked with groups in Salt Lake City and New York in the U.S. and even as far as Peru, Turkey, and Spain to help female entrepreneurs in the food industry.
"There are many incubator kitchens around the world that are inspired by us and doing good work," Puyana said. "It's really cool to see."