Experts share their tips and advice on BadCredit.org, with the goal of helping subprime consumers. Our articles follow strict
editorial guidelines
.
In a Nutshell: In a world full of stress and strife, a single positive act can seem inconsequential. However, the volunteer team behind KindSpring sees it differently. The organization's online community and resources are dedicated to promoting acts of kindness in everyday life. Volunteers can spread positivity by passing around Smile Cards, build productive habits through 21-Day Challenges, and share their stories on KindSpring's community portal. And for the KindSpring team, it's really about anonymous deeds; kindness isn't about receiving gratitude — it's about changing the world, one small action at a time.
Turn on your television, flip open your laptop, or scroll through the news on your smartphone. How much of the content you see is uplifting and optimistic? Now, how much is about war, conflict, suffering, and the whole gauntlet of human ills?
Globalization and digital media can make the world seem like a terrifying place. The internet and social media bring people into contact, but they also sometimes bring people into conflict, revealing situations and dangers that we otherwise never would know about. News articles, Facebook feeds, tweets, and every other mode of communication are filled with stories and events that can make us want to crawl back into bed and pull the sheets over our heads.
But what if there were something that one, single person — a person like you — could do to leverage the digital situation and contribute to the greater good? What if, by taking one small positive action, you could encourage others to do the same? And, if you could, where would you start?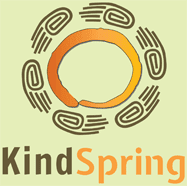 One possible avenue to answering these questions is turning to the kindness experts at KindSpring. At the organization's website, you'll find resources, testimonials, and a thriving community dedicated to random acts of kindness and goodwill.
By hosting stories and ideas that inspire people to do good, KindSpring works to foster systemic change through an emergent culture of kindness.
"When we do these small acts, it really uplifts ourselves and our communities, and it can ripple out in some remarkable ways," said a KindSpring spokesperson, who, like many on the KindSpring team, preferred to remain anonymous. "Kindness isn't so much about bragging or boosting your ego. It's focused around that act of kindness."
Smile Cards Encourage People to Pay it Forward
It all started in 2003, when one of KindSpring's founders was talking with a college-age cousin about hazing and pranks.
"Usually when you prank someone, it's a funny way to make someone's day a little bit more difficult," the KindSpring spokesperson said. "They had this thought: 'What would a prank look like if it made someone's day better? If it put a smile on someone's face and uplifted their day and made it easier?'"
The resulting process is simple: perform an anonymous act of kindness and leave behind a Smile Card. That card then encourages the recipient to likewise do a selfless act for another person. Although issuing Smile Cards started as a small project among a few friends, it grew rapidly.
"They brainstormed what it would look like, they created it, and then printed out a bunch," the KindSpring spokesperson said. "And then they thought, 'We should build an online portal to help capture these stories.'" That's how KindSpring (then called HelpOthers) was born: as a web portal for sharing stories of anonymous acts of kindness.
"Since it's all volunteer-run, no one ever really thought beyond what happens after that first printing of the Smile Cards," the KindSpring spokesperson said. "So many people started becoming interested in it, and it brought so much joy to so many, that the group kept printing them."
Thanks to enthusiastic volunteers, Smile Cards have been translated into over a dozen languages, and over 1 million cards have been distributed in more than 90 countries. Smile Cards can be downloaded from KindSpring as PDFs or Photoshop files. You can also order pre-printed Smile Cards, which will be shipped to you at no cost.
"There are volunteers all over the world who are Smile Shippers," the KindSpring spokesperson said. "In their living rooms, on their kitchen tables, they'll stuff 10 Smile Cards into an envelope with a little insert of kindness ideas and mail them out to whoever orders them."
Smile Cards can help you insert a little kindness into everyday life. But if you're looking for a way to transform acts of kindness into a way of life, KindSpring has you covered there, too.
21-Day Challenges Turn Generosity into Positive Habits
"Twenty-one days is the shortest amount of time it takes to change a habit, according to research," the KindSpring spokesperson said. "That's if you're practicing that habit change in a shared community with reflection."
KindSpring volunteers were interested in turning this insight into a way of spreading kindness and generosity. A group of summer interns played guinea pigs for the prototype challenge: do a different act of kindness every day for 30 days.
"The first week is easy, but by the time you get to Day 18 or Day 25, you have to really think creatively," the KindSpring spokesperson said. "It kind of pushes you to think past the typical acts of kindness."
KindSpring's volunteers found their experiment to be successful. "We saw our young interns going through this and having a transformative experience in themselves," the KindSpring spokesperson said. "Then, one of our volunteers who works in finance was really interested in the research behind this and really wanted to bring this to people in the companies he worked with."
KindSpring kicked off the initiative by hosting a 21-Day Kindness Challenge. Participants received an email with an idea of the day, an inspiring quote or related article, and similar material meant to inspire kindness. Participants were also able to view a private online feed where they could share stories and interact with fellow challenge-takers.
Over 6,000 people from 98 countries participated in the seminal challenge. KindSpring followed up with a gratitude challenge, which drew 11,000 people in more than 100 countries. The website has hosted over 1,400 challenges that have engaged more than 62,000 total participants.
Anyone who wants to participate in a challenge can choose from a variety of themes, like mindfulness, gratitude, and eco-friendliness. Or, if you're feeling inspired, you can create your own challenge based on a value you think is important. Whichever route you choose, 21-Day Challenges will help you foster positive change in your life and the lives of people around you.
Small Actions Can Brighten Someone's Day
Smile Cards and 21-Day Challenges take a bit of effort, but they emphasize an important point: the simplest ways to make someone feel better don't cost anything. The world abounds with small actions that can brighten someone's day.
One way is to express gratitude and appreciation. "Email an old teacher you haven't connected with in a long time, or write a letter to an old friend you've lost touch with, and just show your gratitude," the KindSpring spokesperson said. "Or pick someone that you see every day, or a family member. Express gratitude for things that often go unnoticed or unspoken."
Of course, uplifting notes don't have to be directed to someone you know — or even at a specific person at all.
"One of my favorites is taking Post-it notes or small pieces of paper, writing nice messages or inspiring quotes on them, and posting them up around in public spaces," the KindSpring spokesperson said. "That's a fun one."
Some volunteers choose to leave these notes in anxiety-causing media at local libraries. A positive message tucked in a magazine that promotes unhealthy body image or an encouraging note in a test-preparation guide can mean the world to someone desperately in need of a morale boost.
Other volunteers choose to brighten others' days by making public art.
"Something I find really inspiring is that sometimes people will be walking, and they'll see a bunch of fallen leaves or something in nature, and they'll just arrange it in a way that's artful," the KindSpring spokesperson said. "Just really leaving a place better than you found it, or more inviting."
That is, after all, KindSpring's goal: taking small actions that add up to a better, happier world for us all to live in.
Pay it Forward, and Someone Just Might Pay it Back
Random acts of anonymous kindness aren't performed with the expectation of direct returns; those participating act on the faith that many small gestures will add up to a larger, positive change in society. But that means, in some cases, an act of kindness can boomerang back to you when you least expect it.
One example comes from a volunteer living in Arizona. Through KindSpring, this volunteer connected with another volunteer who lived in Oman. When the latter ended up passing through the area, the Arizona volunteer and his family met this online friend in person and invited him to stay in their home during his visit.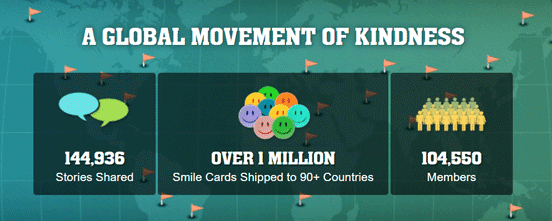 "This volunteer in Arizona grew up very Christian; he'd never met a Muslim before. And they had this amazing connection and friendship," the KindSpring spokesperson said. "They all stayed in touch."
And the volunteer from Oman? He showed his gratitude to KindSpring by translating Smile Cards into Arabic, a task that had been confounding other volunteers.
When you pay it forward, good deeds can come back to you in unexpected and edifying ways.
"It's pretty neat to see the spirit of humanity around the world connect with something so simple and so universal," the KindSpring spokesperson said.
To join in, all you have to do is risk that first act of kindness, take that first step toward making it a way of life. And KindSpring is there to help you get started.