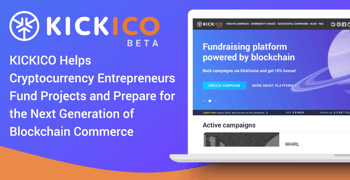 Experts share their tips and advice on BadCredit.org, with the goal of helping subprime consumers. Our articles follow strict
editorial guidelines
.
In a Nutshell: Crowdfunding for blockchain-based companies has traditionally been limited to initial coin offerings (ICOs), which can be tricky to navigate both for entrepreneurs and backers. The mission of KICKICO is to remove the uncertainty and help startups get off the ground by connecting them with an enthusiastic fundraising community. Although the cryptocurrency market is still evolving, the KICKICO platform, which is part of the KICK ECOSYSTEM, is prepared to aid entrepreneurs in navigating obstacles and embracing the next wave of innovation. KICKICO users will soon gain access to a host of new features and functionalities, easing the workload of managing currencies and campaigns even further.
Although an older generation will remember buying cartridges for Super Nintendo, Sega Genesis, or even Atari, the nature of video game distribution has fundamentally changed. According to Statista, 79% of all U.S. video game sales were digital in 2017. Clearly, digital distribution is the future of video games.
One of the newest platforms leveraging that distribution model is The Abyss, but it also goes beyond simply selling games. The Abyss allows gamers to earn cryptocurrency — Abyss Tokens, based on the Ethereum blockchain — through standard in-game and community activities and new user referrals. It also enables developers to quickly launch alpha and beta tests, crowdfund, and promote their games. The Abyss is just one of the many blockchain-based innovations made possible by KICKICO, a fundraising platform and cryptocurrency exchange.
When KICKICO launched in 2017, its goal was to make initial coin offerings (ICOs) — a means of raising capital for new cryptocurrency projects — uniform, safer, and more accessible. As a cryptocurrency-based crowdfunding platform, it has successfully funded 35 startups, raised a total of nearly 800,000 Ethereum, and recruited a global community of more than 22,000 users.
"We are building an ecosystem of services that will reduce the barrier for entering the entrepreneurial world," said Valeriya Minaeva, Public Relations Manager at KICKICO. "We guide the campaigns, moderate them throughout, and focus our community's attention on funding."
Entrepreneurs can pitch their projects and get instant feedback from potential customers and community members. KICKICO is an integral part of helping them raise funds for projects, distribute their proprietary tokens to users, and build an invested and supportive user base.
Equally as important, KICKICO supports startup projects with professional services and publicity, allowing entrepreneurs to focus on running their campaigns and developing the best possible products.
Suite of Support Services Foster Campaign Success
Anyone seeking to crowdfund a blockchain-based project can sign up for KICKICO and control the entire campaign from its web-based dashboard. Previously, the platform charged a fee for campaign placement, but it is now free to all startups. Project runners upload their pitch text, pictures, and video, and once they're satisfied with their page, they can submit it to KICKICO's queue.
From there, moderators review the campaign page and suggest additions, removals, or changes. This process helps entrepreneurs optimize their campaign for success and ensure compliance with the platform's policies. An in-house team of legal experts also reviews the material and provides feedback. That ensures startups are ready to launch into the market — and can save them time and money down the road.
Once everything is in order, the campaign is ready to go. The entire process typically takes less than five days.
After launch, KICKICO community members write reviews of projects and assign each a grade. Other members can upvote or downvote these reviews. Members are also graded based on the quality of their reviews and their overall participation on the platform. Reviewers who achieve higher grades can have a greater impact on a campaign's score and, subsequently, its success. This system helps ensure accurate grading and galvanize the platform against fraud.
"Not many websites can take on the responsibility of having a project that sells equity to the audience. We have a good moderation and legal system for the projects that go through us," Minaeva said.
Navigating the Benefits and Pitfalls of ICOs
The first ICO was in 2013 by Mastercoin, which pioneered it as a way for blockchain startups to raise capital. However, running ICOs proved to be a time-consuming task plagued by perils including hackers, bugs, and usability issues. Additionally, a lack of standardization among ICOs made navigating them confusing and perilous for potential investors.
KICKICO was initially developed to assist entrepreneurs by easing the problems inherent in ICOs. The year the platform launched, ICOs and fundraising peaked, after which the cryptocurrency market saw a correction due to regulatory concerns, fraudulent offerings, poor pricing practices, shifting quality standards, and a bevy of other issues detailed in KICKICO's white paper.
This white paper also identifies another ongoing issue: the exchange bubble. More than 1,000 cryptocurrency exchanges are currently in operation. This means that cryptocurrency buyers must manage multiple accounts if they want to embrace the breadth of the market's diversity. KICKICO predicts that most of these exchanges won't survive the increased oversight and regulation on the horizon, and it sees large-scale closures and consolidation in 2019 and 2020.
But good news comes in the form of security token offerings (STOs), which offer greater application than ICOs. Any company can create security tokens, which, unlike ICOs, represent an investment contract. Their value as equity in a startup is also easily understood by potential investors. KICKICO predicts that these offerings will drive the cryptocurrency market into its next phase. For startups, STOs present an easier and more cost-effective funding option than accumulating venture capital or preparing an IPO.
STO: A Safer, More Reliable Venture Capital Alternative
STOs, as a proxy for stock in a company, are more stable than unregulated cryptocurrencies. They are registered with and regulated by authorities, providing benefits and legal guarantees similar to those of stock market trading. That gives investors greater peace of mind.
Likewise, startups employing STOs can be assured of compliance when new cryptocurrency regulations go into effect. These offerings represent a more effective and reliable means of crowdfunding using blockchain, but they aren't the last word on innovation in the space.
"We're developing the right tools for the things that are coming next in the market," Minaeva said.
That includes KICK version 4.0, embodied in the KICK ECOSYSTEM and called KICKEX. The full-service platform will provide bank-grade security to startups and their backers.
KICKEX uses an innovative Initial Exchange Offering (IEO) model, which is similar to an ICO but relies on established exchanges to facilitate token transactions. The KICKICO team pioneered the push to this model in 2017, and published details of its efforts in a 2018 whitepaper.
"By 2019, all existing exchanges began to implement this IEO model. However, most do not have the right experience or expertise, and we anticipate that those actions will bring another downturn — just like after post ICO hype," Minaeva said.
And, by attracting larger institutional and corporate investors, KICKICO hopes to further support startup campaigns. Typically, these sorts of funding sources have been more averse to the risk that ICOs represent. But STOs can remove some of that risk and help entrepreneurs connect with influential investors who want to support their projects, products, and visions.
New Features Designed to Help Startups Thrive in the Crowdfunding Ecosystem
One reason for the successful funding campaign of The Abyss is the fact that the game industry is fertile ground for niche ICOs. KICKICO reports that consumers in that segment are highly motivated, accustomed to virtual transactions, and find immediate value in the tokens they acquire.
To gain the confidence of these consumers, ICOs — niche or otherwise — must present certain characteristics to potential backers. They must put forward a solid business model, possess an experienced team, and devise a legitimate token economy. All of these aspects are necessary if a startup cryptocurrency wishes to break into the Top 100.
KICKEX supports these entrepreneurs in their endeavors by offering a slew of new features and functionality. Foremost is KICKPAY, a B2B and B2C fiat and cryptocurrency acquirer. KICKPAY will facilitate the sale of goods in exchange for cryptocurrency, and businesses will receive money back in the form of fiat currency, helping them pay business expenses.
Another upcoming feature is KICKID, which will help meet Know Your Customer (KYC) standards for blockchain-based platforms and exchanges. KYC is a security measure that can include uploading personal and financial documentation, personal photos, and other information, all of which becomes time-consuming when done repeatedly on different platforms. KICKID takes over that workload and enables permanent verification for KICKEX and KICKID-enabled platforms.
Users will also be able to access KICKEX on the go via the KICKMOBILE. This app will feature a built-in cryptocurrency wallet, allow startups to manage campaigns on mobile devices, and grant convenient access to the full KICK ecosystem.
All of this is part of a comprehensive strategy to help entrepreneurs raise capital for worthy endeavors and stay ahead of blockchain technology — no matter what its next iteration may be.
"We'll continue to focus on building new tools for whatever comes next in the market," Minaeva said.