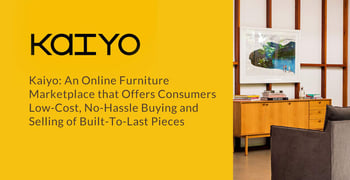 Experts share their tips and advice on BadCredit.org, with the goal of helping subprime consumers. Our articles follow strict
editorial guidelines
.
In a Nutshell: Kaiyo is an online marketplace that offers savings on high-quality used furniture. The platform allows users to eliminate both hassle and guesswork by handling pickup, cleaning, sales, and delivery. Kaiyo makes it easy for buyers to find what they need to complete their home décor and reduces solid waste in landfills by finding new owners for well-built furniture. Moving forward, Kaiyo plans to implement more internal policies to reduce waste.
When Alpay Koralturk got married in 2014, one of his first tasks was furnishing the new apartment he and his wife would be living in. It was his seventh move within New York City, so he was familiar with the pain points of finding a new place and getting furniture in order.
At the same time that he was moving, he was also contemplating a new startup venture. Koralturk had founded and sold a company in Turkey before returning to New York in pursuit of love and new challenges.
As he brainstormed over his next venture, he kept coming back to the issue of sustainability and the impact of waste on the environment. That's when his search for furniture and protecting the environment converged into one idea, and Kaiyo, an online marketplace for high-quality used furniture, was born.
"We make it convenient to sell great furniture by providing customers with a fast, free pickup. And we put a lot of work into allowing buyers to shop a curated collection of well-produced pieces from a trusted source," said Lauren O'Reilly, Vice President of Marketing at Kaiyo.
Kaiyo currently operates in New York, Connecticut, New Jersey, and the Philadelphia Metro area.
Residents can buy and sell used furniture safely and easily without the traditional hassles of used-goods marketplaces. Kaiyo provides buyers a rare opportunity to purchase quality, gently used furniture at a lower price than buying new, and the platform keeps furniture out of landfills by giving it new homes where others can appreciate and enjoy it.
An Intuitive Way to Buy and Sell Used Furniture
Anyone who has experience buying and selling anything on the internet, especially furniture, understands the pitfalls of the process. Postings often use stock photos that may not accurately represent the condition of the item. Buyers typically must transport the pieces themselves, and sellers are at the mercy of buyers who may be sketchy, wishy-washy, or just plain scammers.
"We consistently hear that we're easier and safer to deal with than Craigslist and that our fulfillment is much faster than shopping new," O'Reilly said. "We can deliver within a few days, whereas most furniture companies can take up to eight weeks."
Kaiyo stocks and sells high-quality furniture that is currently in demand. Sellers submit a ticket on the website, and Kaiyo sends a crew to pick up the item — for free — and transports it to the warehouse. There, it's cleaned, photographed, and stored until it's purchased.
All photographs on Kaiyo feature the individual pieces for sale. Each one is presented in high-resolution pictures and from multiple angles, including product tags to prove authenticity for high-value and sought-after brands. With such accurate images, buyers can get a detailed look at the piece before committing to purchase.
"The actual piece is guaranteed to be what we say we're selling," O'Reilly said.
Buying furniture through Kaiyo is just as straightforward as selling. A moving team delivers purchases directly to the buyer's home within a few days. The buyer can inspect the piece upon delivery, and if it doesn't meet expectations or standards, they can reject it for a small restocking fee.
"We try to make the experience transparent and consistent throughout, so the convenience is there for our customers," O'Reilly said.
Keeping Home Goods Out of Landfills
When the COVID-19 pandemic started forcing businesses to move their workforces home, many people found themselves scrambling to convert guest rooms into home offices. Some quickly outfitted their rooms with cheap furniture from big box stores, but much of that could end up in landfills in a few years because it isn't built to last.
Durable pieces are often substantially more expensive, whereas fast furniture from retailers, including IKEA and Ashley HomeStore, is cheap but not made to last. When people buy that type of furniture, it often runs its course, and goes into the garbage.
"Approximately 12 million tons of furniture ends up in a landfill every year. It's a pretty significant problem," O'Reilly said. "On top of that, there is virtually no recycling of furniture in the U.S."
Kaiyo allows consumers to save on top quality furniture and protect the planet. The online marketplace helps eliminate the stress of lugging sofas upstairs, busting out the Allen wrenches, or wondering where that little dowel was supposed to go — and what's going to happen because they forgot to put it in.
It repurposes high-quality and sustainable furniture while saving consumers time, money, and ecological concerns.
"We were looking to change that with the idea that you could spend the same amount of money and get higher-quality pieces if you only bought secondhand," O'Reilly said.
High-Quality Secondhand Furniture Offers Greater Value
Browsing for furniture pieces on Kaiyo is easy. The website breaks down its selection down into popular categories, including sofas, storage, beds, tables, chairs, and décor. Each of those also has subcategories.
For example, Kaiyo divides décor into lamps, wall art, rugs, mirrors, dividers, and decorative accents. That type of hierarchical classification makes it easy for buyers to find exactly what they need for their homes.
"Sofas are always very popular, as are cabinets, sideboards, and larger pieces," O'Reilly said. "But more recently — with more people working from home — we've been selling a lot of desks, particularly smaller desks, and nice office chairs. Those are incredibly popular at the moment, as people need to get their home offices in order."
All items offered on Kaiyo are pre-inspected to ensure they are in serviceable condition, at the very least, and that they are well-built and designed to last. That presents consumers with a rare opportunity to get their hands on timeless, even iconic pieces of furniture without paying the original high price.
"Because we give people the chance to spend less money and still access great designs, they can often purchase items they wouldn't be able to afford at full price — brands that are built to last," O'Reilly said. "That discourages people from spending money on cheaper, less sustainable, single-serve furniture brands."
Kaiyo: Helping Consumers Save Money and the Planet
The company's success has prompted Kaiyo to expand its infrastructure to serve more furniture buyers and deal-seekers across the United States.
"Right now, we're looking at the East Coast as a whole to see where that next opportunity will be," O'Reilly said.
In addition to expanding its service area, Kaiyo aims to create more value for the planet.
Kaiyo has partnered with the National Forest Foundation to plant a tree each time it completes an order as part of its goal to be carbon neutral.
Reforestation will offset the carbon footprint of the initial manufacture of furniture, and Kaiyo is exploring new and innovative fueling options for its fleet to reduce transportation emissions.
"It's something we find to be very important, and so we're always looking for little things we can do that have an impact against the cost of operating a business on the environment," O'Reilly said.