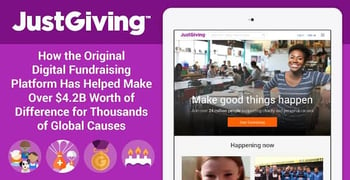 Experts share their tips and advice on BadCredit.org, with the goal of helping subprime consumers. Our articles follow strict
editorial guidelines
.
In a Nutshell: Some of life's most tragic events are small, touching only our lives and families. Others are so large as to impact the entire world. Regardless of the size of the event, however, dealing with the aftermath can be difficult on your own. The original digital fundraising platform, JustGiving provides individuals and charities alike with the opportunity to reach millions of people across the globe, including the US. Whether crowdfunding for a personal cause or raising money for a favorite charity, JustGiving users have made $4.2 billion worth of difference for those who need it most in over 164 countries.
Despite the best efforts of some, the vast majority of us will likely live out our lives in relative obscurity. We may be known by our friends and neighbors — but the rest of the world will, for the most part, remain ignorant of us. At the opposite end of the spectrum are those whose impacts range wider, reaching hundreds, thousands, even millions, with their amazing words, actions, or artistry.
And, somewhere in the middle, are those people who impact us all, not only with how they lived their lives — but how those lives were abruptly taken from them. People like Chris Bevington, whose tragic death with three others in an April 7, 2017, terrorist attack in Stockholm, Sweden, led to a global outpouring of support for the families left behind.
In fact, the number of people reaching out to offer support was so overwhelming, Chris's best friends established a campaign on the popular gloabl fundraising site, JustGiving. The goal was to collect funds for his widow and young children, as well as find a way to pass on his personal passion to others.
"Chris would be overwhelmed by the outpouring of love we have seen in the UK, Sweden, and around the world for him and the other victims of this horrendous attack," Jez Felwick writes on Chris's JustGiving page. "People are asking how they might be able to donate, or show their love and support, so a few of his closest friends have set up this page. We are raising money to provide support for his young family — and to create a legacy that is as meaningful as his life was."
Though uncomfortable setting a target amount, the friends initially set out to reach £50,000 (~$65,000). It took only four days. Since then, the campaign's goal has been increased three more times to accommodate the volume of donations received.
"Sixteen days ago, we set up this page in memory of our lovely friend. The original target was £50,000. We went over that. It was raised to £75,000. We went over that again. The new target was £100,000 — which we have just reached," wrote Jez. "It has been an incredible response to an incredible person and will provide support to Chris's family, as well as starting a legacy to honor him and help others in the future. A huge thank you to everyone who has shared posts and donated."
"It's testament to the kind of person Chris was that his friends have taken it upon themselves to create a legacy to support the things he loved most in life," said Rhys Goode, the Public Relations Director for JustGiving. "It's inspiring to see that from tragedy can come a glimmer of hope."
Crowdfund for an Important Personal Cause
The original online fundraising platform, JustGiving was founded in the UK in 2001 as a way to help charities reach a digital audience. Today, the site has global reach with causes and fundraisers from around the world, including the US. It is also one of the few places where users can not only gather funds for registered charities but also use crowdfunding to raise money for personal causes, as Chris's friends have so successfully done.
"JustGiving is already known across the UK as the leading charity fundraising platform and we're aiming to reach similar awareness levels for crowdfunding," said Rhys. "We're excited … to position JustGiving as the 'one stop shop for fundraising,' and to continue to grow the world of giving."
Anyone can crowdfund on JustGiving, and for just about any cause. According to the site, "Crowdfunding is a way to raise money to make good things happen, whether that's making a difference to yourself, a friend, a pet, a family member, a club or community. At the end of your campaign, we'll send the funds raised to a nominated bank account of your choice."
Of course, there are certain restrictions, most of them based on staying within the law. For instance, campaigns that promote violence toward anyone (including yourself) are prohibited, as are projects that seek to fund the purchase of illegal goods.
In addition, the site, being based in the UK, can only transfer funds to bank accounts originating in the UK itself. However, the site has launched in numerous countries, including recently the US, so those outside the UK can still take advantage of JustGiving's global reach by connecting their page to a verified PayPal account.
While the JustGiving team can't disclose donors, for obvious reasons, they do make it easy for you to thank them for their crowdfunding contribution. A thank-you email is automatically sent out to each donor when they make their donation.
JustGiving also suggests individual crowdfunders provide updates over the course of their campaign — and after — to show supporters any progress, or just thank them in your own words. Updates are emailed to your donors and posted on your page.
"Once your Crowdfunding Page is up and running, it's super important to let your supporters know how you're doing, as well as thanking them for their support," according to the site. "You can add photos, videos, and tag Facebook friends in your updates."
Fundraise for Your Favorite Registered Charity
For some, one of the most difficult aspects of dealing with debt or working with a small budget is the limitation it places on their ability to contribute to the causes important to them. With JustGiving, however, anyone can start a fundraising campaign for their favorite charity.
Users can start a page for any charity already registered with JustGiving, or nominate them to join the site. While charities located in the UK will have the easiest, and most cost-effective, experience with JustGiving, the platform also welcomes registered charities and nonprofits from the US, Australia, Netherlands, Canada, Hong Kong, Ireland, South Africa, and the United Arab Emirates.
The best part of starting a fundraiser for a great cause is that it's totally free to raise money for a charity through JustGiving, just as it's free to donate. The charities themselves pay the payment processing and JustGiving transaction fees, although UK charities can take advantage of Gift Aid to avoid the fee.
JustGiving is one of the few digital fundraising platforms supporting Gift Aid donations, which allows charities to claim an additional 25% of the Gift Aid donation. To qualify as Gift Aid, donations cannot be more than four times what the donor paid in taxes in the tax year of the donation.
Beyond any processing fees, charities that register with JustGiving also pay a small monthly fee.
According to the site, "Charging these fees allows us to continually invest in the best technology, products, and services for the benefit of all our users. We think of ourselves as the R&D team for every cause in the world. We are building on our 15 years of social giving history to create more intelligent and powerful ways of connecting causes with people who care, which are open to everyone and every cause, however small."
"Our staff works hard to help the site raise as much money for good causes as possible," Rhys explained. "All the charities we work with are aware of what we charge, but believe we can help them raise the maximum possible money."
Join the 24 Million Others Making a Difference on JustGiving
A testament to the abiding spirit of humanity is the wave of compassion and support to help those touched by disaster that seems to come in the wake of every tragedy. In the case of Chris and the other victims of the Stockholm attack, the outpouring of support from around the world has helped blunt some of the negativity with the start of what will undoubtedly be a strong legacy of love — and music.
"Chris was passionate about everything: his family, his friends, and his music. Music was his lifeblood and led him to meet the girl who became the love of his life and the mother of his children," wrote Jez on Chris's JustGiving page. "As his lasting legacy, we want to find a way to bring his passion for music to people who would not otherwise experience its life-shaping benefits."
And Chris's story is hardly the only one changed forever by the work, support, and contributions of people around the world. In fact, JustGiving takes the time every year to celebrate some of the most impactful campaigns and recognize those making a positive difference through the platform.
"Every year, we organize an awards ceremony/party for the most inspirational people from the JustGiving community," described Rhys. Among the winners for 2016 were Mac and his father, who raised money for the Alzheimer's Society with their delightful carpool karaoke, as well as a couple who raised £88,000 (~$114,000) for the Royal Marsden fund by cycling 2,000km to Copenhagen.