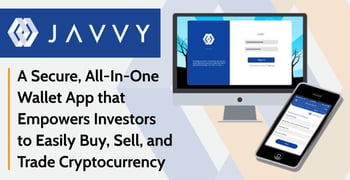 Experts share their tips and advice on BadCredit.org, with the goal of helping subprime consumers. Our articles follow strict
editorial guidelines
.
In a Nutshell: Javvy bypasses the traditional hassles and hazards of crypto buying, selling, and trading by offering a secure, app-based experience. This allows users to avoid signing up with — and transmitting sensitive information to — multiple crypto exchanges. Even KYC is handled entirely within the app, and Javvy promises fast verifIcation turnaround times so users can start transacting — instead of waiting for approval. Masterminded by a veteran security expert, Javvy provides comprehensive protection for sensitive data, and a forthcoming update promises even greater security alongside access to an expanded range of currencies.
Long before he was the CEO of Javvy, Brandon Elliott purchased 33 bitcoins in 2013, the year cryptocurrency really began gaining ground. The price per coin was $13.50 at the start of the year, and by spring it had risen to $220 — before quickly falling to $70. It rallied again later in the year, rising to $100 in October, and in November jumped from $200 to $1,000.
It was an exciting — if somewhat stressful — time to own Bitcoin. But despite this financial rollercoaster, Elliott ignored his investment. His initial enthusiasm and interest had been dampened by the harrowing ordeal of simply obtaining Bitcoin.
"It was a grueling, terrible process," Elliott said. "I ended up with six exchanges just because, back in 2013, they were taking six months to approve KYC on accounts, and they were giving you the third degree. So, I signed up for the next one, the next one, the next one… It was a nightmare."
Elliott said he knew there had to be a better solution for buying, trading, and selling crypto, but at the time, no one had yet developed one. There were no apps, just cumbersome exchanges, and over the course of several years, the situation didn't improve.
"I went back to these exchanges, and it was still a terrible experience," Elliott said.
He had spoken with people who had just signed up for these exchanges, who told him approvals were still taking a month. That's when he knew the crypto sphere needed a better solution.
"I talked to some of my security friends, developers I'd worked with on other projects, and we decided to start Javvy," Elliott said.
Javvy is a secure, all-in-one app that integrates major cryptos and fiat into one wallet. It provides a streamlined, simple, safe way for consumers to buy, sell, convert, and store their digital assets, enabling them to get their hands on cryptocurrencies while avoiding the hassles, headaches, and hazards of exchanges.
An Intuitive Tool Built for Safety and User Experience
"What's always surprised me, is that the app part of it … was always just an afterthought," Elliott said. "Everyone's being pushed to the websites because that's easier."
To illustrate the current, less-than-ideal situation crypto consumers may find themselves in, Elliott uses the analogy of buying and trading stocks. When you want to buy or sell, you don't go to the NYSE or NASDAQ; you go to an online brokerage website, and the broker conducts transactions on your behalf.
But the crypto market works in precisely the opposite manner. If you want to buy, sell, or trade your crypto, you must go to an exchange and conduct all your transactions there.
"So why is crypto backward? Why are they saying no, we shouldn't have brokers?" Elliott said. "You don't know who these people are running these exchanges. But you should sign up and give them all of your personal sensitive private information? It doesn't make sense."
Wherever you go to buy and sell and trade crypto, you'll have to pay exchange costs. But with Javvy, users can pay with either default currency, typically USD, or with Javvy tokens, the price of which is locked — unless the value is higher on an exchange.
In the latter case, the tokens carry the higher value, ensuring users get the best deal on their transactions.
"We will always honor the higher of the two," Elliott said. "If Javvy is worth 2 cents on an exchange, it's still worth 8 cents toward fees in our wallet. If Javvy is worth 16 cents on an exchange, Javvy's worth 16 cents in our wallet."
Reliable In-App KYC Protocols Provide Fast Crypto Access
To get started with Javvy, users must register and verify their phone number. KYC is optional; those users who only want to trade crypto can decline and remain anonymous.
But for those who want to buy and sell with fiat, KYC is required. Luckily, Javvy has expedited and streamlined the process.
To complete KYC, users will need to provide a selfie, a picture of their photo ID (such as a driver's license or passport) and a recent utility bill. These documents are then submitted to the Javvy server for verification.
"I have run through it personally and tested [the KYC process] at least 200 times as we've been developing it," Elliott said. "I can literally run through the KYC process in less than a minute."
Javvy's KYC process is not fully automated, but it still offers fast validation for eager users. U.S. documents can be validated in minutes or even in seconds if high-quality scans are provided.
Foreign documents usually require manual review that may take hours or days — a not inappreciable waiting time, to be sure, but still better than a month.
"We definitely try to make it smooth, quick, and easy, and we have had no negative feedback on the KYC process, which is pretty impressive with almost 100,000 downloads," Elliott said. "Of the 100,000, I'd say half of them want to be anonymous. They don't want to buy and sell with fiat. So, we probably had 50,000 KYCs and not one single complaint with the process."
Expert Insights Ensure Financial Data Security
"I'm a security expert. That's my background. I have the highest-level certifications — CISSP. I've consulted with Bankers Bank and the Federal Reserve. I have unique insight into security," Elliott said. "The part that's common sense to me, from a developer standpoint, [is] we have to be cognizant of encrypting the private keys or not even having the keys."
Elliott leverages his background and technical knowledge to ensure the best possible security for Javvy users. An upcoming version of the Javvy wallet will provide security through 12, 18, or 24 seed words.
These seed words determine a user's private key, which is required to conduct transactions from the wallet. Obviously, these seed words require certain security measures, so that users remain in control of their funds and assets.
"If you lose your phone or your computer dies and you need to restore [access to your wallet], those words are how you do it," Elliott said. "When we have those on the device, we have to always have it encrypted, always have it in a security keychain. And when we have to decrypt that to sign something, we definitely have to take measures to protect that in RAM because when you decrypt these things, they're in RAM and potentially vulnerable."
In contrast, some wallets allow keywords to be copied onto a device's clipboard. This is convenient for users, but it is far from secure. On some mobiles, for example, other apps and widgets can access info on a clipboard and transmit it without the user's permission or knowledge.
"You have to be very careful how you let the users back up their information," Elliott said.
Javvy: On a Mission to Expand Crypto Access and Options
Javvy has succeeded in its mission to advance crypto access beyond the grueling process of 2013, and this is due in no small part to the insights Elliott gleaned from his own experiences.
"You can pick any of 100 competitors, exchanges or wallets, and I can tell you there are 11 things that they need to be a perfect solution, and none of them have six or seven of those things," Elliott said. "We're trying to put all of those things in one solution."

However, not every user will be able to access every one of Javvy's features. Some capabilities are locked in certain geographic areas due to regulation within individual nations.
"India is still currently blocked from the rupees transfer to crypto. So, we have to block that for now. But this is a fluid environment. There was a time when India was banned, became unbanned, and now it's banned again. We always keep abreast of where that is, and we adjust accordingly," Elliott said. "As soon as someone becomes unbanned, then we would send the notice to our users to say 'Hey, you can use this feature now.'"
Since speaking with Elliott, India has shifted its stance on the matter, once again allowing banks and corporations to work with and support consumers using rupees with cryptocurrency, highlighting just how fluid things are in this niche.
With its usability and security, it may surprise crypto investors that Javvy doesn't enjoy a higher profile in the community. Elliott said marketing and promotion have taken a back seat to refining and economizing the app's features.
A new version is planned to enter the final stages of testing by mid-spring 2020. It will include the new, more secure HD wallet discussed above as well as expanded support for a wider variety of assets, allowing investors to further diversify their crypto portfolios.
"It's so much more secure, it's more expandable," Elliott said. "We can support thousands of cryptocurrencies and tokens in this new release."