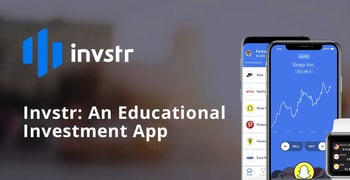 Experts share their tips and advice on BadCredit.org, with the goal of helping subprime consumers. Our articles follow strict
editorial guidelines
.
In a Nutshell: Gaining access to investing opportunities is easier than ever. But just because the opportunity is there doesn't mean novice investors should dive right in, according to the folks behind Invstr. The fintech app emphasizes education and helps users learn how to invest before spending a cent in the real world. Fantasy Finance gamifies investing by giving users $1 million — in virtual money — to buy, sell, trade, and build their portfolio as they see fit. Users can win cash and prizes each month for finishing in the top 25 in their league. The Invstr Academy includes 85 online lessons organized into 10 modules to teach users everything they need to know about investing . Once users have a solid foundation and plenty of virtual experience, they can use the Invstr app to begin their investment journey in the real world.
Thanks to rapidly evolving technology and innovative fintech startups, nearly anybody can get in the investment game these days. It wasn't that long ago that investing in stocks was limited to the wealthiest in society.
Sure, technically anybody can buy stocks. But the expense of making trades through a professional trading company has been out of reach unless you have big money to begin with. For the most part, investing in the stock market isn't really an option for the average working-class American or someone just starting out in a professional career.
That is until internet-based platforms like E-Trade came along. Then came the apps.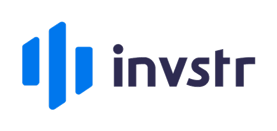 Now, buying a few stocks — or even fractions of stocks — can be done in seconds on a smartphone with the swipe of a finger. These developments have removed barriers and gone a long way toward democratizing investment opportunities.
But having the tools without the knowledge to use them can be harmful. Sure, some folks jumped into the amateur investing game and did very well. Others, sadly, have lost significant amounts of money and suffered lasting financial setbacks.
That's why the Invstr app focuses on not only providing users a convenient way to invest their funds, but it also gives them access to the knowledge and skills needed to invest wisely.
"Investing is fundamentally about our future," said Invstr CEO Kerim Derhalli. "Most other apps, including the best-known ones, just think about buying and selling. But these are used by relatively young kids who know relatively little about finance or the financial markets."
Looking at Investing as an Ongoing Journey
Invstr doesn't simply provide a platform for people to buy, sell, and trade assets. It offers an array of resources to help users understand the impact of their investment decisions and learn how to make smart financial choices.
"One of the things that really separates us from every other fintech is that we recognize that investing is a journey, and it's not an event," Derhalli explained. "It's a journey that we all as individuals have to take. So fundamentally, it's about us as people. And it's about us preparing for our future, in a way."
With Invstr, users can learn the ropes of investing and begin their investing journey with as little as $1.
"We're breaking down financial and educational barriers to investing and empowering a new generation of investors," according to the Invstr website.
Derhalli said the company surveyed several thousand young people in 2016 to find out the biggest problems they see when it comes to investing. And 90% of them responded by saying they simply want to learn how to invest.
Derhalli offered up some pointers that stand alone as sound advice but also speak to the Invstr philosophy.
"We help people understand some of the fundamentals of investing — that it isn't just about making dollars and cents, it's about generating a return on your capital, trying to do that consistently in the long run," he said.
And to do that, he said, investors should strive to preserve their financial capital through diversification. Additionally, they should preserve their emotional capital.
"You do that by not trying to time the market and get in and out every second," Derhalli said.
Fantasy Finance Lets Users Practice Investing Skills with No Risk and Win Prizes
Another major component of Invstr's educational strategy is to use gamification with its Fantasy Finance feature.
The company describes Fantasy Finance as where the stock market meets fantasy sports. Players can manage a virtual portfolio to get their feet wet in the trading world without having to pony up real money. They can also go head to head with other players and win prizes.
"Learn how to trade, strategize, and maximize profits by managing a $1 million virtual portfolio," according to Invstr. "Experiment all you want — in Fantasy Finance, you get to call the shots without putting your bank account on the line."
Derhalli said hundreds of thousands of users have played the game, and Invstr has more than 60,000 private leagues that have been set up around the game.
"It's super popular, and it's fundamentally fun," he said. "And what people realize to help them build confidence is that investing is just about buying low and selling high. That's really all. That's it."
Of course there are many other details that are built on top of that base, but that basic strategy forms the core of success, Derhalli said.
Every month, Fantasy Finance players who finish in the top 25 of the Raw League, Supreme League, or Xtreme League will win in-app prices or a cash voucher to help them kickstart or grow a real investment portfolio, according to Invstr.
Players can also earn points, badges, and rewards as they progress through the game.
"Start your journey as an Intern and work your way towards the ultimate level: the Fantasy Finance Guru," according to the Invstr website.
Invstr Unlimited Delivers Full Functionality with Unlimited Trades and Access to the Invstr Academy
Fantasy Finance is intended as a fun jumping-off point for real-world investing. And Invstr Academy complements the gamified experience with a more traditional path to learning the ins and outs of investing.
"Some of our competitors will write a blog and say that's education. But we've actually created a syllabus," Derhalli said. "It's 85 lessons organized into 10 different modules. It's written in a way that a high schooler can understand."
Each lesson concludes with practice questions, and users are presented with a quiz upon finishing each module, he said. Invstr awards trophies for the completion of each quiz and a certificate upon completing the whole program.
By then, Derhalli said, many users have the confidence and knowledge they need to begin real-world investing.

"Take what you've learned from Fantasy Finance and Academy, and start making real investments from as little as $1. Isn't it time your money made you more money?" according to the company.
Invstr offers users access, via DriveWealth, LLC, to U.S.-listed securities, including stocks, exchange-traded funds (ETFs), and American depositary receipts (ADRs). Users pay a commission of $0.99 when trading fractional shares and from $2.99 for whole shares.
The company's premium service is for users who want to take full advantage of everything that Invstr offers in the most cost-effective way and avoid commission fees for individual trades.
"Subscribe to Invstr Unlimited and get unlimited trades, allocations, and charts, full access to Academy, Safety Net protection, private mode, and more," according to the company. Invstr Unlimited costs $3.99 per month.
Derhalli said Invstr has future products in the works that will make the investment journey even better for users by offering a seamless financial experience.
In the meantime, Invstr users can continue to gain valuable experience through Fantasy Finance (and win real prizes), learn the basics of investing through Invstr Academy, and apply their knowledge by executing real-world trades on the innovative platform.