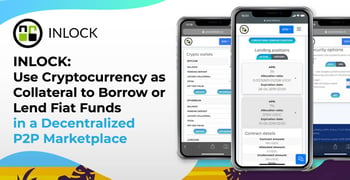 Experts share their tips and advice on BadCredit.org, with the goal of helping subprime consumers. Our articles follow strict
editorial guidelines
.
In a Nutshell: The volatility of cryptocurrency keeps some investors away, but even those who believe in its long-term potential still need access to the purchasing power of their assets. INLOCK provides that with its decentralized peer-to-peer marketplace that enables crypto holders to leverage their assets to obtain — or offer — loans. That means borrowers can increase liquidity, and lenders can make money without having to sell. And it all happens nearly instantaneously on an INLOCK platform that's free of the constraints associated with traditional financial institutions, but that conforms to rigorous security and privacy standards.
Whether blockchain-based cryptocurrency will ever replace traditional fiat money remains an open question. But a growing community of investors is attracted to crypto's decentralized, peer-to-peer (P2P) architecture as well as its anonymity and global accessibility. Although its value has fluctuated widely in a speculative environment — and in response to various government and market pressures — crypto continues to proliferate as an investment vehicle.
Those who believe in crypto's power to transform the global financial system will tell you that the key to successful investment is the willingness to weather its fluctuations. But investors can maintain a sense of stability through INLOCK. The platform turns cryptocurrency holdings into collateral for borrowing and lending, which provides individuals and businesses flexibility and fiat liquidity to meet daily needs without losing future crypto potential.

The idea for INLOCK came together when a group of cryptocurrency traders found themselves in precisely that position.
"We were looking for ways to access the purchasing power of our cryptocurrency without having to sell it," INLOCK Co-Founder and Chief Marketing Officer Péter Gergő said.
Gergő started investing in cryptocurrencies in early 2017, when the market was taking off. By December of that year, Bitcoin was trading at nearly $20,000 — up from under $1,000 in January.
"As a regular trader, I was day trading and selling all the time," Gergő said. "Eventually, it turned out to be a bad idea to sell any of them. If I were to hold them for a year, that would have been much better for me, financially."
In principle, Gergo and his colleagues were looking to solve a simple problem: how to make cryptocurrencies function as a store of value for financing temporary liquidity goals.
"And then, eventually, you want to buy it back," Gergő said. "Our platform is about providing cryptocurrency owners with options."
Leverage the Purchasing Power of Crypto Assets Without Selling Them
INLOCK allows traders around the world to accomplish their goals through a P2P platform on which interest rates and other loan terms are set directly by the parties involved in the transaction.
"That is a distinguishing feature for us," Gergő said. "It's about supply and demand, and we believe the market is capable of setting the interest rate on its own."
INLOCK supports not just the popular Bitcoin but also leading altcoins, including Ethereum, Litecoin, and Binance Coin — a newer currency that has seen wide adoption among businesses.
"Binance Coin handles about 60% of our collateral management, and we are certain it has a bright future," Gergő said.
INLOCK distributes loans in USDC — a stablecoin that is backed one-to-one with the U.S. dollar. Stablecoins like USDC function essentially as a digital representation of fiat money.
"Most of our customers don't need physical dollars because they use their loans to trade," Gergő said. "If we were to give them dollars, they'd have to pay extra expenses to exchange them back to another form of crypto. From a technical point of view, it's simpler. And from a regulatory standpoint, it's easier too."
When it's necessary, however, it's easy to convert USDC to any local fiat currency.
Through the INLOCK dashboard, prospective lenders can transfer USDC from a personal crypto wallet onto the platform. Creating a new lending position only requires selecting a loan amount, interest rate, and loan duration.
"You accept the terms, and then your lending position is created," Gergő said. "Anybody can now take out a loan using your USDC."
Of course, a borrower must deposit crypto collateral on the platform before exploring loan opportunities — once that task is complete, the platform automatically sets a credit limit. The minimum collateral level is 110% of the loan, and the universal margin call level is 105.1% to protect lenders.
"You're presented with an offer, and you have two minutes to decide whether you want to take it," Gergő said. When a borrower accepts a loan, a cryptographically secure smart contract is established to lock in the transaction. Within a minute or two, funds are delivered to the borrower in USDC.
An Alternative Financial Platform With No Credit Required
Fees are minimal and proportional to the amount borrowed or withdrawn from the user's INLOCK crypto wallet. And the tie between loan-to-value ratios and interest rates inherent in the traditional loan process isn't a factor with INLOCK. That's because the smart contracts established between lenders and borrowers allow automatic liquidation of collateral if a borrower fails to repay a loan.
Neither are credit checks or any of the other institutional restrictions associated with loans provided by traditional banks. Lenders are not required to evaluate the solvency of borrowers, and borrowers aren't required to prove their suitability.
"We don't do any credit scoring because it's not necessary," Gergő said. "As long as you have the collateral, from the platform point of view, nothing else matters. It's your money."
What's more, the platform prevents the parties in a loan transaction from communicating — or even identifying each other. Because INLOCK operates on the blockchain, the parties do not need traditional forms of trust verification, and competition between individual lenders sets the terms.
And INLOCK, based in Estonia, operates in accordance with all relevant and applicable anti-money-laundering (AML) and know-your-customer (KYC) regulations, rules, and laws. Individuals and entities seeking to use the service must prove their identity, legal eligibility, and subject themselves to regular review. INLOCK also updates its AML/KYC policies to account for changes in regulations and its business.
INLOCK also conforms to the EU's General Data Protection Regulation (GDPR), the online world's strictest rules for handling private data.
"It's a much stricter standard than in the U.S. — and companies get regular checks," Gergő said. "The whole platform leverages bank-grade security, and we've had zero security issues."
Connecting Crypto Holders to the Benefits of Traditional Lending Services
INLOCK helps individuals reap benefits from their crypto investment assets, supports businesses with liquidity issues, and provides loan services not offered by traditional banks. Next on the company's agenda is a technical and market expansion.
The platform is pushing into Latin America, translating its site into Spanish, and bringing much-needed competition to a loan market traditionally known for its centralization. INLOCK stands to release more of the region's entrepreneurial potential by connecting previously underbanked and unbanked individuals and businesses to the benefits of financial services.
"Latin America is an interesting region for us because lending there is growing rapidly," Gergő said. "Nobody really controls the interest rates. INLOCK can help to bring some transparency in those lending engagements by providing a secure framework."
On the technical side, INLOCK looks to broaden how its users leverage its services — particularly in terms of how they gain access to fiat. It plans to integrate its services into cryptocurrency ATMs — special machines that support exchanges between cryptocurrencies and local fiat money.
"Basically, you can lend and borrow using the ATM," Gergő said. "Because you hold USDC, you can have real cash in your hands via INLOCK. The ATM operator can exchange it for you to the local currency, whatever that might be."
As mainstream investors become more familiar with Bitcoin and other cryptocurrencies, demand for the convenience, efficiency, anonymity, and security they afford stands to increase. Estimates vary widely as to what that will mean for crypto as an investment, but its believers are optimistic. INLOCK helps them hedge their bets.