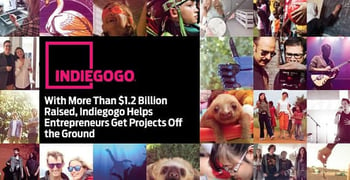 Experts share their tips and advice on BadCredit.org, with the goal of helping subprime consumers. Our articles follow strict
editorial guidelines
.
In a Nutshell: With more than 770,000 campaigns launched and 8.5 million backers to date, the popular crowdfunding website, Indiegogo, has been helping entrepreneurs succeed since its inception. The crowdsourcing platform includes fixed and flexible funding options and gives you access to a wide network of backers who can help finance your idea through an effective campaign. This means you're free from financial obligation to banks or investors, allowing you to bring your concept to life. It's an affordable alternative to a traditional bank or business loan, and, if successful, a great way to fund a project without accruing debt.
For most entrepreneurs, the prospect of taking out a business loan can be daunting, and the unfortunate truth is that it's often not even possible without a decent FICO score. Furthermore, those who are able to secure loans with a tarnished credit history are likely facing very high interest rates, damaging credit report inquiries, and are moving further and further away from solvency.
Crowdfunding is becoming increasingly popular as more self-starters fund projects by tapping not only into their own network, but into the network associated with the funding platform. As one of the earliest adopters of the crowdfunding concept and with numerous success stories, Indiegogo offers various options for campaigners. It also includes many benefits beyond funding. Users are getting their projects in front of a global audience, raising awareness prior to launch, and gaining valuable contacts.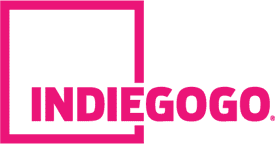 "Indiegogo provides support for more than just the funding stage," said an Indiegogo spokesperson that we reached out to for comment. "It has developed unique new programs, services, and partnerships that are designed to help entrepreneurs in their journey to bring their product from idea to market as quickly as possible, including support for manufacturing, design, and even retail selling."
The platform works by enabling you to make the funding choices that are right for you and your goal. Indiegogo allows you to promote your story and build a fanbase, take full advantage of audience analytics, and track your campaign using a mobile application to monitor progress and communicate with contributors. A campaign begins at the crowdfunding stage, but Indiegogo offers support throughout the entire process of bringing your concept to the market.
The platform reaches an audience of users and potential backers in 228 countries and territories, and an average campaign pledge is approximately $91, with more than 26% of funds coming from international contributors.
With a well-thought-out campaign, you stand the chance of raising a substantial amount of capital with no financial obligation to pay anything back. You'll also have the opportunity to begin your marketing efforts during the funding stage. It's a great alternative to a loan, and one that has zero impact on your credit score.
Optimize Campaigns with Perks, Videos, Regular Updates, and Collaboration Projects
Once you've made the decision to launch an Indiegogo campaign, there are numerous tools and tricks of the trade that can help boost your efforts. Following these best practice tips can set you up for a win.
"Campaigns with a pitch video raised 4x more than those without one, and campaigns with perks raise 180% more money than campaigns without perks," said an Indiegogo spokesperson.
Creating a compelling video can be an ideal way to market your concept and tell your story while letting users know why they should contribute. A great pitch video not only encourages backers to support your Indiegogo campaign, but it provides your audience with shareable content.
You can leverage your promotional video to inform potential supporters about added perks available to them for different donation levels. Maybe you're offering first dibs on your product to your big-money donors, or a self-published book detailing your brand's story for mid-level donors. Whatever the perk, it's something that you can include in your video that can also be highlighted on your donation dashboard.
Another way to boost your campaign is to send updates out to your audience about your progress, along with any exciting news in relation to your concept. Campaigns that send out at least three updates are known to raise roughly 531% more funding than those that post two or less, according to the company.
Lastly, Indiegogo reports that team projects result in about 240% more money raised than campaigns run by a single person. If your concept is something that can be executed with a group, you may increase your odds of raising adequate funding. Being strategic with your campaign efforts certainly has its benefits, and the proof is in the numbers. It can also have a lasting and positive effect on your brand or idea, moving forward.
Gain Market Validation and Visibility by Leveraging Indiegogo's Huge Audience
Because Indiegogo receives 15 million monthly visitors from every corner of the world, when you launch a campaign on the platform, you have the potential to gain major traction with your concept.
"With Indiegogo, entrepreneurs have the unique opportunity to gain valuable market validation by leveraging the massive Indiegogo audience to connect with potential consumers," said an Indiegogo spokesperson.
By connecting with this massive global reach, you can build credibility while gaining access to a worldwide network of contacts and potential customers. Tapping into this network, you're greatly increasing your odds of success versus building a brand or concept without a ready-made audience.
"Not only can entrepreneurs learn from the platform community how to improve the product, they can also determine if their business model and pricing model are in line with what their customer is looking for," said an Indiegogo spokesperson.
With Fixed or Flexible Funding Options, Indiegogo is an Affordable Alternative to Traditional Loans
When you first launch a campaign, you'll have two distinct options — a fixed funding option, or a flexible funding option. Creating the campaign itself is free. With Indiegogo's fixed funding option, all contributions will be returned if your goal is not met. It's a better option for projects with strict minimums. This way if you don't hit your target and earn what's required to get your project off the ground, your backers aren't out the cash they've pledged.
With the flexible funding option, on the other hand, you'll get to keep all of the funds you raise regardless of your campaign goal. This option is ideal for projects that don't have strict funding requirements. Both options include a 5% Indiegogo fee, plus additional fees for donations by credit card, PayPal, and wire transfer fees for international transactions.
By choosing to crowdfund, you have no financial obligations to a bank or lender, and there's no impact on your credit. While the process tends to be more time-consuming than taking out a traditional loan, you'll be gaining the added benefit of having global support and a huge audience, making it appealing from a marketing standpoint.
Empowering Self-Starters to Bring Ideas to Life by Connecting with a Global Community of Supporters
Having less than perfect credit shouldn't be a deterrent when launching a brand, service, concept, or idea. Some self-starters have found themselves with less-than-perfect credit because they've been courageous enough to take risks that didn't produce the results they'd anticipated. This, however, doesn't make them any less deserving of success than those with a squeaky clean credit history.
Indiegogo gives these brave entrepreneurs the opportunity to bring their concepts to life by putting them in front of a worldwide audience who want to see people like them succeed.
According to Indiegogo, an average of 6,800 campaigns are live in any given month, and idea makers continue to gain the traction they deserve when they put the time, energy, and thought into their passion projects and beyond. Just browse Indiegogo's pages of success stories for proof that crowdfunding works, and that it has the power to change lives without the added stress and damaging effects on credit that loans can have.