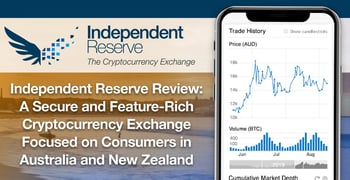 Experts share their tips and advice on BadCredit.org, with the goal of helping subprime consumers. Our articles follow strict
editorial guidelines
.
In a Nutshell: Independent Reserve is an award-winning cryptocurrency exchange geared toward the Australia and New Zealand markets. The company was founded on the principle of delivering a trustworthy and easy-to-use exchange to consumers of all levels of crypto expertise. Besides its feature-packed free version, the platform offers a premium account that lets users insure their crypto holdings. Independent Reserve maintains a special focus on security to protect customer assets and information, and to bring them peace of mind. The crypto exchange also offers an array of educational materials on a variety of crypto-related topics.
A decade into the existence of blockchain technology and options for buying, selling, and trading cryptocurrency seem to be as abundant as fiat investment opportunities. But not all cryptocurrency platforms and exchanges are created equal.
And that's why Independent Reserve launched in 2013 in Australia when Bitcoin and other cryptos were still in their infancy.

"The vision behind Independent Reserve was to provide customers with a safe and reliable place to trade Bitcoin, as this is something that was clearly lacking at the time," said Independent Reserve CEO Adrian Przelozny. "I believe that we have delivered on this promise over the past seven years, with over 130,000 customers using our platform."
The crypto exchange is the result of a 15-year partnership between Przelozny and Adam Tepper. As specialists in digital platforms and security, the duo recognized the importance of cryptocurrency from the start and envisioned an exchange that made digital currency easy to understand, use, and trade for anybody, according to the company.
Unfortunately, Tepper passed away not long after Independent Reserve was founded, but Przelozny carries out the company's mission and continues to lead it in the evolving world of cryptocurrency.
"In this rapidly evolving industry, Adam's vision drives us to set higher standards, make cryptocurrencies more accessible and ultimately be the premier cryptocurrency exchange in Australia," according to the company.
In the seven years since its launch, Independent Reserve has developed into one of Australia's leading cryptocurrency exchanges with an experienced team of fintech leaders.
A Full Suite of Features for Crypto Customers at Any Level
Przelozny recently told us about Independent Reserve's efforts to provide residents of Australia and New Zealand with a high-quality crypto exchange.
"We offer a full suite of features for our customers," he said. "Our exchange caters to both beginners wishing to make their first crypto purchase, and also experienced traders looking to take advantage of our API to execute automated strategies."
Independent Reserve users can quickly buy or sell an array of the most popular cryptocurrencies with ease. Instant deposits are available 24/7, and users can trade in Australian dollars, New Zealand dollars, U.S. dollars, electronic funds transfer, or SWIFT.
"We also offer a Premium Account service which allows customers to take out insurance over the crypto holdings," Przelozny said. "We have also found that our Crypto Tax Estimator that we co-developed with KPMG has been very popular, especially with our SMSF (self-managed super fund) customers."
The platform also maintains a VIP service desk where customers can make large over-the-counter purchases.
"Our mission is to transform cryptocurrency technology into secure, robust and regulated financial services, and do things the right way," according to the company. "Our foundation is a strong and experienced executive team, with a broad range of skills in corporate leadership, financial markets, software engineering, and regulatory compliance."
The company won the top prize in the 2019 Australian Blockchain Industry Awards as the Digital Currency Exchange of the Year.
"It's a real privilege to stand alongside some of the incredible innovators in this year's Australian Blockchain Industry Awards," Przelozny said in a press release. "Winning Digital Currency Exchange of the Year is a testament to the hard work and consistent effort our team has put into making Independent Reserve the top tier exchange that it is today. I'm extremely proud of what we've achieved so far, and I look forward to progressing this further."
Designed From the Ground Up with Security in Mind
Przelozny said that, from the outset, Independent Reserve was built with users' peace of mind as a high priority.
"Our platform was developed from the ground-up with security in mind," he said. "Our data is encrypted and replicated across multiple data centers in Australia and beyond. We regularly engage external penetration testers to probe our systems, and we keep the vast majority of cryptocurrency offline, in secure cold storage locations."
Since the company takes the security of its users' digital assets very seriously, it is continuously working to enhance the already extensive security measures it has in place, according to the company.
"The security measures we have in place cover the integrity and continuity of the Independent Reserve services, access controls to your trading account and the digital assets we hold on your behalf in our digital wallets," according to the Independent Reserve website.
The platform also puts care into data integrity and support.
"The Independent Reserve core servers are securely located at two Tier 3 data centers in Sydney, Australia," according to the website. "This allows us to synchronously replicate all data across both locations in real-time. This ensures zero data loss should one site have an outage."
The company also maintains a fully functional backup of its production environment.
"Our customers' privacy and personal data is important to us and we ensure that all your personal information is protected," according to the company. "All our data is signed and encrypted multiple times using geographically dispersed keys, spread across four data centers; ensuring your personal information is always secure."
And the cold storage procedures Przelozny referenced are impressive.
"Our cold storage is secured by multi-layer encryption and kept on offline digital hardware storage devices. The hardware is stored in physical vaults in geographically diverse locations," according to the company. "Each vault is secured by multiple levels of physical security as well as requiring biometric authentication of all persons accessing the vaults."
Educating Crypto Customers on the Decentralized Economy is a Priority for Independent Reserve
Since its inception, Independent Reserve has been all about educating consumers about the ins and outs of cryptocurrency, and this priority is reflected by the company's rich resources on its website.
Its education section tackles topics ranging from the basics explaining the concepts behind Bitcoin and crypto technology, in general, to more tricky topics like when and how to pay taxes on Bitcoin in Australia.
Of course, the company also provides its integrated tax tool within the platform for easy access to tax-related information.
Other prominent topics addressed include how to spot a cryptocurrency scam and additional measures crypto investors can take to protect their accounts and funds.
Conversely, Independent Reserve also makes a point to learn a thing or two from its users when it can.
"We actively encourage our customers to provide feedback to our team, and many of our recent features, such as AutoBuy (Dollar Cost Averaging), were a direct result of customer feedback," Przelozny said. "Last year we launched the Independent Reserve Cryptocurrency Index, a research survey that examines Australia's awareness, adoption, trust and confidence in cryptocurrency."
He said the company uncovered a wealth of information about Australians and their relationship to cryptocurrency, including adoption rates.
"For example, 2.5% of respondents over the age of 65 were strongly considering buying cryptocurrency," Przelozny said. "Other interesting facts include, 17% of Australians own crypto, with the majority holding Bitcoin."
And 10% of respondents spend up to $100 per month, and 48% of respondents see Bitcoin as a form of money, investment or store of value, he said.
In the near future, Przelozny said that Independent Reserve customers can expect to see new automated strategies for its AutoTrader platform every six to eight weeks, and will be expanding its operations into Singapore.
For Australians and New Zealanders looking for a secure, trusted, and easy-to-use crypto platform, Independent Reserve not only has a long-running track record in the country but has been recognized by its tech industry peers as a quality crypto exchange.