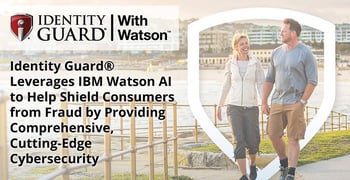 Experts share their tips and advice on BadCredit.org, with the goal of helping subprime consumers. Our articles follow strict
editorial guidelines
.
In a Nutshell: Monitoring your credit report is an effective way to detect identity theft, but it does nothing to prevent scams from occurring. That's why Identity Guard brings fraud protection into the 21st century by leveraging IBM's Watson AI to continuously scan the internet, deep web, and dark web for personal information and alert users to threats in real time. Its high-level features include social media analysis and even cyber-bullying detection and alerts. Subscribers can also contact Identity Guard's US-based call center, where a dedicated case manager will help resolve the problem and repair any damage. For its dedication, Identity Guard has earned our Editor's Choice Award™ for safeguarding consumers from identity theft.
Monitoring credit scores and reports are tried-and-true ways to detect identity theft. But when scammers strike, this backward-facing approach still leaves you with the difficult task of undoing the damage they've caused.
You'll have to report the breach to the financial institutions, the companies concerned, the FTC, and the police. You'll also need to change your compromised passwords, alert credit bureaus, and ensure that phony accounts are shut down, fake charges removed, and errors corrected on your credit report.
As digital banking evolves, so do fraudsters' strategies. And, in their wake, old fraud detection methods fall flat. That can lead to financial disarray and plummeting credit scores that, if not recognized quickly, may not recover for years.
"People want something that's more protective and forward-looking rather than looking backward at a credit score," said Barry Kessel, Chief Marketing Officer at Identity Guard. "They want tools and techniques that they don't have to worry about and think about all the time — but are always protecting them."
Intersections Inc., the parent company of Identity Guard, boasts 47 million users over a 22-year history of protecting clients' sensitive information. It offers three tiers of proactive identity protection to stop problems before they start, and reliable customer support to resolve any issues that arise.
Identity Guard's cyber-security measures are powered by IBM's Watson, the Jeopardy-dominating artificial intelligence system. All of Identity Guard's Watson-based solutions are designed in-house by a team of specialists.
"We are engineers, and we build all of our own software," Kessel said. "We have a team at Silicon Valley and another at our Chantilly, Virginia, headquarters that create customized software platforms based on our knowledge of identity theft."
Through Watson's artificial intelligence, processing power, and natural-language comprehension, Identity Guard's services can anticipate threats, rapidly halt them, and mitigate the damage. That is why Identity Guard has earned our Editor's Choice™ Award for safeguarding consumers from identity theft.
Robust AI Solutions Keep Pace with Evolving Digital Threats
"Our lives now are digital lives," Kessel said. "Identity theft has moved from a paper form, where someone would steal your credit card application out of your mailbox, to pretty much a digital threat — because we all live on our devices and we engage the world digitally."
One common approach to identity theft is called an account takeover. Scammers create fake accounts to simulate real consumers, presenting enough stolen information to convincingly pass as that person. Preventing this breed of fraud requires a large scale, aggressive approach.
"AI is the only solution that can get smarter and power through the enormous amount of data that's out there," Kessel said. "Every keystroke we make, every eBay purchase, every Twitter post, or digital engagement leaves a trail of data — and that data is out of our control. AI is the only technology that can manage it, which is why we partnered with IBM Watson and broadened that solution. We don't think anyone has anything similar. It's incredibly robust."
In addition to detecting breaches, Watson proactively guards against them. Identity Guard users input their personal information including bank account, Social Security, and credit card numbers as well as their commercial accounts (like Amazon or eBay) or payment services (like PayPal). Watson then scours the internet, deep web, and dark web for matching data. It does this work in real time, rather than in batches, which means it is continuously monitoring information as it flows around the internet.
For example, if a particular server is hacked, Watson identifies users whose information may be at risk and alerts them almost immediately. Likewise, if Watson discovers a user's credit card number circulating on the dark web, it notifies the user so he or she can take immediate action.
"Many of our alerts go out within three seconds. Rather than waiting 24 hours, or an arbitrary period, to alert users about a potential threat, Watson — with its ability to process billions of pieces of data in real time — alerts subscribers much earlier."
Tiers of Protection Cater to Individual User Needs
Identity Guard offers three tiers of service, all powered by Watson AI. Each provides users with a personal risk assessment score, an online dashboard, and two mobile apps — one dedicated solely to anti-phishing alerts. The service alerts users if their personal information appears on the web, when a high-risk transaction occurs on any of their accounts, and when it detects various other potential threats.
Identity Guard is so confident in its service that fraud insurance is included in each package. "If you lose assets as a result of identity theft, you're insured up to $1 million," Kessel said. "That's a policy covered by AIG or a subsidiary of AIG, so it's a true insurance product."
All of these features form the core offering of Identity Guard's Value plan. "Value gives you good muscle. It's a basic service, but it's still extremely strong," Kessel said.
One tier up from Value is the Total plan. It includes all Value's features plus alerts of potential account takeovers and new accounts opened in the user's name. It will also notify users of any changes in their Equifax, TransUnion, and Experian credit profiles. And it provides them with a monthly copy of their credit score.
The final tier, Premier, is available as an individual or family plan. It includes all the services listed above, annual credit reports from each of the three bureaus, and a host of additional, advanced features.
"When you're up at the premier level, you get some interesting digital features," Kessel said.
One of these is a social insight report, that lets users build a word cloud from the language used on their — and their online associates' — social media accounts. They can see the image they — and their friends present online — helping them maintain a professional image in the virtual realm.
Another innovative Premier feature is cyber-bullying alerts. "Watson, with natural language processing, can connect those words and phrases on your child's social media account that might look like a threat," Kessel said. "We'll tell a parent, 'We noticed this activity on your child's social media feeds. It's something you should pay attention to.' It gives them the wherewithal to do something about it or intervene as required."
Care Specialists Provide Dedicated Resolution Assistance
In the event a user's cybersecurity is breached, he or she can call Identity Guard's New Mexico-based call center and connect with a dedicated case manager. Rather than getting handed off to a string of new representatives who will have to learn the details of the case before moving forward, one person will handle each case from start to finish.
"People want human contact, and they want to know that human beings are behind the product," Kessel said. "We provide advanced technologies with a human touch. We provide that personal intervention or support whenever you need it."
And that person will stay with users to manage the issue until it's resolved. That includes notifying authorities, securing other accounts, closing fraudulent accounts, and removing false charges. Case managers also ensure that phony information is removed from a user's credit profile and take any other steps necessary to preserve the client's personal and financial well-being.
"We tell you what needs to be done and what your potential threats are. We remove what we can, and we work with the consumer all the way through resolution. No service can absolutely prevent identity theft, but you can have a service that alerts you earlier and then, should you have a problem, gives you that resolution," Kessel said. "We've helped 145,000 people through this process, and we know what to do, who to alert, and how to guide you through it. We're really good at that and can explain it all."
Exploring New Solutions to Identity Theft Problems
Just monitoring your credit score and report — while still an important method of detecting fraud — is essentially a rear-view mirror. By the time a credit profile changes, the damage has already been done — and more could be on its way.
"It's still a powerful tool to look at your credit score and credit reports because you can see what happened and what changed," Kessel said. "We like to use it as a benchmark. But it's an old-school way to view identity protection. What we do, in addition to monitoring, is to implement forward-facing solutions. We look at Watson as an early warning system."
"We're still learning all the things Watson can do. And we're always updating, improving, getting customer feedback, tweaking the system, and adding features to keep consumers safe." — Barry Kessel, Chief Marketing Officer at Identity Guard
Cyber-security is a dynamic field that never sits still and, as digital life evolve, scammers, too, get more sophisticated. As people and software learn how to guard against one angle of attack, scammers will learn to exploit another. Traditional credit fraud gave way to account takeovers, which will, in turn, yield to new types of threats. Identity Guard, with IBM Watson, is poised to help consumers stay one step ahead.
According to Kessel, Identity Guard is currently working on a host of new features. They include making the service more robust and powerful and helping clients monitor all of their financial transactions directly. By anticipating and circumventing as many threats as possible, Identity Guard can prevent security breaches and mitigate damage caused by fraud.
"We're still learning all the things Watson can do," Kessel said. "And we're always updating, improving, getting customer feedback, tweaking the system, and adding features to keep consumers safe."