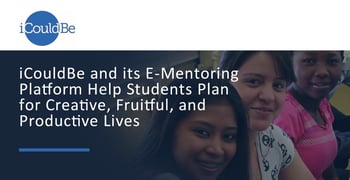 Experts share their tips and advice on BadCredit.org, with the goal of helping subprime consumers. Our articles follow strict
editorial guidelines
.
In a Nutshell: Not all children are born with the same opportunities to achieve success in their careers, whether it's due to finances or other reasons. iCouldBe is equipping these students for success through its innovative e-mentoring program. The program helps students build their social capital so they will have the skills and knowledge to build successful careers and open doors to opportunity. iCouldBe partners with corporations to recruit employees interested in becoming mentors and identify students in need of experience and trusted advisors. It also works with individuals who wish to volunteer. In response to the COVID-19 pandemic, the organization made its online platform available for free to other mentoring programs around the country.
Some children are fortunate enough to be given the tools for success from an early age, whether it's because of their parent's economic status, the schools they attend, or a strong network of support.
Other children, unfortunately, aren't handed these tools. And some don't even know they exist.
That was the case for one girl who had been shuffled around to 10 different foster homes in her early life.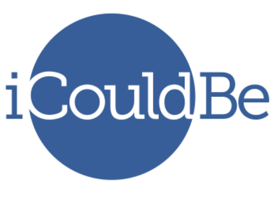 She was a good student but when she was asked about her future plans, her response was "What do you mean? What am I doing after graduation? I'm not even sure why I'm working so hard in school. I just haven't even thought about what comes next," said Kate Schrauth, Executive Director for iCouldBe.
The student was preparing to enter iCouldBe's mentoring program.
"She ended up in community college, then got her bachelor's degree, then her master's in social work, and she is now a medical social worker in a hospital," Schrauth said. "And she is on our Board of Directors at iCouldBe."
This is just one of many success stories that have been made possible in part by iCouldBe's innovative e-mentoring program.
Now in its 20th year, iCouldBe was among the first organizations to develop an e-mentoring platform designed to bring the power of mentoring to students across the country.
"iCouldBe realized early on that mentoring could make the difference in a child's life by using technology as a connector to bring a diverse community of mentors right into the classroom to spend one hour per week with their mentees to guide, coach, and support them to find success in school and plan for bright futures," according to the organization.
We recently spoke with Schrauth to learn more about how iCouldBe helps set students up for success by establishing goals and identifying ways to achieve them.
Increasing Social Capital and Helping Mentees Build a Support Network
Schrauth explained that 80% of people get their jobs through people they know — a trend that often plays out through people's entire careers.
That's why it's extremely important to ensure that young people are thoroughly prepared, have good networking and communication skills, and are able to ask for help, resources, and opportunities, she said.
"That's what allows us to get those jobs, move up in our careers, and continue to grow and learn and all those great things," Schrauth said.
iCouldBe mentors help students secure these important skills and much more by using interactive multimedia activities that focus on helping them envision themselves with a successful future. The mentors and mentees connect online in a one-on-one setting where safety and security of the children are one of the top priorities, Schrauth said.
While helping students achieve success is the intended outcome, increasing social capital is one of the main tactics iCouldBe uses to reach this goal.
"Social capital is young people's access to and ability to mobilize human connections and networks of support to help them further their potential and goals," according to the organization.
And research shows that increasing social capital leads to healthy development, academic success, and access to opportunity.
"Through all of our activities — we kind of borrow from the gamification world — we have quests," Schrauth said. "As mentees complete the quests, they are identifying two people in their day-to-day lives who can help them either overcome a challenge or take advantage of an opportunity within all these themes."
By the end of the program, mentees not only have a great relationship with their online mentors, but they have identified 12 people they know who can help them reach their goals, she said. These people could be teachers, counselors, coaches, community members, religious leaders, or other people in their lives.
"They've got this whole web of support around them by the time they leave the program," Schrauth said. "So, as they age up and wherever they go, they have learned how to network with all of these people and invite them in to help them continue to achieve their goals for the rest of their lives."
Partnering with Corporations and Schools to Identify Effective and Passionate Mentors
iCouldBe uses a number of methods to identify and engage potential mentors for its program.
Schrauth said corporate support — through partnerships with companies like AT&T, Adobe, and Accenture — have proven to be one of the most successful approaches to bringing mentors into the program.
"We hear from companies all the time where their employees are looking for meaningful, impactful volunteer engagements through their employers," she said. "They want their companies to give back in a significant way."
iCouldBe works closely with its corporate partners to identify locations where their employees live and work, and areas where students may be in need.
"Their employees can be supporting local kids as they act as the mentors and sponsor classrooms," Schrauth said. "It works really well, and it's easy for us to go to a variety of locations that way."
Schrauth said the majority of mentees are in California, but the program is active all over the country. And because of its internet-based and asynchronous approach, iCouldBe can easily go anywhere.
"The mentor and mentee do not have to be on at the same time, so for professionals who travel for work or have meetings all day, the mentee can go in and do their work," she said. "Then, the mentor is automatically notified to log in and respond to the work."
This opens up the mentor pool to a much broader range of candidates.
iCouldBe also accepts applications from individuals who want to become mentors and responds to schools who request to become part of the program.
"We've never been short on mentors, which is great," she said.
iCouldBe works in high-need community schools where 70% to 100% of students are living below the poverty line, Schrauth said.
By taking its mentoring program to schools by working in schools, iCouldBe guarantees that students will have access to the technology they need to engage with the mentors.
Responding to COVID-19 by Offering a Free Portal for Other Mentoring Programs
In mid-March, as schools began closing due to the COVID-19 pandemic, Schrauth said she realized iCouldBe had to take action. While iCouldBe's mentoring program is based online, many programs across the country are based on in-person connections.
"The first call I made was to the National Mentoring Partnership, and I said 'We need to do something because all of these existing relationships are now broken,'" she explained. "And that is rule number one of what you do not do in a mentoring program — it's something that could be really detrimental to the young person."
Schrauth proposed the idea of collaborating with MENTOR, the National Mentoring Partnership, to offer iCouldBe's online platform to mentoring programs across the country to help bridge the gap in their programs.
"To ensure physical distancing does not mean social disconnection, two leading experts on mentoring are launching the Virtual Mentoring Portal," according to iCouldBe. "The Virtual Mentoring Portal (also referred to as VMP) is a safe and monitored mentoring platform for mentors and mentees to continue their relationships while they may be separated due to COVID-19."
Schrauth said 325 organizations that serve about 76,000 students across the country have reached out and expressed interest in iCouldBe's Virtual Mentoring Portal and a subset of that group are onboarding or in discussions to determine their capacity to bring their mentees and mentors onto the platform in the fall.
"We're continuing to get as many as we can, and we're actively seeking funding to ensure that the platform can stay free for them for all of next year because we just have no idea if schools are going to be open," she said.
iCouldBe has helped thousands of students gain the tools to access opportunities they may not have otherwise had. Now, with more mentoring programs taking advantage of iCouldBe's long-running online platform, many more students can benefit from the organization's strong foundation.